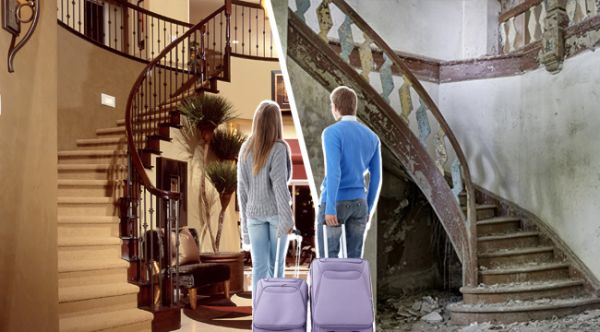 If you're a traveler on a budget with no qualms about crashing on a couch, Airbnb is great. It's also great if you live a life of luxury and can afford to spend $10,000 renting out yachts and mansion retreats for days at a time.
We wanted to see just how low–and just how high–rooms in some of our favorite cities around the world rented for. As it happens, the answer is: pretty damn low, and pretty damn high.
In most cities, you can find a couch, or even a bed in a hostel-like environment, for $10 or less. Prices can also get pretty steep for one-night stays, although that observation does come with a caveat: putting aside the fact that some users seem to be confused about the placement of the decimal point and offer up single rooms for several thousands of dollars per night, a lot of the most expensive crashpads are actually full houses that accommodate hordes of people. Split the cost of that Miami estate between 16+ people, for example, and you don't have such a terrifyingly expensive vacation.
Check out what we found below:

New York City
$10/night: "Railroad room for rent 5 minutes walking from Times Square. It is a three bedroom, one bathroom apartment in Hell's Kitchen, amazing!!"
This seems like a legit fantastic deal.
$5,000/night: "Your Soho dream home! Located in Soho, this old-fashioned brownstone home has three levels; including a study, piano room, private garden, large open kitchen and living room, 3 bedrooms, and 2.5 bathrooms."
Sounds awesome, but it's tough to get value out of the study and piano room if you're only in town for a weekend.
Los Angeles
$10/night: "For the best price in SoCal, get a relaxed, cozy camping area (tent provided if needed), pillow, linen, towel, WiFi, private entrance, Space heater, kitchenette and free coffee, tea, & hot cocoa."
Cocoa? Sold!
$8,100/night: "Nestled within the most exclusive private community in Los Angeles, this property is one of the most secluded and breathtaking in the city. Beverly Park is perfect for both short-term and long-term stays; please reach out for long-term rental info."
"This is a story all about how…"

Chicago

$10/night: "A spacious single-family home; minutes away from Midway Airport (train station), within walking distance from gorgeous and dog-friendly parks, and walking distance of plentiful of supermarkets and convenience stores. Downtown isn't far either!"
Isn't that Jesse's living room from Breaking Bad?
$4,500/night: "Trendy 2-bedroom residence designed with creativity to match the neighborhood's vibe. Perfect for pre and post nighttime outings. Long dining room table for dinners, brand new hardwood floors, free parking, and a great backyard."
Looks like a Kinfolk catalog, but it's still a lot of money.
Miami
$15/night: "For light travelers: a live/work space for the creative, techie or academic within cultural Little Haiti, amidst Miami's Neo-Bohemia by Wynwood. This listing is for the community room (futon/airbed)/shared bath in a shared space."
Is that a stripper pole? That's a stripper pole.
$10,000/night: "This fabulous Palm Island Mediterranean estate is available for the most discerning client. It's the perfect mix of old and new, with a 12,000-sqft beautiful new construction masterpiece. Also available: 28M Sunseeker Yacht."
Okay, this place is baller.

Seattle
$15/night: "Our giant living room has plenty of room for those who are looking for inexpensive lodging."
Your room is tipping over.

$3,500/night: "Once owned by the famous Weyerhauser family, this historic home can accommodate up to 20 persons in multiple bed configurations. One of Washington's most beautiful homes, awaiting your arrival for the 2015 US Open at Chambers Bay. Min. 1 week rental."
It's just not worth it to them to rent out for less than seven nights in a row.
Las Vegas
$12/night: "Guests in our house feel at home. We are receptive to your needs as travelers. Our house is cozy and spacious, so you can relax and rejuvenate in comfort. Great couch for 1. (Perfect for anyone 5 feet 8 inches or shorter.)"
That last criteria is awesome.
$2715/night: "Impressive luxury rental home with a modern design that is fully furnished to satisfy the most discriminating guests."
We'll take two.

Mexico City, Mexico
$10/night: "The space I offer is my studio. My department is composed of my room, a workshop, and a small kitchen and bathroom. There is access to the roof of the house and can be there on time you want or use it for drying clothes. The neighborhood consists of families and young artists." (Translated from Spanish)
Sounds good. But where exactly does the guest sleep? The workshop?
$4,500/night: "Impressive designer award Penthouse at 5 star St Regis Hotel. Enjoy hotel amenities such as 24 hrs concierge service, gym, spa, Jean Goerge J&J restaurant, etc. and all that St Regis hotel offers plus this brand new penthouse residence with unique views."
You'd be better off renting a mansion, we think.
Tokyo, Japan
$10/night: "Great location to access major Tokyo sightseeing spots! This property is located at Oshiage. A popular tourist spot with opening the Tokyo Sky Tree Tower and Soramachi (huge shopping mall ) in 2012; it is perfect for eating out and shopping."
Pretty solid deal. Who cares if it's on the floor? It's $10!
$10,000/night: 2BR flat, well located, 1 min walk from Oshiage Station. You can walk to SKY TREE in 2 mins. 15 mins, going through beautiful walking road, you can get to Asakusa. By train, about 15-30 mins to Tsukiji, Shinuku, Shibuya, and Harajuku."
This one must be an error, right? Gotta be.

Sydney, Australia
$7/night: "Free."
What does that even mean? But still, we'll stay there.
$7687/night: "Spend a few hours, a day or a week basking in luxury and service onboard Element. Professional crew will take care of all of the details so that all you have to do is enjoy being on one of the worlds finest harbours!"
I'm on a boat!
Singapore
$7/night: "Two Japanese guys stay near from city! Price very cheap because we can provide only sofa in the living room and toilet, shower!"
Seems like a party!
$2977/night: "You want to host a private or corporate event in an extraordinary place, you need to shoot a movie, organise a fashion show, launch a new product, here is the exclusive place you need in Singapore! Inside, outside you can host up to 80 guests."
This feels like a solid value.

Bangkok, Thailand
$9/night: "We are creating this space for like minded people, travellers, expats, explorers, students… people who enjoy a company of local and international hosts who know Bangkok well. Our house is in the residential area of Bangkok's business district, Silom."
So…. a hostel.
$2,916/night: "If you love peace and quiet, this place will become your home. Your room sunny and cozy with a king-size bed for two. Private new bathroom with indoor & outdoor shower. Private salt-water pool with waterfall."

Still feels steep for Thailand. You can get a lot of value there.