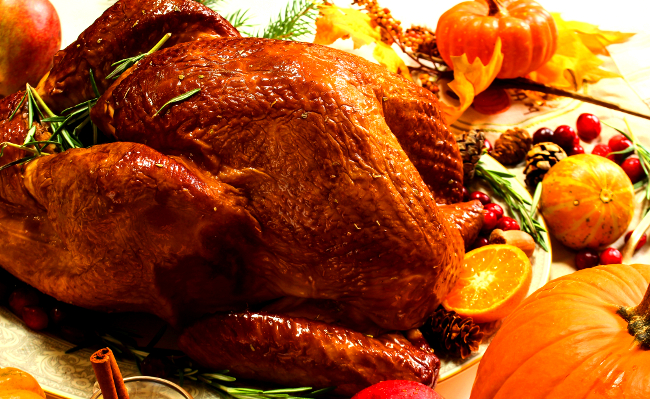 When Amazon bought Whole Foods earlier this year it set the stage for a lot of changes in how we buy food and where. This holiday, in particular, shows one of the ways the new conglomerate is changing the game. Amazon is cutting a lot of prices for the holidays, and the cuts are even deeper if you're a Prime member.
CNN is reporting that Amazon is chopping prices on holiday staples like sweet potatoes, cranberry products, and, of course, turkey, and the deal is even better if you're a Prime member:
If you're an Amazon Prime member, you'll pay even less for turkey: Whole Foods slashed turkey prices to $1.99 per pound (compared to $2.49 for non-Prime members), or $2.99 per pound for an organic turkey ($3.49 for non-Prime members). To redeem the discount, Amazon is offering a printable coupon only accessible to Prime members on its website.
That's still above the current average of $1.40, but it's a pretty cheap non-factory farmed turkey. Nor is that the only staple getting a price cut. In a press release, Amazon laid out a fairly impressive set of cuts for shoppers, Prime members and grocery mavens alike, looking at their budgets, including:
Value Pack Boneless Skinless Chicken Breasts (Organic and No Antibiotic), Responsibly Farmed Raw Peeled Shrimp, and holiday favorites such as 365 Everyday Value Canned Pumpkin, Organic Broccoli, 1lb Organic Salad Mixes, Organic Russet Potatoes, and Organic Sweet Potatoes, Organic Rice from Lundberg Family Farms, Organic Beans from Eden Foods, Organic Chicken and Vegetable Broths from Pacific Foods, Organic Eggs and Milk from Organic Valley, and Toothpaste from Tom's of Maine. Whole Foods Market is also offering lower everyday prices on some of the most popular products from well-known brands such as Chobani Yogurt, California Olive Ranch EVOO, Siggis Yogurt, Applegate Hot Dogs, and Fage Yogurt.
They haven't laid out the extent of the cuts, but the last round, in August, averaged between 15% and 25% per item, with some shedding nearly half of their price. The goal, of course, is to get holiday shoppers who used to dismiss the store as "Whole Paycheck" to take another look at Whole Foods.
Will it work? Good question. Not everybody, as we noted, can even get to a Whole Foods, but the price cuts will definitely demand attention, especially from people looking to make Thanksgiving a little more organic. And this likely won't be the end of it; Amazon can buy in bulk, after all, and more price cuts are likely on the horizon.
(via CNN Money)