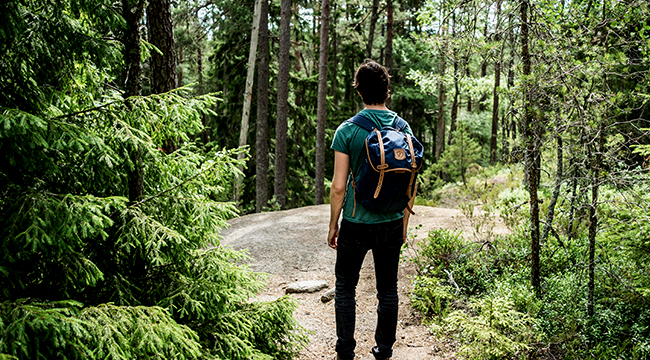 The Appalachian National Scenic Trial has been traversed by millions of people since its inception in 1937. The longest hiking-only trail in the world, it spans the distance from Mount Katahdin, Maine to Springer Mountain, Georgia, passing through 14 states in total over its 2,200 miles. On each of those miles, the trail has provided an outdoor sanctuary for everyone from the day-hiker just looking for a couple of hours of greenery, to the thru-hiker taking on the entire thing over half a year. On a personal level — and this may be anecdotal, but I think it bears a mention — I have never heard of anyone regretting a visit to the Appalachian Trail. Ever.
By any access point, the Appalachian Trail is stirring, but if I'm picking just one weekend worth of adventure, I go for the Southern Trailhead in Georgia. Not just because of the temperatures, but because this section of trail is particularly diverse and breathtaking. It's also a quest that's only a few hours drive from Atlanta, making it easily accessible for a weekend getaway.
So, leave behind the crowds of the ATL for a few days, and head toward the kind of quiet, misty adventure that you can only find in one of the oldest mountain ranges in the world. You won't be the first person looking to refresh their souls in this ancient place, nor will you be the last, but your journey will inevitably be unique just the same. The Appalachian Trail has a way of giving every individual exactly what they need; for us, that makes it the perfect micro adventure.
Here's the guide to your Appalachian Trail escape.
Gearing Up Before You Go:
For those who only get the opportunity to camp one or two times a year, having a complete outfit of gear can be cost and space prohibitive. Thankfully, outdoors companies like REI offer camping gear rental, making it possible to make that getaway into the wilderness possible.
Selecting the right gear can be intimidating as well, but the store personnel is fully prepared to make sure you have everything you may need and will get you schooled up too, if you so please.

How To Get There:
You're going to need to find a ride to get to the wilderness. If you aren't a local with your own car, there are a number of great car sharing services with fleets out of Atlanta. Simply put "Amicalola Falls State Park" into your mapping app and hit the road. Once you get to the fringes of Chattahoochee National Forest you are going to want to roll down the windows to smell the fresh air and wildflowers.
Start Your Morning Off:
Nobody wants to start the day with bland or bad coffee, so opt instead to head over to Condesa Coffee's Old Fourth Ward location early in the morning before leaving Atlanta. Their brew is made using Counter Culture grounds, and it puts them a step above the rest. From their patio, you'll see people walking the city's well-worn Freedom Parkway Trail — which will hype you for your own, more extreme hiking excursion. Grab one of their homemade treats on the way out to fuel up for the road right.
The Perfect Overnight Hike:
Once you get there, register your car for a two-night stay at Amicalola Falls State Park and start up the approach trail that brings hikers to the official trailhead on Springer Mountain. This is not an easy endeavor; in fact, this relatively short hike (8.8 miles in total) is renowned for breaking the hearts and souls of many who believed they were in shape to take on the full Appalachian Trail route to Maine. You may want to put a few extra hours in the gym the week you take it on — the views and the bragging rights to say you conquered even this small part of the Appalachian legend are worth it. 6.2 miles into the trip you will come across Black Gap Shelter, make camp there for a true taste of the trail life.
The next morning, wake up, make yourself some coffee with your fancy new or rented gear, then conquer the last 2.6 miles of the approach trail to Springer. Once you've taken in all of the majesties of the mountain, you're going to make your way back to the Hike-Inn Trail, which you passed on your way, and is named after your lodging for the night.
Where To Crash: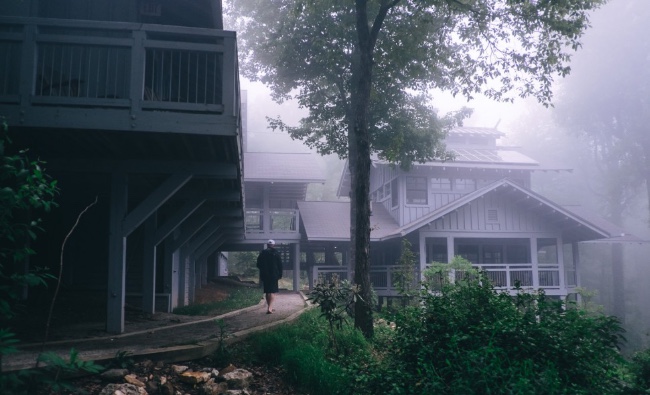 Nestled in the wilderness is this beautiful eco-friendly, rustic-modern inn, which is accessible only by foot. Operated by Georgia Appalachian Trail Club, The Hike Inn has a powerful focus on conversation and preservation of the area. This backcountry retreat also has everything that you could possibly want after a night in the woods like hot showers, fresh linens, and home-cooked meals served in their dining hall family style. There are plenty of wholesome ways to spend your hours here — playing board games or just sitting on the wrap-around porch for the views. Do yourself a favor and get into a conversation with a stranger, as you're likely to be in good company.

Celebration Meal
Even though you didn't take on the full Appalachian Trail there is no question you have earned a delicious Southern meal. No reason to leave the stunning views of the Amicalola Falls Park just yet, because there's a crowd favorite right there after you pick up your car. Maple Restaurant serves every meal of the day, every day of the week. No matter what time you get on the road they're prepared to fill you up a la carte or with one of their tremendous buffets. The views alone are worth the price of admission and there's no better place to reminisce about your weekend out in the wild.