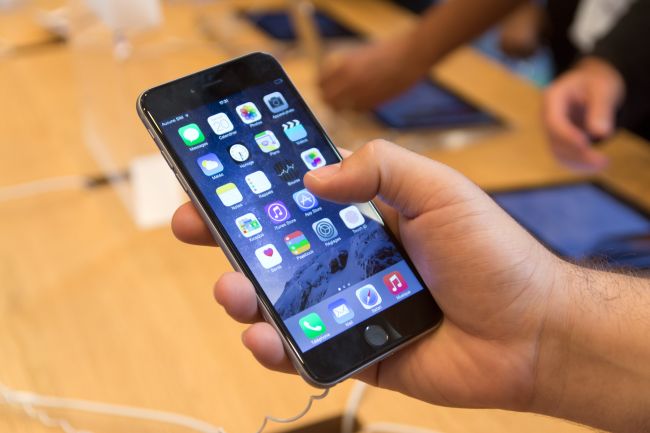 It's that special time of year where everyone in the world talks a big game. 2016 is here and we're all planning ambitious things: you're finally gonna quit your job; it's time for you to travel more; you're gonna kick that soda habit! While it takes little to no brain power to make a New Year's resolution, it's infamously harder to keep one.
Reaching the 21 days it supposedly takes to form a new (and better) habit can get a little easier if you have some help, especially if it's in the palm of your hand. There are a plethora of both Apple and Android applications that can aid you in doing everything from ditching cigarettes to picking up more paperbacks.
While there are general goal tracking apps – like Strides – if you have weird aspirations, there are also many special programs designed for the most common of resolutions. We've rounded up some great options to help you actually make 2016 a year of change.
The Resolution: Quit Smoking
The App: LIVESTRONG MyQuit Coach – Dare to Quit Smoking
Cost: Free
Rating: 4.5 Stars
Device: Apple
The Livestrong app allows you to set goals and then track your progress. You can chat with other smokers trying to break the habit, record cravings and also get an idea of how much money you've saved by quitting. User reviews say the app is crucial in determining just how many cigarettes you're puttin' back a day, and ultimately it makes you much more conscious of your behavior. Complaints include that the interface wasn't designed to be user-friendly and that it is, at times, buggy, kicking people off unexpectedly.
Similar Apps: There are a lot of similar apps with comparable features – but many have a price tag. For iPhone users there's Smoke Free, and for Android try My Quit Coach.
The Resolution: Drink More Water
The App: Water Alert
Cost: Free with in-app purchases
Rating:4.5 Stars
Device: Apple
Water drinkers are quick to extol its many benefits: more energy, better skin, and improvements to their diets. So, why not start 2016 with your recommended 9 to 13 cups a day? Drink More Water lets you set daily reminders and interval reminders with notifications to encourage you to guzzle some H20. Similar to a calorie tracker, the app lets you submit your water intake by container size, something you can customize to match your receptacle of choice. You can set goals and even use in conjunction with an Apple Watch. Again, reviewers complain about the ads.
Similar Apps: For Android, try Drink Water Alarm, or try the original, Waterlogged, which just fell in popularity after changing to a more expensive pay format.
The Resolution: Lose Weight
The App: My Fitness Pal
Cost: Free
Rating: 4.5 Stars
Device: Apple and Android
Trying to cut back on your consumption in 2016? We got you. A longtime favorite among the App store's calorie counters, My Fitness Pal helps you log every single thing you eat. While it may seem like a daunting task, My Fitness Pal makes it as easy as a few clicks, and includes pre-logged calorie totals for numerous name brand grocery items and restaurant selections. Users can set a daily goal, and My Fitness Pal will track up to it. Reviewers say that the brand's customer service is quick to respond. However, some complain that there are too many advertisements.
Similar Apps: If My Fitness Pal isn't cutting it for you, try Lose It! for comparable functionality, or, if you're willing to pay the monthly fee, Weight Watchers Online.

The Resolution: Start Running
The App: Runkeeper
Cost: Free
Rating:4.5 Stars
Device: Apple and Android
This is the year you're gonna sign up for that half-marathon, right? Well, it's time to start training. Incorporating a run into your daily routine is made easier with app Runkeeper. The program tracks your pace, the average miles per minute you travel, and also the calories you burn in real time, with audio updates. Users can set a running plan or choose one of the set training programs, and interact with a community. While the program works with Apple Watch, a lot of people seem to be having issues with the latest December update. The program can drain your battery life, but people seem to like the wide variety of features.
Similar Apps: Android users can try Runtastic, while iPhone owners should check out Under Armour's Map My Run.
The Resolution: Balance Your Budget
The App: Intuit's Mint Money Manager
Cost: Free
Rating:4.5 Stars
Device: Apple and Android
It's official: you spent way too much money at Starbucks in 2015. Make sure that doesn't happen in the new year with an app that will tell you, monthly, how much money you're spending and where you're spending it. Mint, from the makers of TurboTax and Quickbooks, syncs with your bank account and automatically breaks down line item purchases into different categories like food and rent. Mint lets you create a budget and input transactions into categories you create on your own, as well. Users like that it emails you a weekly breakdown of your expenditures and that it makes it easy to check balances on several accounts at once. Some complain that there are some bank connectivity issues and that a lot of smaller banks aren't supported, though.
Similar Apps: Android users like My Budget Book (although it costs $3.19 to purchase), and while GoodBudget has similar functionality, it isn't necessarily as pretty to look at.

The Resolution: Read More
The App: Goodreads
Cost: Free
Rating:4.5 Stars
Device: Apple and Android
In a time when books are quickly converted into movies, many just skip a step and buy the ticket rather than the paperback. Looking to up your fiction consumption? How about Goodreads. The app, which is an offshoot of the website, lets you follow friends so you can see what they're reading and bookmark novels that you "want to read." You can log what you've read this year, rate books, and give yourself a reading challenge. The app also sends personalized recommendations and lets you scan barcodes if you want to remember something you spot on a bookshelf. Users love the new 3D touch features and find the ratings and reviews easy to find. The only frustrating aspect is that you can't actually read any books through the app. But that's what the library is for, right?
Similar Apps: A little different than Goodreads in functionality, but OverDrive lets you sync your books from multiple libraries into one place – AKA your Kindle books and your iBooks can be all in one place.