We're counting down the days to the momentous release of Greta Gerwig's Barbie movie. And while we'd certainly like to draw some laughs and pathos from the film, we're also hoping for a bit of travel inspo. Barbie has shaped generations with her iconic style, vibrant personality, and unapologetic love for all things pink — in the process, she's become a symbol of empowerment and limitless possibilities.
If you're inspired by the story of the doll whose heels never touch the ground, you're not alone. This summer is all-pink-everything season and that includes vacation rentals and hotel properties. Picture yourself stepping into a world where hues of neon pink become the color of relaxation, luxury, and indulgence. Imagine waking up in a Barbie-inspired vacation rental, surrounded by whimsical decor, plush furnishings, and an atmosphere of pure joy. Then check the availabilities on any of the options below that capture your fancy.
Barbie's Malibu DreamHouse – Malibu, California
Did you know there's an actual Barbie DreamHouse in Malibu?
While the DreamHouse is a highly coveted rental stay (in fact, it was only available for a select few in 2019 to celebrate the Barbie brand's 60th anniversary) Ken is inviting two lucky guests to stay in the newly revamped Malibu DreamHouse on July 21 and July 22, 2023. The oceanfront real-life DreamHouse model mansion features panoramic views of the coastline while boasting the ultimate surfer's sanctuary. The lucky winners will be able to take a spin through Ken's wardrobe to find the best beach outfit, channel their inner cowboy and learn to line dance on the outdoor disco dance floor, sunbathe and chill by the infinity pool, and rollerskating their way down the iconic Malibu Pier.
Price Per Night: Bookings open Monday, July 17 at 10 a.m. PT.
The Royal Hawaiian – Oahu, Waikiki, Hawaii
Nestled along the pristine shores of Waikiki, The Royal Hawaiian, a Luxury Collection Resort, is a true gem in the heart of paradise. Dubbed the "Pink Palace of the Pacific," the resort is renowned for its enchanting pink-themed decorations, paying homage to its historical roots of Waikiki while captivating an ambiance that channels Barbie's pink vibrant spirit. The hotel is adorned with fabulous decorations and Barbie-themed accents at every turn. The exteriors glisten in shades of blush, beckoning you to a world where sophistication meets playfulness. Inside, the rooms and suites are meticulously designed with glamorous pink accents, making you feel like you've stepped into Barbie's very own Dreamhousehotel.
As you explore the resort, you can indulge in the stunning pink-tiled pool, reminiscent of Barbie's iconic pool parties. Take leisurely strolls through the beautifully landscaped gardens, adorned with vibrant floral arrangements. With the beach just steps away, you'll easily be able to summon the magic and luxury of Barbie in tropical paradise.
Starting Price Per Night: $600
Pretty in Pink Custom Unit – Philadelphia, Pennsylvania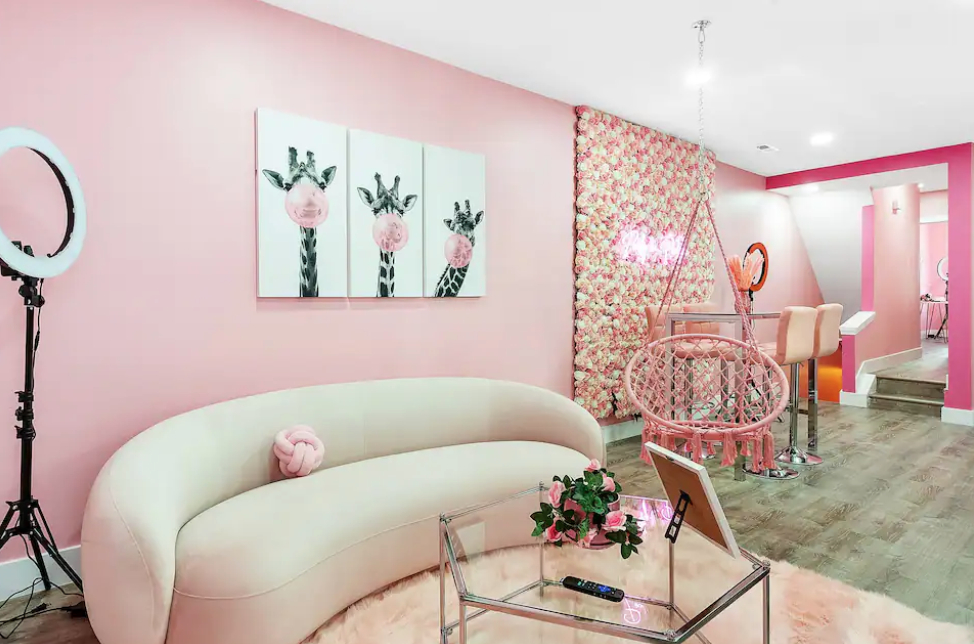 As the name implies, this all-pink unique apartment in the heart of Philadelphia will help you live out your Barbie fantasy dreams. The walls boast shades of blush and cotton candy, while plush furnishings in velvety pink hues invite you to relax in style. Featuring a flower wall, velvet couch, pink hammock swing, ball pit, and neon lights all within various shades of pink and white, it's truly the ultimate Barbie city spot.
When you're not channeling your inner Barbie and taking all the best Instagram-worthy pics, you and seven guests can lounge in each of the three uniquely designed bedrooms, take a luxury bubble bath, and binge-watch your favorite show on the 50-inch HDTV.
Starting Price Per Night: $430
PinkCastle Babe'cation – Hudson, Wisconsin
Get in Barbie, we're going to Wisconsin!
Boasting five bedrooms fit for over 16 guests, this pink mansion exudes all things luxury and rosy luxury. This gorgeous 1883 Victorian mansion is brimming with over-the-top lavish glamour and shades of pink across its 4,400 square feet, full of glamorous Victorian furniture, extravagant décor, and Barbiecore vibes. Even the dining room is fit for a pink Barbie queen with giant golden thrones. Add in its always-heated pool equipped with both a shallow and deep end, a sunbathing deck, a hot tub, and a private "coochy cabana pool house" and we'll basically call this the real-life Barbie Dreamhouse… in the midwest!
Starting Price Per Night: $2399
The Don CeSar – St. Pete Beach, Florida
Nestled on the pristine shores of St. Pete Beach, The Don CeSar is perhaps closer to art deco pink than Barbie pink, but that's okay. From the moment you arrive, you'll be greeted by a majestic pink exterior that sets the stage for a truly enchanting stay. Once inside, you'll be captivated by the elegant furnishings, plush pink accents, and stunning ocean views that will make you feel like a real-life icon.
Having opened in the Gatsby Era, the resort allows you to indulge in luxurious amenities fit for a fashionista — from relaxing by the pink-tinted swimming pool to savoring delectable meals across its various dining venues. If nothing else, every corner of The Don CeSar exudes Barbie's sophisticated and vibrant spirit, creating an atmosphere that is both playful and elegant.
Starting Price Per Night: $379
La Valencia Hotel – La Jolla, San Diego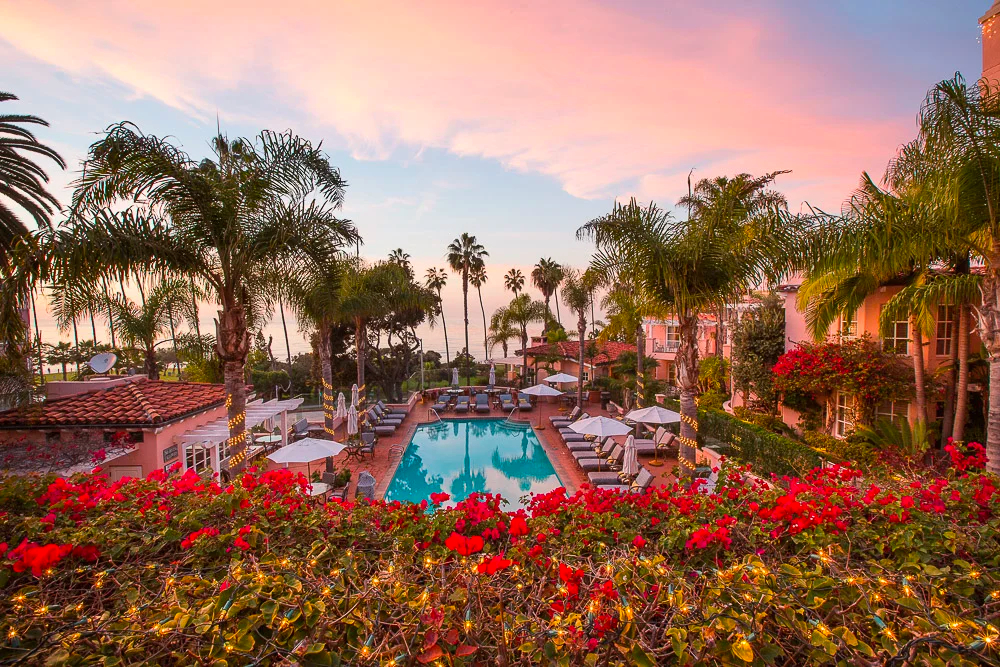 Nicknamed "The Pink Lady," La Valencia Hotel immerses you in a vibrant pink wonderland in the breathtaking coastal town of La Jolla, San Diego. With classic Spanish architecture that evokes an old-world charm, filled with quaint courtyards, beautiful mosaics, and hand-painted murals, you'll be greeted by stunning pink-inspired decorations that conjure Barbie's signature style while indulging in the luxurious accommodations adorned with glamorous pink and chic accents.
Many rooms feature views of the blue Pacific Ocean that contrast the pink-tinted balconies, allowing you to experience the coastal beauty in a deeply scenic way. To finish it off, the hotel offers meticulously manicured gardens, featuring vibrant pink blooms that transport you to a floral wonderland. Relax by the pink poolside oasis, enjoying refreshing drinks and basking in the California sun.
Starting Price Per Night: $603
Graduate Nashville – Nashville, Tennessee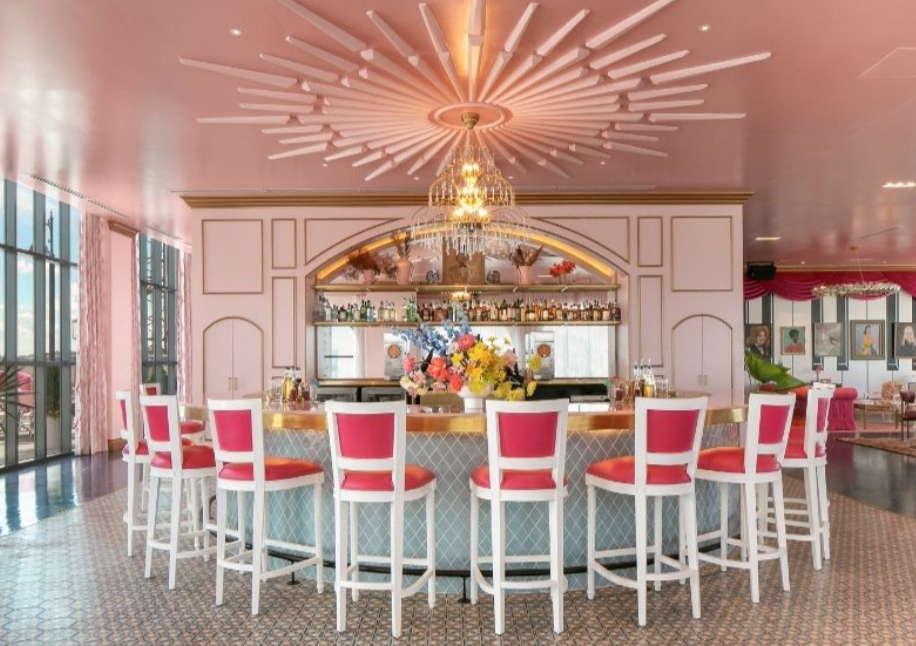 Time to get your pink and sparkly cowgirl boots on, it's time to head to Nashville. Located in the heart of Music City, Graduate Nashville is a vibrant pink oasis that blends music and Barbie-inspired charm. Known as "Barbie's Musical Hideaway" the hotel celebrates the spirit of Nashville and Barbie's iconic style. From the moment you enter, you'll be greeted by dazzling pink accents, vibrant artwork, and a whimsical ambiance that will make you feel like a superstar.
The funky chic rooms all have pink-infused furnishings and floral décor, while the rooftop boasts stunning skyline views highlighted with bright pink umbrellas. It's truly the perfect destination for music-loving fashionistas where Barbie's rockin' spirit meets the heartbeat of Nashville.
Starting Price Per Night: $389
The Pink House – Nashville, Tennessee
Barbie, meet the woods. But don't forget your pink luxury touch. Nestled on 75 acres of woods just 20 minutes outside of downtown Nashville, this cute farmhouse cottage features two bedrooms fit for four guests to sit back and enjoy the simple charm of the South. The pink and white exterior opens to a space adorned with sparkling chandeliers, luxury furnishings, and glamorous pink accents. Even the outdoor patio is accented with hot pink chairs to relax in and enjoy the sweet honeysuckle aroma in the summer.
It truly reminds us of the old cowgirl Barbie who spends her days riding horses before settling down the day in her luxury country home.
Starting Price Per Night: $350
Barbie Suite – Las Vegas, Nevada
An exclusive suite for Barbie and Ken only…say less. Located close to the buzzing energy of the nightlife in Las Vegas, this suite boasts a vibrant and hot pink posh aesthetic with golden luxury accents. You're stepping into a real-life royal gambling suite that would truly inspire anyone to lay down the big bucks while in Vegas. We don't know if it's the leopard and pink-cushioned couch, the pink cat lamp, or the pink and floral-accented bathroom with a deep tub that is our favorite.
Whatever the case, this certainly feels like a more edgy "whatever happens in the pink suite stays in the pink suite" vibe for Barbies out there.
Starting Price Per Night: $350
Pink House – Austin, Texas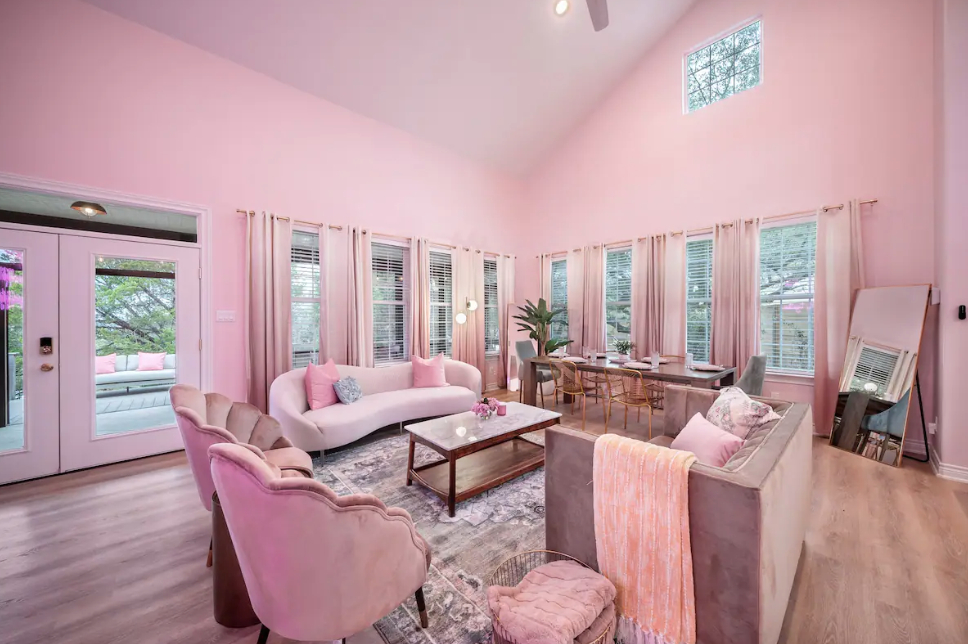 Hosting up to 12 "pink ladies" across six queen beds, this pink house in Austin is a southern toast to all things pink. It actually reminds us of a Barbie sorority house, which we're not complaining about. With a neutral blush color used throughout the house, you're welcomed with an uplifting yet contemporary vibe perfect for a friends' getaway. The home encompasses a full kitchen, laundry room, dining room, living room, a screened porch, and a pool, spa, and fire pit, all of which hold pink blush accents and décor that pull it all together.
Starting Price Per Night: $952
Downtown CLE Barbie Suite – Cleveland, Ohio
It's hard to tell if Barbie is a wine drinker or not, but this Barbie suite comes with some free wine, so… don't mind if we do. Located in downtown Cleveland, the suite opens to a hot pink living room that highlights the iconic Barbie logo on the wall while the rest of the space is accentuated with hot pink furnishings and vintage appeal.
Here's where you'll see Barbie pop the bottle of wine and go a little rogue with her crew.
Starting Price Per Night: $200