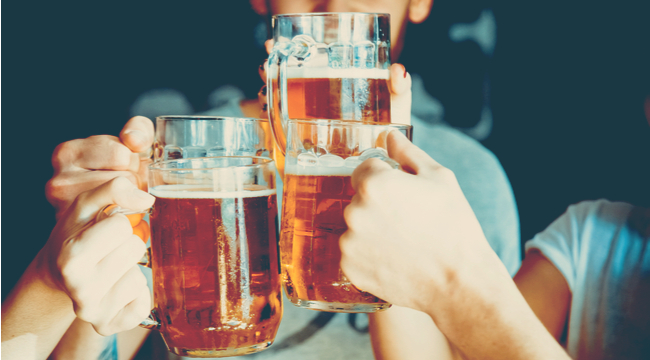 The holiday is growing near. It's likely we're all going to try an get some shopping done this weekend so we can enjoy the end of the year without rushing around trying to find that perfect gift. Tick tock.
Not surprisingly, some beer might be in order. Below we've compiled some seriously cool beer and beer-related gifts for that beer lover in your life. Because, hey, beer is pretty great.
BEER BOTTLES
You know how to put a smile on a beer lover's face? Have 12 great brews delivered to their door every month. There are a lot of beer of the month clubs to choose from. You can indulge in craft, imports, or stay super local.
This one may not be the cheapest option, but it's certainly one of the coolest.
Most clubs start at $42.00 per month.

Rodenbach has a fine tradition of bottling and aging great Belgian beers. The great thing about their Grand Cru is that it'll pique the interest of the sour beer novice or satisfy the palate of a wizened veteran.
Generally around $15.99 for a four pack.
Samuel Adams Utopias is a small batch, a super strong masterpiece of heavy-duty brewing. This is the beer you buy a connoisseur who wants to partake in a once-in-a-lifetime bottle of suds.
$200 at specialty beer sellers. You'll have to call around for this one.
Hill Farmstead is brewing some of the best beers in America. Their line of family-name-inspired beers are the mountaintop when it comes to great wild ales, aged beers, and truly innovated flavors. A flight of bottles from Hill Farmstead shows that you did some serious research and found the best.
Bottles will cost between $10 and $15 depending on how far away from Vermont you are.

BEER GEAR
Another great beer direction to go in is a homebrew kit. There's a lot to choose from to varying degrees of completeness. We dig this one from Goose Island. You'll get everything you need to get a fermentation going to the bottling. Plus, it comes with tasty ingredients to start the experimentation.
$199 from Amazon.
Good beer needs good glasses. A nice set of appropriate glasses for beer styles is always a good place to start. You can feel out which glass you dig the most and start collecting from there.
$33.99 from Amazon.

Growlers are usually just big bottles — nothing really that special. The uKeg takes the idea of a growler, pressurized the beers, and allows you to serve your special craft brew in ideal conditions. Once you use it, you'll never go back to the simple old glass growler bottle.
$199 from Amazon.
Here's a fun option for above the bar or hanging on the garage fridge. You'll be able to save caps from all 50 states to let everyone know how serious you are about your beer. Plus, this one would go well with that beer of the month club above.
$33.99 on Amazon.
BEER TRAVEL
Hotels are starting to integrate great beer perks into their hotel stays. Maybe it's time to get someone how loves beer a nice night at a hotel where they can indulge.
Hotel Palomar has a dedicated 'beer concierge' on duty to help you sift through the massive range of San Diego craft. They also offer "Live Like a Resident" packages that include complimentary brewery tours and tastings at Resident Brewing. If you're going to San Diego to drink beer, this is the spot.
Prices start at $180 per night.

Seattle is a city overflowing with great breweries. The Hotel Max doesn't play when it comes to great beer. They have a nightly craft beer happy hour that's free to any guest of the hotel. Couple that with their Sub Pop Suites — each equipped with turntables and vinyl — and you've got a great night's stay for a beer and music lover.
Prices start at $123 per night which includes all the free beer you can drink in a happy hour.
This one may be a bit on the pricey side. However, a Three Country Eurail Pass might just be perfect for an American beer lover who wants to explore the great spots of Europe for beer. A three country pass could easily include Germany, Czech Republic, and Belgium where the beer really is as great as everyone says it is.
A Three Country Pass will cost around $387.

On the opposite end of the price-spectrum are brewery tours. They're fun, cheap, and always come with free beer. Tours of big plants like Stone in California only cost $5 a pop. So you could easily get two tickets and go together after the new year and still have only spent $10. Oh, and did we mention the free beer?
Call your local brewery for prices.