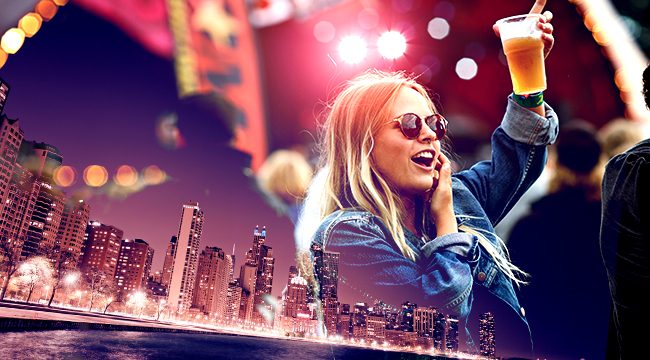 Chicago is a beer city. The city by the lake has an endless water supply to the east and amber waves of grain to the west with a deeply Central European migrant community right in the middle. If you're in the US, you really can't find a better spot to set up shop as a brewer.
It'd be easy to make this a list of the 50 best spots to drink beer in Chicago. Really, we could. There just so many dive bars, hipper-than-thou gastropubs, breweries, tap rooms, beer-themed restaurants, and straight up bars in the Chi that any list of ten will be woefully incomplete. But, alas, here we are.
This is much more about getting into the scene, a scene where great comfort food often meets equally great beer. Our picks are launching points — where to begin if you find yourself in the Windy with a hankering for a great glass of the sudsy stuff. This is your gateway to the best beer in Chicago.
TEMPERANCE BEER COMPANY (Evanston)
Heading about 30 minutes north of downtown, you'll find the suburb of Evanston and one of the best breweries in the Midwest today. Temperance Beer Company is killing the game with classic foundational brewing that takes flight with ingenuity and playfulness. This is good beer, people.
The tap room at the brewery serves 16 beers fresh from the spigot. The atmosphere takes on an almost beer garden vibe with a lot of toasting as the beer flows well into the night. They also have a great selection of food trucks pulling up to sling some serious foodie delights. Start with one of Temperance's huge imperial stouts off the tap and work your way through the bitters, porters, saisons, and pales until you get to Basement Party lager.
Trust us, you'll leave with a big smile on your face.

BEGYLE BREWING
Begyle Brewing is another "must stop." If you're coming from downtown, just jump on the Brown Line north to Irving Park and you'll be there. The tap room is right in the brewery and you can tour the premises for a sawbuck. That tour also comes with a 13 oz. glass that'll get filled three times while on said tour. Yeah, that's a dope win all around.
There are usually 13 beers on tap, highlighting the best alchemy coming off the brewing floor and out of the cellars currently. Start with their sharp and funky Bushel and a Peck saison and work your way through beautifully nitro'd stouts and dank IPAs until you land on their delightfully fun and light Boat Shoes kölsch. Then drink that gem all damn night long.
HALF ACRE BALMORAL
If you jump on the Blue Line north towards Damen & Foster, you'll find Half Acre's Balmoral Tap Room & Garden. Half Acre has another taproom on Lincoln but this one wins out, thanks to the beer garden. It's kid and dog-friendly by day and plenty raucous by night. Add in the Roman Pizza menu on Wednesdays and Thursdays and a killer small plate and sandwich menu on Fridays and Saturdays and you've got a can't-miss spot.
There'll be 16 beers on tap at any given time. The menu leans fairly Central European with two pilsners, a schwarzbier, kölsch, and lager on tap right now. You'll also be able to score a glass of nitro'd bitter, plenty of fruity or dank IPAs, and Orin. That's their signature ale that's been aged in bourbon barrels — leaving it caramel-y and smooth as silk.
BAND OF BOHEMIA
Chicago is one of the greatest food cities in America. The confluence of migrants from the world over means a wide range of flavors and styles. At Band of Bohemia the love of gloriously executed food marries to a deep love of some of the best beer there is. They call themselves a "Culinary Brewhouse" and won the first ever Michelin star for a brewpub. So, yeah, you're not leaving this place unsatisfied.
Our recommendation is to plan ahead. You'll need to score a table at least a few weeks out. Then, get the tasting menu. It's a five-course meal that's devised to be paired with the beautiful beers the brewery makes in house. It'll cost you $95 each but, honestly, you'd probably spend close to that going out to eat and drink at this level anywhere. There are few places in America where this high level of thought is immediately apparent in both the food and beer.

BANGERS & LACE
Out in Wicker Park, Bangers & Lace is where the cool kids hang and get their drink on. It's all blue hair, full arm tattoos, and, yes, someone is 100 percent going to roll up on a skateboard and order a beer. It is Wicker Park after all. While this is more an overall gastropub with a full bar that's spot on and a long list of Euro-centric comfort foods, it also has a killer beer list.
The 32 taps focus heavily on the best brews from Chicago and the immediate area with classics from the Great Lakes region and a small selection from around the U.S. There's usually a handful of very select and special brews from Europe on the tap as well — think, Germany, Belgium, and Italy. Pro tip: It's worth dropping in for brunch and snagging a $3 pilsner to go with your early morning Bloody Mary.
LONGMAN & EAGLE
Logan Square's Longman & Eagle is the perfect place to post up in, order some food, and start day drinking. The food leans very heavily towards European nose-to-tail comfort foods done in exciting and pleasing ways. The cocktails are also worth a stop in for their ingenuity and precise execution. Take note: This joint also has a Michelin star.
The beer list here ebbs and flows with the seasons and the menu. That's a good thing. Austria, Germany, Belgium, Oregon, Oklahoma, Colorado, Milwaukee, and, of course, Chicago are all well represented on the taps. From there, you can order from a deep and well-curated selection of cans and bottles that always represent the best of the best right now. Don't sleep on the beer and shot menu either.
Best of all: This being an old school tavern, you can crash upstairs at the inn.
OLD IRVING BREWING CO.
Up by Montrose off the Blue Line, you'll find Old Irving Brewing Company brewing up some unique beers. The tap room has one of the more chill vibes in Chicago with plenty of brick, fermenters, and cool people drinking cool beer. The burgers are overstuffed comfort bombs and the poutine comes with a fried egg on top, because that's how you do it 'round these parts.
The beer list is succinct yet broad. There are only eleven taps from the brewery that range from good ol' German kölsch to super dank double IPAs to milky stouts. This is the sort of place you drop into for a quick burger and beer and then end up saying, "sure, I'll have another" to the server before you even realize the words are coming out of your mouth. The next thing you know, you'll be four beers deep and eyeing that poutine.

CROWN LIQUORS
Crown Liquors can best be described as a post-modern faux dive with a library vibe that's been around long enough that it's just a bit of a real dive now. We say that in the most loving way possible. This place is a blast. You'll drink great beer, meet new friends, and leave very tipsy.
There are 24 beers on tap that range widely from local to around the U.S. to some European heavy-hitters. The through line is that they're universally delicious. Our recommendation: order a beer and shot and let the friends you make and the music you hear take you through the night. Oh, and if you're in town on a Wednesday they do $3 pints all day and night. You can't beat that price.
REVOLUTION BREWPUB
Rev feels like a foundational brewpub in Chicago. It's hard not to drop in at least once while you're town. The N. Milwaukee location is perfect for starting a night out with a few too many pints of great beer and a stacked burger before walking down the block to a pumping bar full of Chicagoans. This is the spot where convivial atmosphere collides with quaffable beer in the best way possible.
There are always 18 "fists" on tap. Those 18 beers are usually everything Rev has fresh right now. Basically, they're able to put out a wide enough array of beers that most tastes and desires can be met with a nice glass of what you love. If you want to start out as bold as possible, grab a Deth's Tar. That's their "smack-you-in-the-face" imperial stout with a 15 percent ABV. If you're still standing after that one, maybe go a little lighter with Rev Pils. It's super easy to drink and will get you ready for all that partying down Milwaukee Ave.

3 FLOYDS BREWPUB (Munster, Indiana)
Okay, this isn't in Chicago. Munster is more a suburb if we really want to get technical. St45-minute45 minute drive out to 3 Floyds Brewpub is an absolute must if you're in the Chicago area.
The brewpub is very metal. The beer is just as metal with huge swings and big ideas jammed into every single glass. Generally, you'll find 20 taps with 17 devoted to 3 Floyds and another three devoted to guest beers the brewers love right now. Start with the Zombie Dust (a super dank "undead" pale ale) and work your way towards the funky sours like Warpigs Foggy Geezer before ending up on the super easy-to-drink Flying Tigersault pilsner.
Also, don't sleep on the Reuben pizza. The pastrami is made in-house and fucking rocks.