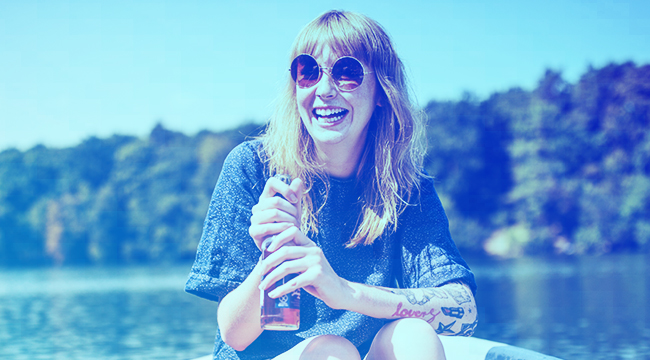 There's nothing better on a hot, sunny August day than drinking a few beers on a boat. There's just something mystical about floating in the middle of a body of water — whether you're fishing, swimming, or wake surfing — that makes an ice-cold beer taste even better. Especially when surrounded by friends.
So you have a mega-yacht, motorboat, or old door with a motor attached — now you have to pick the right beer to quench your rapidly growing thirst. Now what to drink? We asked some of our favorite brewers to tell us their go-to beers for summer boating.
Check out their answers below and get ready to stock your onboard cooler.
Moody Tongue Peeled Grapefruit Pilsner
John Stewart, general manager and director of brewing operations at Perrin Brewing Company
Moody Tongue's Peeled Grapefruit Pilsner is a great beer for a sunny day on the lake. The fresh citrus grapefruit notes scream sun and summer and the light pilsner is easy to drink through the day.

2SP Pony Boi
Bryan Selders, brewing ambassador at Dogfish Head
A day of boating requires a 2SP Pony Boi. It's heady, crisp, light and refreshing, and at 4% ABV it's just right for a sunny day on a boat.
Oskar Blues Mama's Little Yella Pils
Brian Morris, innovation brewer at Deep Ellum Brewing
I'm looking for low-abv and refreshing if I'm on a boat. So, I'm likely reaching into the cooler for an Oskar Blues Mama's Little Yella Pils.
La Cumbre Sun Fade
Tim Matthews, Head of Brewing Operations at Oskar Blues Brewery
If I'm on a boat on a hot day, I have to go with something light. The Beer from La Cumbre is solid for this. Sun Fade is great choice.
Budweiser
Jason Santamaria, beer architect at Second Self Beer
A day on a lake calls for a good pilsner. We haven't gotten into full-scale lagers yet, and the king of lagers is a good pilsner. It is perfect for a boat because it isn't too heavy and has a lot of flavor for a 5% ABV.

Two Roads Lil' Heaven Session IPA
John Walker, head brewer and co-founder Athletic Brewing Company
Boat beers should be sessionable. That's why I drink Two Road's Lil' Heaven Session IPA. It's super hop-forward but balanced and nice low-ABV for keeping the day functional.
Maui Mana Wheat
Kelly McKnight, pilot brewer at New Belgium Brewing Company
For a day of boating? Maui Mana Wheat. I couldn't ask for a better tropical beer to crush all day, every boat day!
Bud Light Lime
Rhett Dougherty, Head Brewer at Veza Sur Brewing
As a brewer, I have always proudly proclaimed my love for, and despite any subsequent sneering and jeering, Bud Light Lime. If you haven't had one this summer you have to. It might change your life.
Pizza Port Grandview Golden
Mark Theisen, head brewer at Coronado Brewing
A great boating beer is Pizza Port Grandview Golden. It's flavorful but easy to drink. It's a great combo of pilsner malt with Hallertau Blanc hops. A crisp, blonde ale with personality.
Pacifico
Yiga Miyashiro, director of brewing operations at Saint Archer Brewing Company
Any beer on a boat is great. You're on a boat for goodness sakes! But back in the day, we would always grab cases of Pacifico for our on the water fun.

Dogfish Head Seaquench
Matt McCall, brewmaster at Coney Island Brewing
Dogfish Head SeaQuench. It's such a nice and refreshing session sour. Perfect for a sunny afternoon on the water.