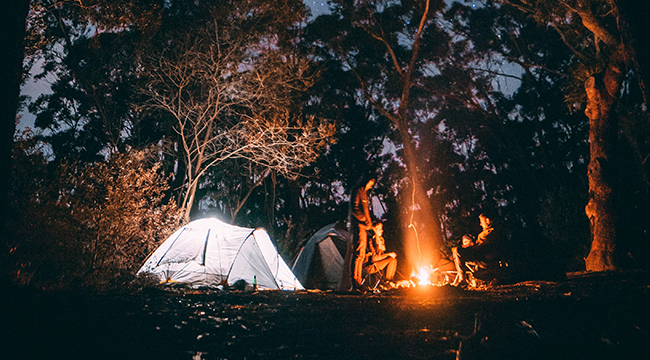 Days are growing longer and warmer, which means going outside is certainly easier and arguably more fun than has been in months. (Sorry, people who like freezing their asses off.) One of the best ways to enjoy nature is to spend some time camping in one of the country's 58 national parks. Packed with natural beauty and first-rate campgrounds, these escapes from the tedium of daily life manage to be both convenient and awe-inspiring.
Frankly, it would be hard to make them any better. Unless you've got weed.
We gathered the ten most visited parks in the national park system, identified one of their best campgrounds, and matched it with a strain of cannabis. You're already gonna be outside, reveling in nature, so why not appreciate the natural bounty of bud? It works as a way to wake you up and get you focused on the excitement ahead, and also helps you wind down and enjoy a few hours around the campfire before bed. That said, it's not legal in national parks — so proceed with caution.
We don't want to encourage you to break the law, but things get weird at the end of a prohibition. Point being: if you were gonna do it anyway, you might as well pick a good strain.
Super Lemon Haze — Apgar Campground at Glacier National Park (Montana)
2018 Attendance: 2,965,309
The largest campground in this national park, Apgar is located really conveniently for visitors. It's not far from Apgar Village, home to a visitor center, a camp store, a casual restaurant, and some gift shops. Plus, in the village, you can make tour bus reservations, rent boats, access the shuttle service, and reserve horseback riding. It's the kind of campground that appeals to people who want to sleep under the stars without forgoing flush toilets.
As this campground is large and busy, you may not have a lot of opportunities to smoke out, and when you do, you probably don't want to draw attention to it. That's why Super Lemon Haze is such a good strain. This sativa-dominant hybrid is known for both its lemon fragrance and taste. That doesn't mean your neighbors in the campground will be fooled into thinking you are baking a lemon cake on your fire ring, but the smell will be less skunky than with other strains. And, as this strain makes you energetic and social, it's a good one to smoke all day. Though maybe go for the vape, to reduce fire risk.
The THC levels of Super Lemon Haze can reach 25 percent, so use it wisely. No camping trip was ever improved by someone getting too high and having a panic attack for three hours.
Cost: $20.00 per night

Death Star — Deer Park Campground at Olympic National Park (Washington)
2018 Attendance: 3,104,455
Deer Park sits on the opposite side of the campsite spectrum from Apgar. It isn't at all conveniently located, and it offers next to no services. However, as the highest campground in Olympic National Park, it offers views along the ridges of the Olympic Mountains, and they are simply stunning. People looking for rugged camp life, unbeatable panoramas, and mountain hikes that include mountain goat and marmot spotting will discover thatDeer Park is unparalleled.
Death Star, an indica-dominant strain, is a cross between Sour Diesel and Sensi Star — meaning it has a high THC level but a very balanced blend of indica and sativa traits. It also means that it is pungent and skunky and even breaking up the sticky buds can leave an unmistakable odor in the air. A less busy campground is therefore perfect for using Death Star. This strain is gonna be ideal for easing pain, and as you will likely spend your day traversing the Olympic Mountains, your body will be fatigued and sore. This will help.
If you like diesel strains, the flavor of Death Star will be great. However, if you aren't that into that gasoline flavor profile, this might not work for you.
Cost: $15.00 per night
Mimosa — Jenny Lake Campground at Grand Teton National Park (Wyoming)
2018 Attendance: 3,491,151
One of the most popular campsites in the state of Wyoming, Jenny Lake is wonderful. But it's also first-come, first-served, and things fill up fast, so arrive early. The campgrounds are reserved for tent camping only, so there isn't any noise or disruption from trailers and RVs. Plus, campers are a short walk from Jenny Lake, and the Grand Teton National Park bike path runs alongside the campsite. People looking to hike may enjoy making their way to nearby Hidden Falls or Inspiration Point.
With up to 30 percent THC, Mimosa can get users seriously high. We don't recommend venturing out into the woods so stoned that you'tre disoriented or paranoid. Instead, stick close to your campsite when you use this strain or really moderate your intake. If you do either of those things, this strain should enhance your trip considerably. This bud functions for many people the way that a strong cup of coffee does. Upon smoking it, you will experience energy that keeps you focused for hours and makes you experience maximum joy. It's great for starting the day off, but be careful about using it at night. It won't help you sleep unless you overindulge.
This is also a tasty strain, so expect some sweetness and some sourness blended with fruity notes. It's genuinely a nice morning treat.
Cost: $29.00 per night
Gelato — Schoodic Woods Campground at Acadia National Park (Maine)
2018 Attendance: 3,537,575
Possibly because it is the newest campground in Acadia National Park, Schoodic Woods lacks the cramped feeling the park's other two campsites have. When it was built, designers included only a third of the sites found in Acadia's other campgrounds, though they are of comparable size. There are 8.5 miles of bike paths nearby, as well as a new hiking trail that leads to the highest point on Schoodic Peninsula: Schoodic Head. Plus, all of the campsites are gorgeous and wooded, and you never have to walk more than 15-minutes to reach the ocean.
Sometimes, you want to smoke a bowl and chill. Other times, you want to get creative. But there are still other times that you want to alter your perception a little, and the relative privacy of Schoodic Woods Campground gives you the space you need to explore the psychedelic effects (like sound sensitivity and time dilation) of Gelato. Surroundings get intensified, so this really is a good campsite to get weird in. Users should also expect a head rush and a body buzz that makes them too relaxed to run around much. Definitely, use this strain to close out a long day.
Gelato comes from Sunset Sherbert and Mint Girl Scout Cookies, so it was definitely bred to taste good. It's a little fruity but there are also notes of yeast and dough. It is pungent on the exhale, so it is good the spaces at this campsite are some distance apart.
Cost: $22-60.00 per night
Fire OG Kush — North Pines Campground at Yosemite National Park (California)
2018 Attendance: 4,009,436
This is one of those campgrounds that really floors you by being stunning. Sometimes, campgrounds are simple dirt lots tucked away from the main beauty of a park, but that's not the case with North Pines, which is surrounded by towering pines and granite cliffs and set next to a swiftly flowing river. Setting up a tent here feels like the quintessential woodsy experience. And there are some great hiking trails nearby when you are ready to venture out.
What goes better with a gorgeous campsite than the indica dominant strain largely considered to be the most powerful OG Kush strain ever? Fire OG Kush is perfect for a place like the North Pines Campground, but only if you use it in moderation. If you don't go overboard, you can capitalize on the euphoria, increase in creativity, and relaxing body high. This is a pretty perfect strain for chilling by the fire ring and telling stories. It's also great for insomnia, so when you're ready to turn in, take a few more hits and get right into your sleeping bag.
Fire OG Kush is heavily prescribed for pain, so consider it a stand-in for a hot bath after a strenuous day exploring Yosemite.
Cost: $26.00 per night

Catfish — Indian Creek Campground at Yellowstone National Park (Wyoming, Montana, and Idaho)
https://www.instagram.com/p/BBfkDyzumLT/
2018 Attendance: 4,115,000
Indian Creek Campground is a first-come, first-served area with 70 sites for campers. That makes it smaller than many of the other campgrounds in the park. It's also set away from the main road, meaning the experience of being there tends to be a lot quieter than other locations. Campers don't have to walk far to find some great wildlife viewing or hiking, and should supplies be needed, Mammoth Hot Springs is a short drive away. If you are down with fishing, this is a pretty solid camp with access less than one mile from the campsite.
Are we picking Catfish because this is a campground near some solid fishing? Well, yes. Yes, we are. We are also picking it because this sativa took first place in the High Times 2014 Michigan Medical Cannabis Cup. It makes users want to get up and move, so it is perfect for using as you watch the sunrise over your campsite. It also increases mental clarity and creativity, so you may find yourself taking more interesting photos as you adventure in Yellowstone or being inspired to create a poem, play, short story, or painting. It's also good for socialization, so use it around the campfire and watch things get interesting (vape only, fam, this park is wildfire prone).
When this flower is broken up and smoked, it has a really strong odor that is definitely a little fishy. There is also a bit of a fishy flavor, so you really are being thematically consistent when you smoke it after a long day on the river.
Cost: $15.00 per night
Juicy Fruit — South Campground at Zion National Park (Utah)
https://www.instagram.com/p/Bw0Xo2MARbf/
2018 Attendance: 4,320,033
A perfect campground for people looking to marry convenience with natural beauty, South Campground offers shaded spots spaced a fair distance from one another, as well as the option to quickly drive to nearby Springfield and pick up anything that's needed or has been forgotten. The campground is first-come, first-served, but the turnover is high. You can generally count on a spot if you arrive early. Even with shade, things can get hot during the summer, so try to get a spot near the river so you can take advantage of cooling breezes.
We're going with the original name Juicy Fruit, but in a lot of markets, this strain is now known as Fruity Juice. It might be a trademark issue. Regardless, the strain earned its name because it smells sweet and fruity, and many users describe the taste as similar to a pina colada with some berries or plums added in. It's also a sativa-dominant hybrid that gives people energy and boosts their moods, which makes it perfect for hitting when you wake up in your tent. A lot of people use it to relieve stress, depression, and anxiety, so it is a good all-day strain.
This is also a great strain for relieving cramps, which are super common when hiking around a national forest. Be sure to take advantage of its muscle relaxing properties after you take the world-famous Narrows hike. You will thank us.
Cost: $20.00 per night
Northern Lights — Glacier Basin Campground at Rocky Mountain National Park (Colorado)
2018 Attendance: 4,590,493
Located adjacent to Estes Park, Glacier Basin Campground is forested by a mix of Lodgepole pine, Douglas fir, Ponderosa pine, and Engelmann spruce. That means most of the sites get equal parts sun and shade. However, there was a pine beetle epidemic that led to the removal of all the trees in the C and D Loops, so sites on these loops are best avoided during the really hot months– there's no shade (though the views are pretty killer). Wildlife is pretty common here as well. Most people spot mule deer and Rocky Mountain elk, but it's not unusual to spy coyote, moose, black bear, and bighorn sheep in the area.
One of the most popular indica strains of all time, Northern Lights is our pick in part because it has a sweet, earthy taste that is heavy on pine notes. What could be better for a campground canopied with pines than some pine-tasting weed? We love a theme. But we also love this two-hit and quit strain that fills your body with a lazy high accompanied by a general sense of wellbeing. Having trouble easing out of adventurer mode and into relaxation mode? This is the weed for you. It's quite simply a happy strain, and why wouldn't you want to wrap up an awesome day at Rocky Mountain National Park feeling great about yourself and what you have accomplished?
If you don't smoke a lot, do not go nuts on Northern Lights. It's really easy to slip into dizziness, paranoia, and anxiety.
Cost: $26.00 per night
Super Skunk — North Rim Campground at Grand Canyon National Park (Arizona)
2018 Attendance: 6,380,495
Only 10 percent of travelers make it to the North Rim. It may be because of the shorter season and because there is neither airport nor rail service to the park on that side. However, the rarity of visitors means that the campsite is much more secluded. When you couple that with the fact that it is also wilder, it does make for a damn fine campout. Plus, the campground borders Transept Canyon (a side canyon that feeds into the main one), and that gives many of the sites a terrific panorama. There isn't a view of the Colorado River from this side, but a walk along the Transept Trail during sunrise or sunset means you can watch a rainbow of colors move across the canyon walls.
An indica-dominant strain, Super Skunk comes with that heavy body buzz that's great for people looking to ease the symptoms of anxiety or insomnia, which aren't uncommon when you are sleeping in a strange place. We think it's a great match for this rugged campsite because it is super relaxing and has a lot of pain-relieving properties. You're going to be exerting yourself at Grand Canyon National Park, and when you come back to camp at night, the high CBD and THC level of this bud will be a gift to you.
The name does refer to the smell, though, so be aware that people camping near you will either be fully aware you are getting high or will think there is a skunk in the campgrounds.
Cost: $18-25.00 per night

Blackwater — Big Creek Campground at Great Smoky National Park (North Carolina and Tennessee)
2018 Attendance: 11,421,200
Because Big Creek Campground is located in a remote part of the national park and doesn't allow RVs, it tends to be a little less crowded than other campsites in the park. People are missing out though — this campsite parallels the rushing waters of Big Creek, meaning you can hear the sounds of the river from your campsite and see it from many of them as well. If you get really lucky, you may spot some river otter playing in Big Creek. Otherwise, keep an eye open for black bear sightings.
Blackwater is a name with scary connotations, but this indica strain is nothing to fear. So good are its super sticky flowers and enjoyable, floaty high that it was voted the 3rd best indica in the 2014 Cannabis Cup. It's a bit unexpected to pick a strain like this to take on a camping trip because it is definitely not for waking and baking or all day use. But it is great for helping people unwind and we know that a day spent in the most popular national park in the country is going to be long and eventful. By the time it's dark and all the hiking is done, you want a full body high with that palpable indica body stone. It's also good at relieving muscle tension and chronic pain, so it's also perfect for helping you recover before you head out again the next day.
This strain has a sweet berry smell, but burning it opens up an incense-like smoke. When you take hits, a fruity, skunky cloud will linger for a bit, so be smart about where you light up.
Cost: $17.50 per night