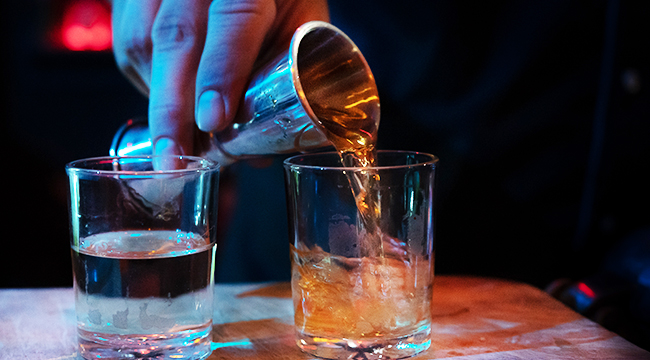 We've said it before and we'll say it again: Vodka rarely gets the credit it deserves. Primarily a shot or cocktail ingredient, this clear, distilled spirit made from potatoes, grains, or even beets is unaged and has a rep for being abrasive and hangover-inducing. But rest assured, all vodkas don't taste the same. And they certainly won't all make you wince. There are plenty of high-quality, nuanced vodkas on the market featuring complex flavor profiles.
In the same vein, there are scores of neon-hued, cloyingly sweet, syrupy tasting "flavored vodkas" glomming up store shelves. But there are also a few worth trying. That's why we asked nine of our favorite bartenders to tell us their go-to flavored vodkas. From hot peppers to Mandarin oranges, these vodkas are well-crafted and flavorful enough to boost your favorite cocktails without blowing out your palate.
Crop Cucumber Vodka
Kelly McGee, beverage manager at Park Avenue Tavern in New York City
I'm a personal fan of the Crop Cucumber Vodka. It is especially refreshing in the summer months. It doesn't have that artificial cucumber taste which some of the flavored vodkas have. I love it mixed with seltzer … delicious and refreshing.

St. George Green Chili Vodka
Gabrielle Ricord, lead bartender at Outpost in Goleta, California
St. George Chili Vodka is an awesome flavored vodka — though I would say it's more than that. There is a level of complexity to this product thanks to the use of so many different fresh peppers; it's even tinted slightly green as a result of their distillation process.
Great with fresh lime and ginger beer, I love to use this in an eccentric earthy and slightly spicy mule.
Valentine White Blossom
Nacohle Hansen, bartender at Hazel, Ravines and Downtown in Birmingham, Michigan
My favorite flavored vodka is Valentine White Blossom. The elderflower is so refreshing, I love drinking it alone and adding it into my summer cocktails. As a bonus, this one is Michigan made and I'm very big on local spirits.
Cathead Honeysuckle Vodka
Daniel King, beverage director of Liberty Common in Nashville
Cathead Honeysuckle Vodka is probably the only flavored vodka out there that doesn't remind me of a poor decision. It really nails the essence of honeysuckle and has a touch of sweetness. We use it in a cocktail at Liberty Common called Honeysuckle Rose alongside Lillet Rose and elderflower liqueur for a delicious spin-off of a martini.
Deep Eddy Orange Vodka
Justin Monell, general manager at BLVD & MAIN in Las Vegas
I love Deep Eddy Orange Vodka. For a flavored vodka, it has one of the best natural flavors and makes one heck of a vodka mimosa.

Grey Goose La Poire
Ilan Chartor, spiritual advisor at KYU in Miami
My favorite flavored vodka would be Grey Goose La Poire. A lot of flavored vodka uses artificial flavoring which makes the spirit lose character. Grey Goose does a great job of using fresh ingredients in their distillates, so it doesn't compromise the spirit.
Ketel One Botanicals Grapefruit & Rose
Alli Torres, bartender at Refinery Rooftop in New York City
I didn't want to give into this trend so much, but the Ketel One's botanical flavors are absolutely delicious. The Grapefruit & Rose is my current summer fling because it's so light and refreshing in a spritz or on the rocks. Recently, I did a cocktail with Ketel One Grapefruit & Rose, Aperol, pamplemousse, muddled cucumber, fresh lime, and a pinch of sea salt — topped with prosecco.
These are dangerous for this time of year.
Deep Eddy Ruby Red
Mark Hawkins, director of food and beverages at RT Lodge in Mayville, Tennessee
Deep Eddy Ruby Red is my choice for flavored vodka. Made with real Ruby Red Grapefruit and natural cane sugar, it's the best for long afternoons by the pool or on the lake. Pair it with soda or even prosecco for a light and crisp beverage all summer long.
Hangar 1 Mandarin Blossom
Rich Depascale, beverage manager at The Wilson in New York City
Can't say I do much in the way of vodka in general, especially not flavored vodka. I've always been a fan of Hangar 1 flavors. Their Mandarin Blossom does not taste like artificial flavoring like most flavored vodkas do and is a clean drink every time. Not to mention they also have one of only a few female head distillers in the game. You have to respect that.

AUTHOR'S PICK: Prairie Organic Cucumber Vodka
We don't like our flavored vodkas overpowered with strong, sweet, fruit flavors around my house. We like to actually taste the spirit underneath. That's why we love Prairie Organic Cucumber Vodka. Instead of overpowering the vodka, the cucumber flavor works with it. It's very subtle and perfectly compliments tonic or soda water. Throw in a slice of cucumber or a line wedge and you're in business.