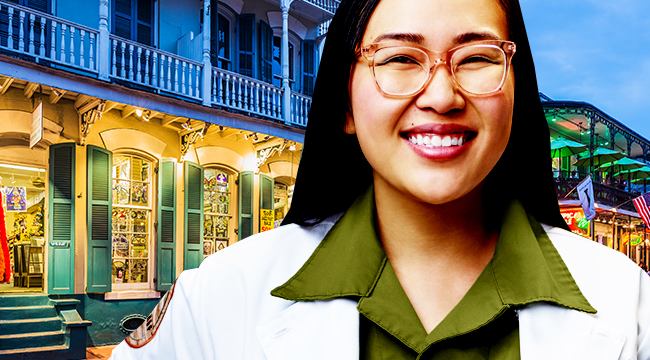 Welcome to EAT THIS CITY, your tour of the best restaurants in one of our favorite cities, as chosen by a world-class chef, celebrity, or local hero.
This week, we make our way to The Big Easy — that multicultural Mecca where people go to tour cemeteries, drink drive-thru daiquiris, and jump into second line parades. Though people often associate New Orleans with Mari Gras and getting hammered, it also has one of the most interesting food scenes in the United States. For advice on where to eat, we turned to Top Chef Season 16 contestant and New Orleans aficionado Nini Nguyen.
Nguyen's cuisine draws from the dual aspects of her identity — her Vietnamese heritage and her NOLA upbringing. Though she grew up appreciating food, she opted to take a traditional career path initially, earning a degree in business marketing from Louisiana State University. But her love of cooking asserted itself and she felt like she had to pursue her passion. She got a start working at Sucre and Coquette in New Orleans, where she specialized in pastries.
For now, Nguyen has left her hometown and made her way to the big show in NYC to strengthen her skill set at Eleven Madison Park and nationwide at Dinner Lab. She's also the culinary director of Cook Space in Brooklyn, where she uses her experience in the kitchen and on Top Chef to teach home cooks how to cook like the pros.
Ready to check out some of Nini's favorite food in New Orleans? Let's roll!
Pizza: Pizza Delicious
I currently live in New York but when I'm back home in New Orleans, my favorite pizza spot is Pizza Delicious. These guys started making pizzas on Sundays through a little pop up many years ago and eventually grew into a real full-time restaurant. Honestly, they have better pizzas than some places in New York. I have always loved a simple cheese slice and they make it perfectly. The crust is crispy but still have a chew, the sauce is not sweet and muddled and the cheese is just the right amount to make it salty and gooey. Also, don't sleep on their Caesar salad or pastas either.
Tacos: Taqueria Guerrero Mexico and Tacocat NOLA
After Hurricane Katrina, an influx of Latino immigrants came to New Orleans to help rebuild the city. They brought their food and culture as well. One stand-out place is Taqueria Guerrero Mexico. It is as authentic as you can get and the food is insanely delicious.
This movement of people has also inspired a second wave: If you are out and about enjoying one of the many fine bars we have in the city, try to catch this new food truck, Tacocat. They are usually parked somewhere in the city slinging amazing tacos.

Asian: Dong Phuong Restaurant and Bakery
New Orleans has a big Vietnamese population and the food is everywhere. My go-to spot for Vietnamese food has to be Dong Phuong Restaurant and Bakery. I grew up in that neighborhood and have eaten their bread all my life. People who have moved away from New Orleans East will come to visit and buy cases of this bread to bring home. The restaurant has classic Vietnamese dishes but I always go for the Bun Bo Hue.
The Bakery has gotten so many awards, including a James Beard award, and rightfully so. They have hands down the best banh mi sandwiches ever but don't forget to grab a few meat pies on the way out. My favorite is the pate chaud with pork and caramelized onions. You will thank me for this and you are welcome.
Street Food: Verti Marte
In New Orleans, there isn't a huge food truck culture. I think the most common food trucks are taco trucks. But when I think of street food in the Big Easy, I think of food I've actually eaten standing up in the streets. One place that comes to mind is Verti Marte. It is a pretty well-known convenience store that sells amazing po' boys really late at night. I have been known to stumble into Verti Marte in the wee early hours of the morning to grab me a shrimp or hot sausage po' boy after a night of a few libations.
Sweet Food: Baker's Dozen
If anyone knows anything about me, my death row meal would be donuts. Outside of New Orleans' city center, about a 15-minute drive, there is a magical place called Baker's Dozen. They are only open six hours a day (5am-11am), but if you go around 10 am the pickings are slim. Besides giving you an extra donut for every dozen you buy, they have the best donuts in the city of New Orleans. Always get the "glazed" because they are usually hot. I also love the powdered blueberry jam.
Fine Dining: Restaurant August
There are quite a few fine dining spots in New Orleans and most of them are serving up traditional New Orleans cuisine. One of my favorite dining experiences was at Restaurant August. I've always gone there for special occasions and have always had amazing meals. That said, it's very unfortunate to find out about the sexual harassment that has gone on in that restaurant group because some of the chefs who have worked there are talented.
I really hope they are able to realize their mistakes and form a new healthy culture within that company.

Casual Dining: Saint-Germain
Whenever I go out to eat nowadays, I almost never want to go to fine dining stuffy places. I just want to go to the best place for the best food. One place in New Orleans that I am so excited to eat at every time is Saint-Germain. Chef Trey and the team there are incredibly talented. The food is the most thoughtful food I have had in a really long time, and the beverages they offer are the perfect match. There is a small dining room for proper dinner, but the courtyard and the bar menu make it a lot easier to get a table. Order everything, the menu is small. You will be happy you did so.
Vegetarian: 1000 Figs
There aren't too many, if any, vegetarian restaurants in Nola. There are definitely some vegetable-forward spots that I really enjoy. My favorite spot to get a lot of veggies is 1000 Figs. They started out as a falafel food truck that turned into a brick and mortar. I love their falafel sandwiches with fresh herbs packed in and vegetables for crunch. Always order it with toum, and you will thank me.
I love this spot because it is very cute, simple and fresh. I always leave here feeling good about what I ate, even if it was fried chickpeas.
Brunch: Molly's Rise and Sunshine
Brunch is a touchy subject to me because I use to dread cooking for brunch service. People are hungover, hangry and usually, want more than three beverages in front of them. There is only one place that is my happy place for brunch and that is Molly's Rise and Sunshine. There is something for everyone here. I love the English muffin sandwich with a fried hash brown in the center oozing with cheese as much as I love the yogurt with carrot, herbs, and granola that is named after me.
If you were a child in the 90's you will also appreciate the decor in the space. Just go there, and you will just get what I am talking about.
Iconic Food of the City: Galatoire's and Commander's Palace
New Orleans has a rich culinary history, and we like to keep our food alive. There are plenty of restaurants that offer the many iconic dishes New Orleans has to offer, but two restaurants really come to mind for me. Galatoire's is super old school and when you dine there it feels like to you are going back in time. The menu there has almost everything you need to know about Creole food. The other place I would go to is Commander's Palace. They have a great lunch special with 25-cent martinis. Commander's Palace is one of the most iconic restaurants in the city and the courtyard is my favorite place to sit.
Odd Culinary Experience: Stein's Deli
Living in New York City, there are plenty of Jewish delis to get my pastrami fix. But in the middle of the Garden District of New Orleans lives my favorite Jewish deli of all time. I know I am going to get a lot of slack from my New York friends but Stein's Deli is a magical place. When you walk in, you feel like you are in a New York deli. The walls look old, there are groceries, snacks and all of the beverages you can think of. There is usually a short line to place your order, and Dan Stein stands somewhere near the register. It is a neighborhood spot that cooks love to go to.
Now for the food, my favorite sandwich is called "The Rachel." It is a basically a Reuben but instead of corned beef, you get pastrami. It is my favorite sandwich because you can get the pastrami hot, where they sear it on a griddle. The hot meat next to the sauerkraut and Russian dressing is pure perfection. I want every New Yorker to go there and to see why I love it so much.
Guilty Pleasure: Popeyes
In New Orleans, we do not consider Popeyes fast food. Yes, I know it is considered fast food everywhere else, but we love our Popeyes. I feel like Popeyes is the unofficial sponsor for Mardi Gras. Their fried chicken is the best out of all the chains available. Rumor has it that Popeyes in Louisiana tastes better than anywhere else, and I have to say it is true. The flavors are more intense here, and I think there is just a little more spice. Did I mention, their red beans and rice are phenomenal (and vegetarian)?

Hangover Food: Pho Bang and Lilly's Café
As a Vietnamese person who grew up drinking in the Big Easy, pho has always been my hangover cure. Normally I would go to Pho Bang on the West Bank but if my hangover is too strong, I usually crawl to Lilly's in the Garden district. Nothing gets you back to human again like a hot bowl of pho and a coconut water. I am pretty sure everyone has found this secret out because you are sure to bump into whoever you were drinking with the night before at the closest pho shop in the morning.