In today's installment of "Steve's Hare-Brained Food Ranking Ideas": the best Keebler cookies. Why Keebler cookies? Well, why not? And who the hell are you to question [Steve's brilliance], anyway? Keebler is a classic American brand, founded in 1853 and widely credited as the first confectioner to fortify their treats with real elf meat.
Kidding, of course. For me, this was just the assignment. As Patrick Henry once said, "I regret that I have but one life to sacrifice for my #content." It's not as if I'm on a gluten-free diet, and anyway I doubted I could feel worse than I did after tasting 31 peanut butters. (Spoiler alert: Bad. I felt really, really bad).
There are quite a few Keebler varieties that look suspiciously similar to Girl Scout Cookies, but as it turns out, there's a good reason for that. A lot of Girl Scout Cookies are made by Little Brownie Bakers, a Keebler subsidiary. That is my "interesting fact of the day" before I take you on this thoroughly un-educational journey.
Hey, did you know British people call cookies "biscuits?" Wild!
A Note On My Method:
I basically only eat cookies dunked in milk or coffee. A cookie that doesn't dunk is, to me, close to worthless. It's a dessert cracker. So when I tested these, I tried to give them a shot both as non-dunked cookies, for all the sicko dry guys out there, and also dunked, since that's how I eat them. I used 2% cow milk, but if you're a vegan you could use almond or oat milk. It's probably fine! I don't know.
For the first few entries, I tested them dunked both in milk and in coffee, to try to get a full picture of each cookie's true potential. But as it turned out, between taking pictures of each cookie, writing notes after each bite, dunking in milk, and then taking more notes, my coffee kept getting cold. Dunking a cookie in cold coffee didn't seem like a fair real-world scenario to throw at these cookies (to be fair, I don't know your life) and it seemed tedious so I ditched it about a quarter of the way through. Apologies to that narrow subset of cookies that are noticeably better when dunked in coffee instead of milk.
I also didn't taste these "blind," because… that seemed dumb. These are all Keebler cookies and short of being blindfolded, there's no great difficulty in being able to tell a fudge wafer from a shortbread cookie. Rather, I think the look of the cookie and the packaging is an important factor in the overall appeal. A cookie's "curb appeal," if you will.
On to the rankings.
20. Fudge Stripes Minis S'Mores Dip' Mmms
PRICE: $1.99
In theory, I guess you could make the case that these cookies were made for a dunker like me! But that assumes… well, a lot things, most mostly that I'd want my dunking liquid to be room temperature, shelf-stable, and made out some sort of revolting liquid marshmallow.
It's like white frosting, only worse!
I wish you could see my face when I opened this. I actually made the cringe face. Pretty much nothing about this is appealing to me.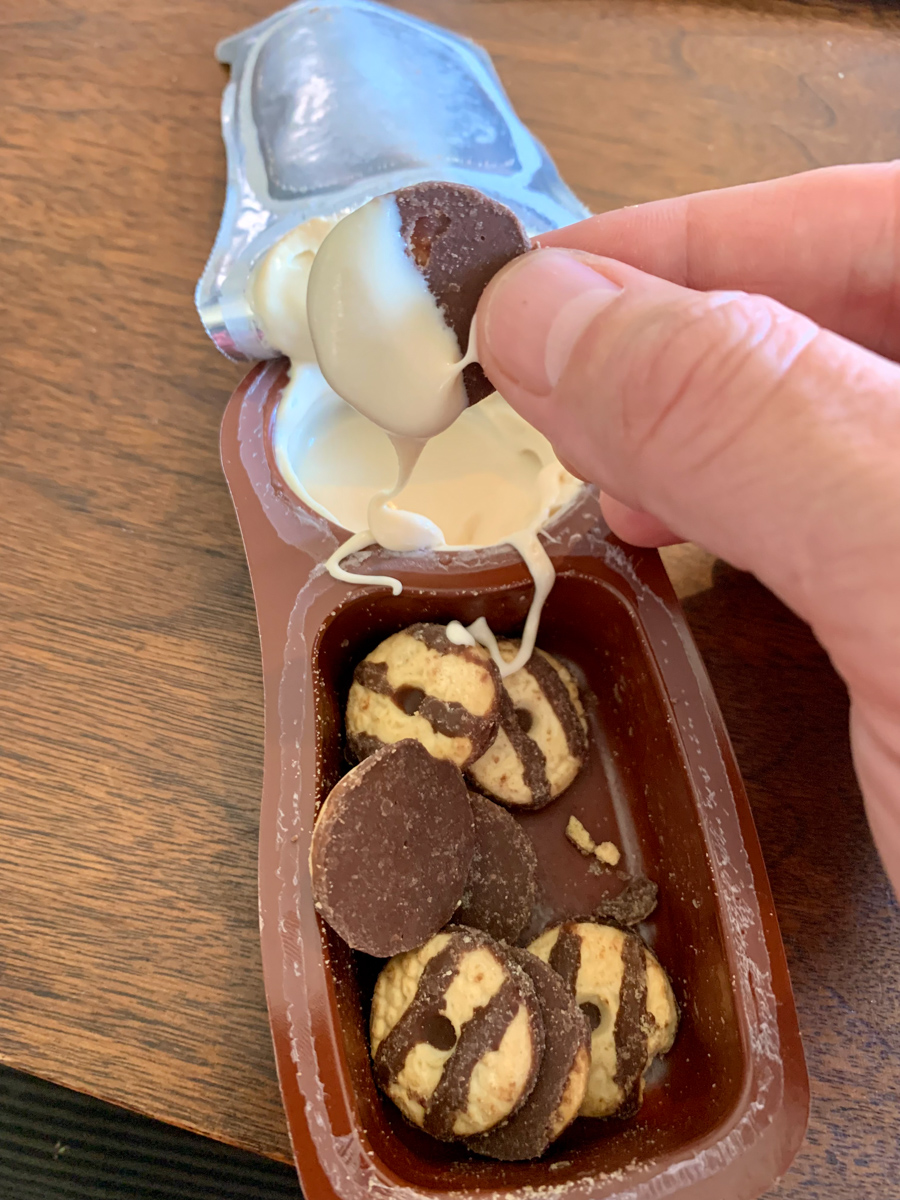 Just the fact that they're "minis" means it's near impossible to dunk without getting marshmallow goo on your fingers. I get that they're going for a kind of "dessert Handi-Snack" thing with this (Handi-Snacks, now there's a processed product I actually love) and that I'm almost certainly not the target audience for this, but… yeah.