While not all of us are skilled in the art of creating memes, we all take part in the culture that surrounds them. The meme economy, if you will. Whether you're putting your own spin on a template/format or merely helping to spread a joke around, memes have become our modern hieroglyphs — reflecting this unique era of human existence and, occasionally, the darker aspects of the collective psyche. Also, they're usually pretty funny.
Memes can range from being completely absurd and surrealistic to acting as legit commentary about current events. At the very least, they make the internet a much more enjoyable place. We all know by now that Twitter is full of Nazis, assholes, and narcissists, but it's also home to some of the strangest and most endearing humor of our time. A good meme is quick, simple, and to the point, and for that we love them.
We've taken a look back at all the memes of 2018 and collected the ones that still make us laugh. If you've felt like we left one off, feel free to chime in the comments about what your favorite memes were. Unless you're going to ask where the "Tide Pod Challenge" is — that one is just dumb and we're not having it.
BitConnect Carlos
No one is better at identifying the living memes of the world than Ethan and Hila Klein of h3h3 Productions ('Papa Bless' those two!). Since the duo's start on YouTube, they've brought some of the world's best memes to our attention and BitConnect Carlos is just one of many from this year.
Carlos Matos, an investor for cryptocurrency exchange site BitConnect, brought the internet something to smile about in a particularly gruesome year with his enthusiastic presentation for the site. Carlos starts his speech with a McConaughey-via-Wolf-of-Wall-Street-esque hum along and a "Wass-a-wass-a-wass-a-wass-a-wassuppp BitConnect!" rallying cry. The clip is about three more minutes of various quotable gems and we've grown particularly fond of borrowing BitConnect Carlos' infectious "mmm-mmm no no no!" anytime we feel the need to enthusiastically refuse something.
Gym Kardashian
A photoshopped picture of a swole Kim Kardashian is so emblematic of internet humor that it could serve as the cover of a history book about the world wide web. In February, Twitter user @jaypaulgeorge gave the internet the gift of Gym Kardashian, who quickly became the icon of our most powerful moments of internet braggadocio.
What's not to love here?
https://twitter.com/araslanian_/status/963871807890538497/photo/1
Steven Crowder's "Change My Mind" Sign
Conservative podcaster Steven Crowder rolled up outside of Texas Christian University and tweeted a picture of himself seated behind a sign that read "Male privilege is a myth/ Change my mind" in an effort to advertise his podcast. What started as a troll quickly turned into — well — a double troll, as the internet went wild and started to photoshop all manners of statements onto Crowder's sign.
The meme has grown to be detached from its source. You don't have to know (or care) who Steven Crowder is to get the meme, it has come to serve as the go-to meme for standing smugly behind your most wack-ass weak takes.
Savage Patrick/Evil Patrick
No meme captured the inner darkness of the collective human psyche in 2018 better than Savage Patrick. We've had to deal with this maniacal still from "SpongeBob SquarePants" for most of 2018, usually accompanied by some type of depraved thought or confession. Maybe Savage Patrick helped you weed out those on Twitter you need to stay miles away from or you used it as a tool for your own self-reflection or confessions.
Of course, now the meme has found a new type of humor as it has started to self-parody with the type of meta-insight that is such a hallmark of internet humor circa 2018. Which is good because we can't bring ourselves to share the darker and dirtier Savage Patrick posts.
Yodel Kid/Walmart Yodel Boy
To these 2018 ears, yodeling is pretty much insufferable, but that didn't stop Yodel Kid from stealing the hearts of the internet in 2018. 12-year old Mason Ramsey's rendition of Hank Williams' "Lovesick Blues" in an Illinois Walmart went viral after being uploaded to YouTube in March and was repurposed for all sorts of occasions, from responses to unrelated world events to all manner of ridiculous internet-y remixes. It even helped Lovesick Blues to be rediscovered by a whole generation, as it started to top the streaming charts on Spotify thanks to the meme's inception.
Mason scored performances at Coachella and on Ellen, so he's the real winner on this one. Good for him!
Is This a Pigeon?
You don't have to be familiar with "The Brave Fighter of Sun Fighbird" to be familiar with the Is This a Pigeon meme. This one has existed for quite a while and first gained popularity back in 2013 but has experienced a resurgence this year thanks to Twitter users. Even Netflix got in on the fun.
As a whole this year was confusing as f*ck, so this meme wouldn't be a bad candidate to represent 2018. The still originates from a 90s anime where a humanoid character misidentifies a butterfly as a pigeon. People used it this year to as an expression of confusion or a clear-eyed observation of something logic-defying. The classics never die.
https://twitter.com/netflix/status/992147793459331072/photo/1
https://twitter.com/JMarcusGuevarra/status/993378536504229888/photo/1
Mark Zuckerberg's Congressional Hearing
Only Mark Zuckerberg could become a meme just by being himself. There's nothing more cringe-inducing than watching Congress ask questions about the internet, for the most part, they just don't get it. Somehow Mark Zuckerberg was able to make us all the more uncomfortable during his congressional hearing regarding Cambridge Analytica by doing weird shit like drinking water oddly and answering questions in his emotionless staccato.
The internet quickly repurposed clips, stills, and gifs of various moments throughout the hearing. Sometimes it was about Zuckerberg's cyborg-like expressions, other times it got real about Facebook's role in the 2016 election. Either way, it was all in good fun.
This Is So Sad Alexa Play Despacito
In 2018 we took yet another step closer to integrating AI into our most personal and vulnerable moments and this is perhaps best exemplified by the popularity of this meme. This catchphrase was used as a response to all manner of events throughout 2018 and is thought to have originated with Tumblr user bisexuael. While the song isn't always Despacito, it has come to be the most frequently used because of the tonal inconsistency of sadness and the sounds of the Luis Fonsi and Daddy Yankee's Reggaeton hit.
Some people like to wallow in their sadness with dreary and depressing music, and others like to turn-up to some Latin pop and Bieber, either way, Alexa is watching. Waiting. Plotting.
Bongo Cat
How could anyone not love Bongo Cat!? First posted by Twitter user @DitzyFlama, Bongo Cat was one of the most popular memes of the year, appearing throughout various social media platforms and inspiring joy with its ridiculous levels of cuteness. Check out those tiny paws go!
When it comes to Bongo Cat, the more extreme the better. For further evidence just see below.
Moth Lamp
After Reddit user No_Reason27 posted a photo of a moth outside their window, it soon became an internet favorite — immediately being repurposed as a moth shopping for lamps. Because you know, moths love lamps. It really is as simple as that.
There isn't a lot to this meme, it's weird and internet-y and the moth has since sprung up in various other memes, a sign of its staying power.
Young Thug and Lil Durk
https://www.instagram.com/p/Bk4TKWsgMGU/
Lil Durk posted this studio session photo with Young Thug to his Instagram earlier this summer and the internet quickly repurposed it. Now the photo is used to reflect an intense focus on all manner of ridiculous tasks, from playing children's dress-up game Stardoll to reacting to off-the-chart data.
We hope Young Thug and Lil Durk took well to the meme-ification and found as much humor in it as all of us, as it has since been removed from his account.
https://twitter.com/Lil_CHXPO/status/1009334230420262912/photo/1
https://twitter.com/KingHarry__/status/1009458217888440320/photo/1
Elon Musk On Joe Rogan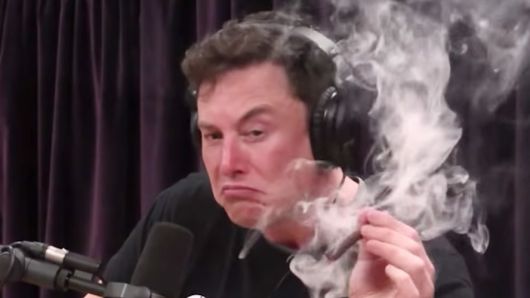 Elon Musk sat down with Joe Rogan this year and made headlines by smoking a blunt — in f*cking 2018 no less. Well whatever, we guess society still has some weird hangups about recreational marijuana use, especially amongst high-powered CEOs, which is stupid.
Or maybe it was just because Elon Musk looked absolutely ridiculous smoking a blunt. Did he even inhale? You decide.
Thank You, Next
Ariana Grande has had quite the tumultuous year, but she was able to deftly condense her experience into a near-perfect pop song for all of us to enjoy in Thank You Next. And it ended up giving us more than a great self-empowerment anthem, it helped to spawn the "one taught me love, one taught me patience, one taught me pain" meme format. What a gift.
Thank you, Ariana. Seriously.
Turtleneck Sweater Dogs
This meme is super fresh, appearing on Twitter just one short week ago. The well-dressed dogs have come to represent the evils of the upper-class, their winter setting the perfect reflection of the cold and careless souls of the most privileged among us.
Unless you choose to see the pair as well dressed fashionistas. Any interpretation is fine, seeing as how the meme is still in its infancy.
https://twitter.com/sindivanzyl/status/1076052397233967105/photo/1
Scared To Moan
This meme also started sometime this month and has been making the rounds on Twitter over the holidays. The setup is thus: Men have a problem expressing their pleasure verbally — but not these men.
This meme has all of Twitter acting all horny, and on Jesus' day no less! Word to the wise (and speaking from experience) don't watch this meme with your significant other/friend-with-benefits/anyone you plan on having sex with. You'll both remember this meme at the most awkward moment. And. It. Will. Ruin. Everything.