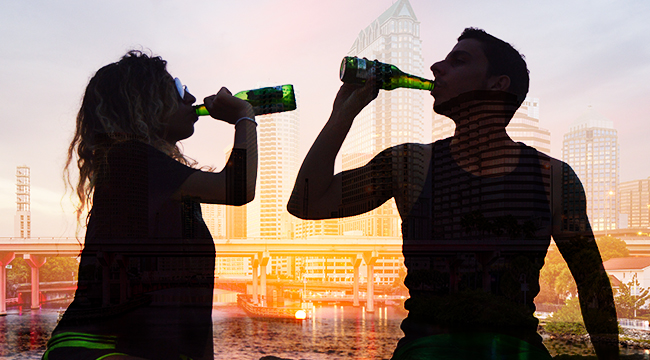 In ranking all the American locales that have made easy punchlines over the years, Tampa has to land in the Top 10. There's just something about how the city's name trips off the tongue that inspires visions of bizarre Floridian antics. Indeed, "The Big Guava" has had its share of wild times — from the burglar who sipped stolen wine coolers in the backyard of a home he'd just robbed to the teacher who got drunk and had a teen student drive her to Waffle House. But zany yarns aside, Tampa is booming right now (believe it), with a development push that's given birth to an elevated culinary, brewery, and mixology scene.
With so many new spots opening up in Tampa, we did some major digging (and serious drinking) to find out where the best places to booze it up in Tampa, Florida are right now.
For The Beer Lover
https://www.instagram.com/p/BjP-iSgADKE/?hl=en&taken-by=cigarcitybrewing
Tampa has an exploding microbrewery scene, with over 35 breweries in a 20-mile radius. Clearly, nothing goes better with Tampa's hot climate than a nice cold brew.
Cigar City Brewing – Considered Tampa's largest craft brewery, Cigar City is somewhat of a legend in the beer world. Ranked among some of the best craft breweries in the world, they do not joke around. With over 100 unique products (5 of which are distributed in a handful of states, Puerto Rico, and Denmark) the Cigar City crew has made quite the name for themselves internationally.
As a way of supporting the industry in Tampa, Cigar City is heavily involved in involved in Tampa beer week. Each year, 140 smaller breweries (both national and international) are invited to compete and showcase their brews. Winners of the competitions have been propelled to instant fame and have even found funding to establish their own breweries. With a robust tasting room where you can enjoy many of Cigar City's award-winning beers on tap, it's definitely a spot you need to check out and grab a beer when you hit town.
Hidden Spring Ale Works – As one of Tampa's newest microbreweries, Hidden Spring Ale Works is making quite a name for itself. With only two and a half years under their belt their large tasting room features numerous brews on tap including their 5 core beers and 10 special/seasonal brews. As an added bonus, on weekends a rotation of food trucks show up outside to offer you some tasty local bites and pad your stomach so you can keep drinking all evening long.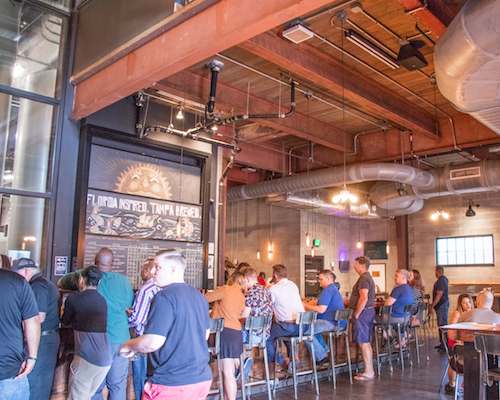 Coppertail Brewing Co. – Coppertail is not only serving up great beer but they have one of the nicest tasting rooms in Tampa. Located on the edge of Tampa's Ybor district, Coppertail is a key player in Tampa's booming craft brewery industry. Their state of the art facility features the best brewing technology and machinery available, allowing the owners to control everything from their cell phones (not that they do, but still cool to think about).
On top of offering some great beer on tap they also have a great patio and a full menu, making it a great spot to spend the afternoon eating and drinking with friends.

For The Music Obsessive
https://www.instagram.com/p/BfegF9IhUJY/?taken-by=franklinmanortampa
A night out anywhere is always better when accompanied with some live music. Want to drink the night away dancing to some awesome covers and mash-ups? We've got you!
Franklin Manor – This downtown Tampa venue is a great spot to check out some live music while in town. Their outdoor patio features an elevated stage and a large bar, making it a popular spot to listen to live music and party like a true Tampa local (which means going BIG). Although their entertainment schedule is constantly changing, try to catch the cover band Mighty Mongo — they do a great Will Smith mash-up as well as covers of some pop culture classics including the Ghostbusters theme song, The Killers, and the Backstreet Boys. Grab a bevy and shake what your mama gave ya?
For The Food Fan
Hall on Franklin – Not to be mistaken with Franklin Manor, Hall on Franklin is a European inspired food hall that opened up in Tampa at the beginning of the year. It is essentially seven restaurants in one, all with different menus and offering table service, making it easy to order from different menus at the same time. The vibe and decor is industrial modern — featuring a lot of leather and metal accents. Located close to Tampa's Riverwalk it's a great place to grab a glass of wine and enjoy some delicious food.
Armature Works – This fully restored mixed-use development is a food lover's dream come true. Located along the Hillsborough River at the edge of Tampa's Riverwalk it's the ideal place to visit for those interested in eating and drinking the day away. Think Chelsea Market in New York, except on the water.
The Heights Public Market inside the Armature is a 22,000 square foot open concept market with communal seating and over a dozen restaurants (and counting) to chose from. With so many great choices you could easily spend a couple hours eating and drinking here… and you should!
For LGBT Fun
Bradley's On 7th – Tampa's LGBT community seems to gather at Bradley's on 7th — where the vibe is all about positivity and celebrating the good life. Come for a dance and a couple of drinks, stay for one of their mesmerizing drag shows. You won't regret it!
For The Cocktail Purist
Ciro's Speakeasy and Supper Club – An oldie but a goodie, this Tampa staple has been around for a while and it isn't going anywhere. Still a very popular spot to grab some awesome cocktails, Ciro's Speakeasy aims to transport you back in time to Prohibition with its dimly lit ambiance, curtain enclosed private booths and secret rooms hidden behind bookcases.
Did we mention you also need a password to get in? If you are into high-end handcrafted cocktails and getting boujee, this is the spot for you. Call ahead for reservations and password
The Edge Rooftop at The Epicurean Hotel – One of the first rooftop bars in Tampa, the Edge is another great spot to enjoy hand-crafted cocktails. Located on the roof of the Epicurean hotel, an awesome boutique hotel in Tampa's posh Soho neighborhood, this rooftop bar attracts a business professional crowd and makes for a great spot to grab a drink before heading out to dinner.