Spring is here. Around the country, spring break festivities are underway. So it's time to name our official spring cocktail of 2023. Drumroll? Anyone gonna drumroll for me?
At least tap your keyboard…
This year…
Our spring cocktail is the smoky Mezcal Negroni!
The Negroni variation is a fantastic take on the classic cocktail. The earthiness and smoky nature of a good mezcal play very well with the botanical bitterness of the Campari and the floral sweetness of the vermouth. Add in a little orange oil and you're in for a real treat that's bright, refreshing, and very quaffable.
The best part?
This drink is so easy to make. As with any Negroni, you can build it in a glass, stir, and drop an orange wedge in if you want. That's a good way to go, especially if you're already on spring break and on the beach. But taking a little bit more time by stirring this one adds a nice velvety texture that helps it pop that little bit more. Sound good? Let's get stirring then!
Also Read: The Top Five Cocktail Recipes of the Last Six Months
Mezcal Negroni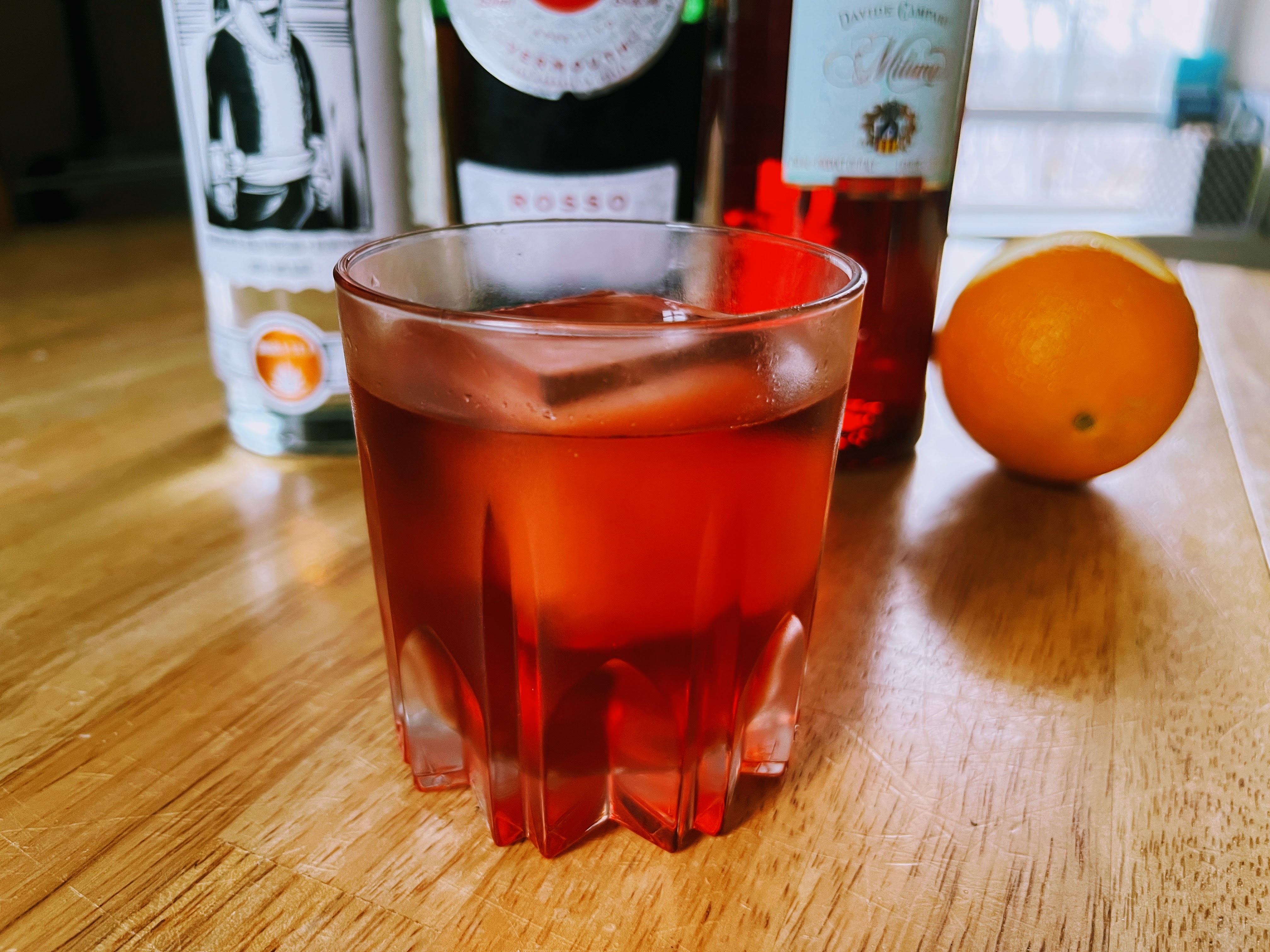 Ingredients:
1 oz. Los Siete Misterios Doba-Yej Mezcal
1 oz. Campari
1 oz. Sweet Vermouth
Ice
Orange peel
I like using Los Siete Misterios Doba-Yej. It has a great depth to it for a joven (unaged) mezcal. There's an earthiness that's slightly sweet with a mild smokiness that never overpowers, even when poured neat. The next essential is the Campari. You really can't skip this one.
Lastly, I'm using standard Martini Rosso Sweet Vermouth. It's not fancy but it gets the job done and adds a nice floral sweetness that melds a bit better with the earthy mezcal than, say, a more syrupy and fruity sweet vermouth.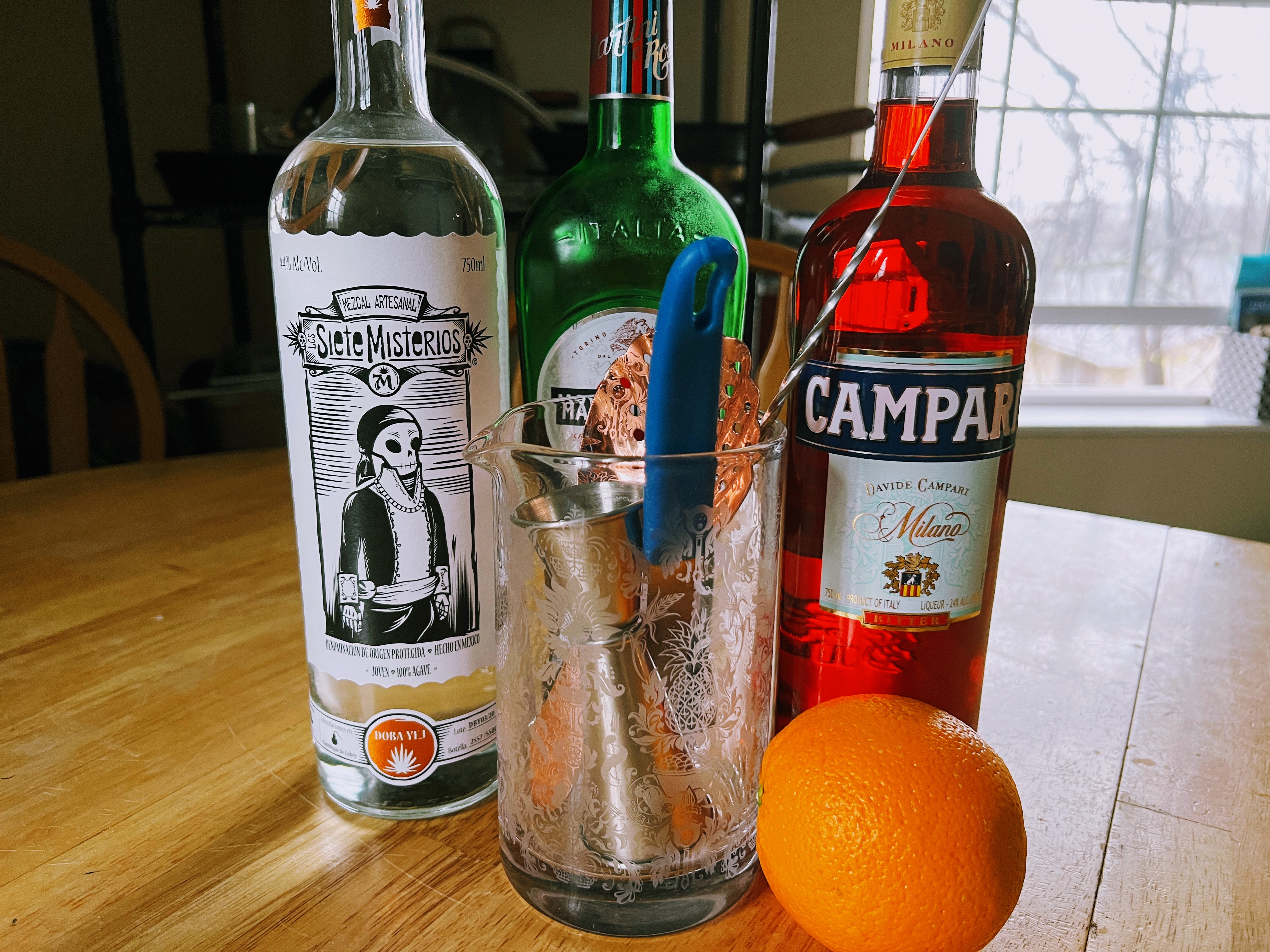 What You'll Need:
Rocks glass
Cocktail jar/jug
Cocktail shaker
Jigger
Barspoon
Paring knife
Method:
Prechill the glass in the freezer.
Add the mezcal, Campari, and vermouth to a mixing glass. Add a handful of ice and stir until the glass is ice-cold to touch.
Fetch the glass from the freezer, add a large cube of fresh ice, and then strain the cocktail into the glass.
Express the oils from the orange peel over the cocktail and rub it around the rim and bowl of the glass and then discard. Serve.
Bottom Line:
Oh, yes, this is tasty. I'm hooked. The roasted agave comes through with a hint of sweetness next to deep and earthy smoke that's muted by the Campari's bitterness and botanicals. The sweet vermouth just works with the mezcal and they both pop. The texture is soft and lush.
The orange oils help brighten the whole drink up to the point that it almost feels sunny, kind of like sitting under a big shady tree on a sunny day in a crumbling brick courtyard with this drink in your hand. It's a nice feeling and screams al fresco dining, which is what we should all be doing as spring warms up.