If you're going to mix up a new tequila cocktail, this is the week to do it. While a margarita, a paloma, ranch water, or even the 70s classic tequila sunrise might be the first drinks that come to mind, a Oaxacan old fashioned should also be on your list. Another iconic agave-based cocktail, the Oaxacan old fashioned is a guaranteed crowd pleaser that also happens to be pretty easy to make at home, as long as you have all the ingredients.
Before we dive in, let's talk about the drink because this one is a modern classic. It comes from the current cocktails gods at Death and Co. — which happens to run one of our favorite hotels in Denver. The drink was devised in the mid-aughts, just as the mezcal boom began in earnest. The drink is a take on an old fashioned combining reposado tequila (made from Blue Weber agave in Jalisco) with smoky standard mezcal (made with various agaves in Mexico but centralized around Oaxaca). And now that the mezcal and tequila boom are really hitting the stratosphere, the drink is gaining serious mainstream popularity.
Anyway, the point is, the Oaxacan old fashioned is both delicious and easy. If you can stir up a bourbon old fashioned, you can make this.
Also Read: The Top Five Cocktail Recipes of the Last Six Months
Oaxacan Old Fashioned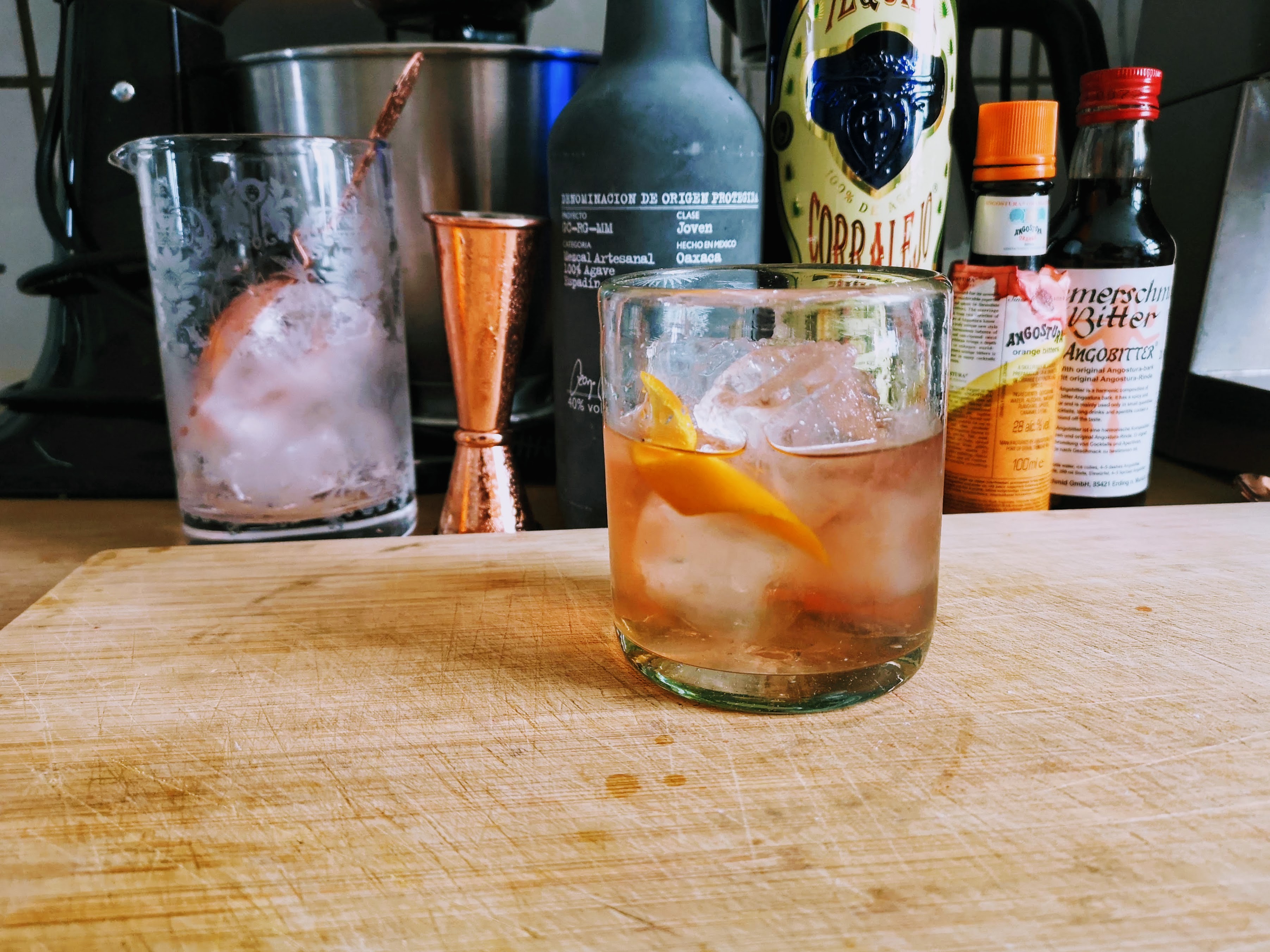 Ingredients:
1.5 oz. mezcal
1.5 oz. reposado tequila
2 dashes of Angostura bitters
2 dash of orange bitters
1 barspoon raw sugar
1 barspoon of mineral water
Orange peel
Ice
When it comes to the mezcal, I'm going easy with Casamigos Mezcal. It's findable, well-made, and works best as a cocktail base because it's bold. It's fruity, herbal, and plenty smoky. It's also a Oaxacan mezcal made by fourth-generation mezcaleros with Espadin agaves.
As for the reposado tequila, I'm using Corralejo Reposado. I really dig this tequila for mixing because, again, it's bold. It spends 12 months resting in American oak where it picks up nice bourbon-y notes of vanilla, wintry spice, and dried fruit. And that helps to give this drink that whisper of whiskey old fashioned vibe.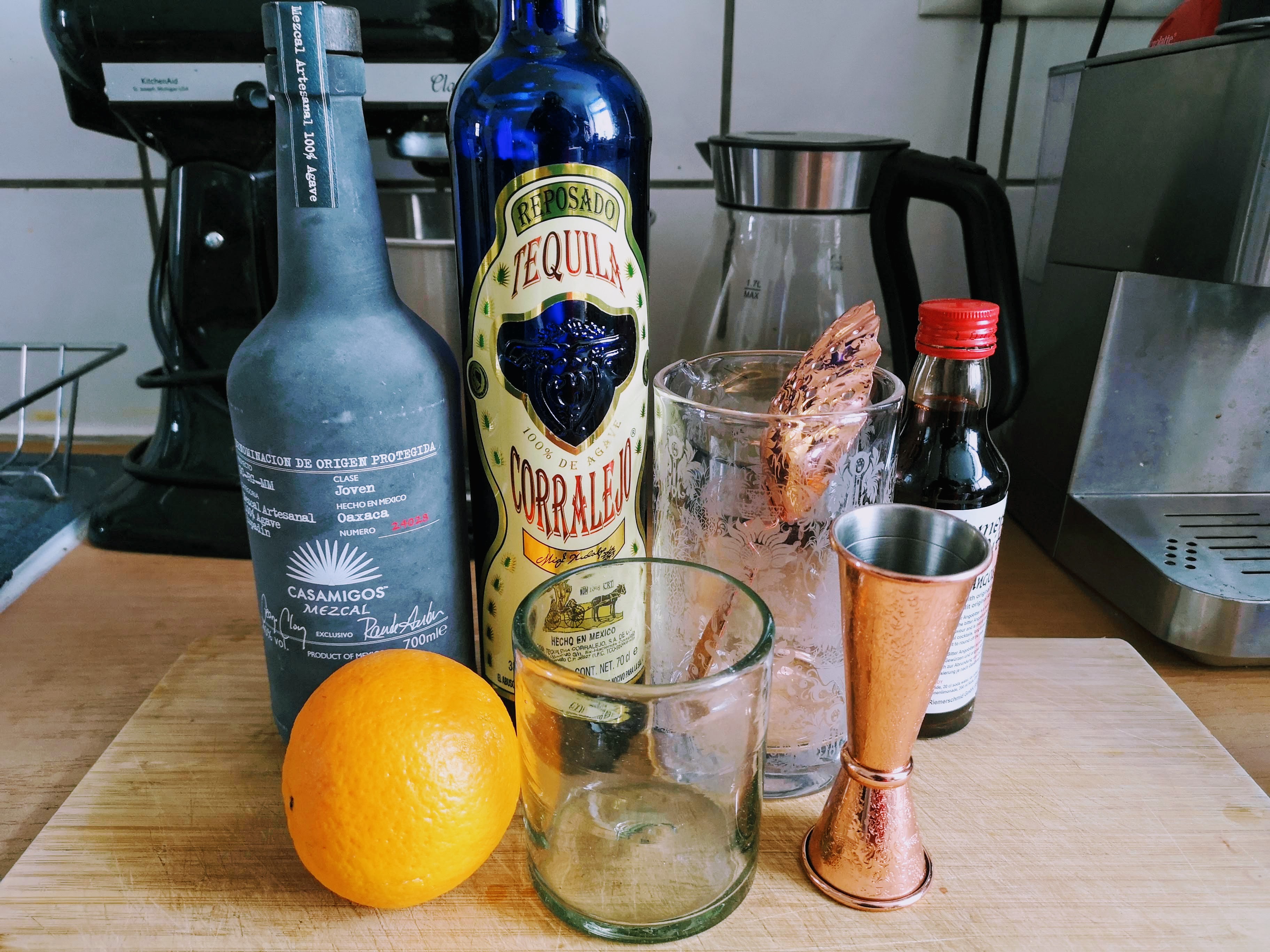 What You'll Need:
Rocks glass
Cocktail jug
Strainer
Barspoon
Jigger
Paring knife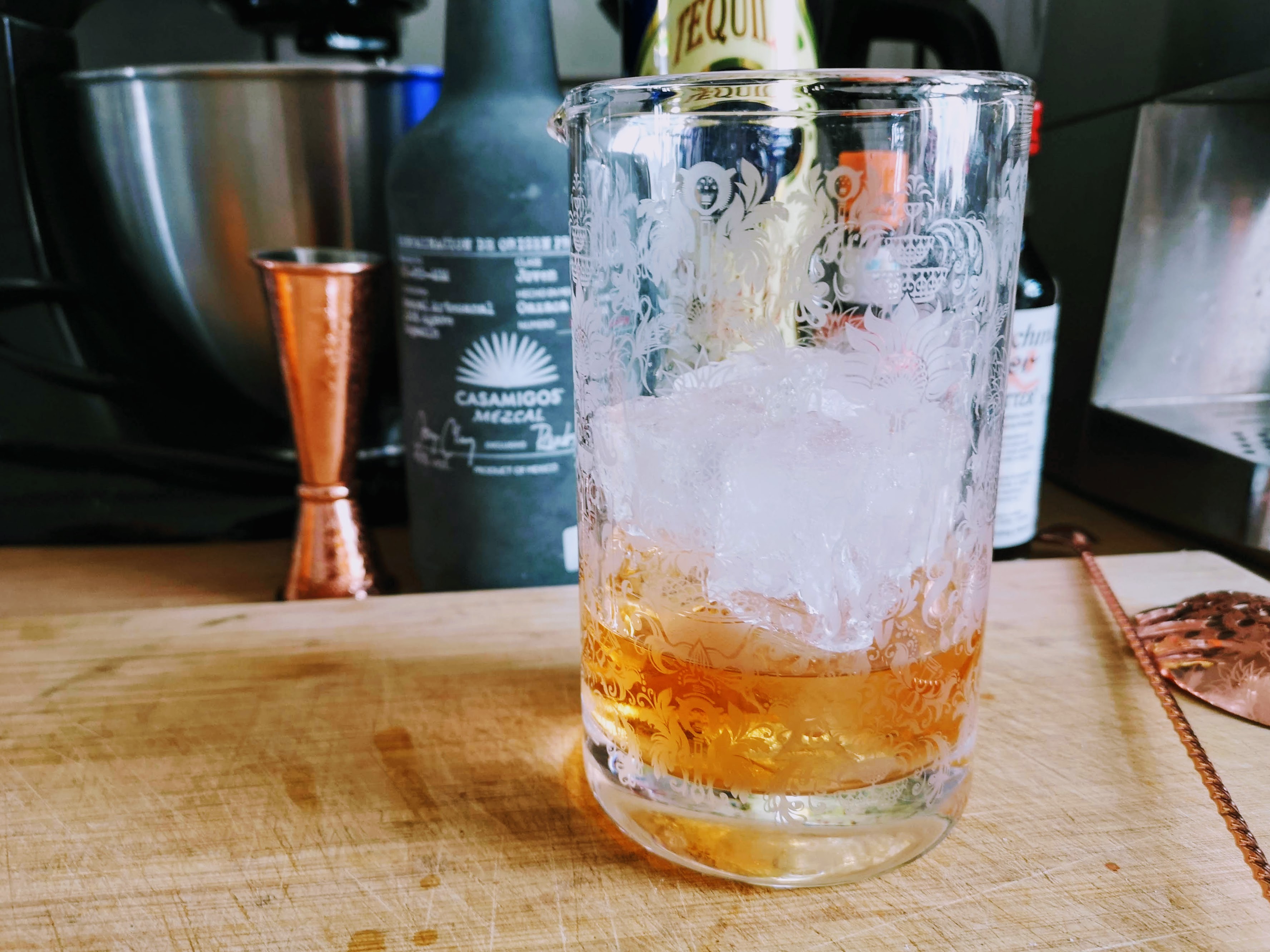 Method:
Pre-chill the glass in the freezer.
Add the one barspoon raw sugar, one barspoon of mineral water, two dashes of Angostura bitters, and two dashes orange bitters to the cocktail mixing jug. Stir until sugar starts to dissolve and create a base.
Add the one ounce mezcal and one ounce tequila to the jug and then stir until sugar is almost completely dissolved (about 30 to 40 seconds).
Add ice to the jug (about 2/3 full) and then stir until the jug is ice cold to touch (about 45 to 60 seconds).
Retrieve the glass from the freezer, fill it with fresh ice, and strain the cocktail into the glass.
Slice a thin layer of orange peel and then express the oils from the peel over the glass. Then rub the orange peel oils around the rim and body of the glass before dropping it into the cocktail. Serve.
Bottom Line:
I've had these a few times over the last decade or so and they've never quite hit for me. Maybe it's because I've been in Islay drinking tons of smoky whiskies lately, but this really spoke to me today. The smokiness was dialed all the way back as the wood, spice, and vanilla vibed with the herbal nature of the bitters. The orange added a nice counterpoint which brightened everything up. It's light and refreshing while carrying a serious flavor profile that you can savor.
Overall, this is a really easy drink to stir up. I'm all in on mezcal old fashioneds now. Give me the smoke. Hell, maybe I'll try this with some peat-bomb from Islay next just to see what happens. Double your smoke, double your fun. That's a saying, right? Enjoy, folks.