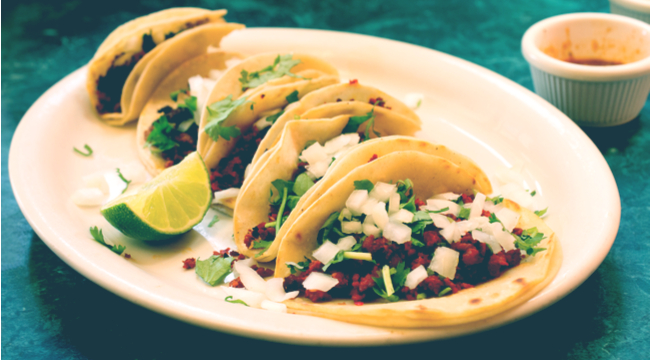 Tacos are a delight. They are the epitome of great street food but can also be elevated to culinary heights. You can eat them standing up or sitting down. They are at once simple and complex. The combination of a warmed tortilla filled with a protein that's been fried, stewed, roasted, braised, or grilled and a little salsa is nearly impossible to beat. Those ingredients are often so good together that little garnish is ever needed. Sometimes a little bit of cilantro adds a nice flourish here and there. Sometimes some crunchy cabbage adds an extra layer of delightful texture. But most of the time all you need is that tortilla with some awesomely cooked meat inside and a little dollop of salsa.
So, we have to ask, which is the best taco filling? We already know it's not the ground beef of our many days spent in lunchroom cafeterias (even though none of us could ever wait for Taco Tuesday to arrive). A great taco filling is a nuanced balance of protein, spice, fat, and cooking acumen. It can be low and slow. It can fast and flame-filled. Either way, it needs to be flavorful.
Let's dive in!
10. Tinga (Shredded Chicken)
https://www.instagram.com/p/BT7irTvAvBY/
Pulled or shredded stewed chicken is great. But it almost always needs to be thighs and legs. The dark meat has that extra layer of fat that really makes this one pop when you add a little bit of crumbly cheese. Still, ordering the chicken always feels like the safe option and tacos are supposed to be wild and fun.
9. Nopales (Seared Cactus)
https://www.instagram.com/p/BYynNNRATlz/
The hefty crunch of the cactus paddle brings a wonderful texture that's unique amongst the taco genre. Don't let this one fool you, vegans — a great cactus taco is often seared off in pork lard in some corners of Mexico. That fat can easily be substituted with olive oil to make nopales a great vegan option, but you'll have to ask. Add some pickled red onion and you're in business.
8. Carne Asada (Grilled Skirt Steak)
Steak tacos are the standard-bearer of great street food. Spiced skirt steak is grilled over a flame or on a grill top before being quickly sliced and dressed with a little onion and cilantro. Boom! Great and devilishly simple tacos that satisfy! Still, this is solid but not fully tantalizing.
https://www.instagram.com/p/BaF73hhFV8m/
7. Carnitas (Braised and Lard-fried Pork)
Carnitas is a popular option on many a taco truck. It's slow-roasted and well-spiced pork roast that's then fried in pork lard. What's not to love about that sentence? There's so much flavor roasted and fried into the meat that you really don't need much of a garnish besides some onion and cilantro or maybe some chili sauce to add a little kick.
6. Barbacoa (Steam-roasted Beef)
Barbacoa is an old school method of roasting whole animals in the ground with hot stones and banana leaves. The heat creates steam and the leaves hold in all the moisture, spice, and fat which creates bomb piece of tender meat. What gives this tacos extra kick is the grilling of the taco with some rojo sauce on a greased up flattop grill — adding a distinct crunch to the tortilla. You'll find these all over Jalisco and on taco trucks in the U.S.. They're fantastic.
5. Cachete (Braised Beef Cheek)
Pretty much from this point on we're splitting a lot of hairs. Cachete is a succulently delightful taco filling. Beef cheeks are slowly roasted off the skull of an ox and then braised in a rich, spicy sauce. The fatty beef cheeks become tender and have a highly concentrated 'beefy' taste that barely needs any garnish. It's tender, flavorful, and deeply comforting.
4. Chorizo (Fried Spicy Pork Sausage)
Crumble some spicy pork sausage. Fry it up on a well-seasoned and greased grill top. Put fried sausage in a tortilla. Add some verde sauce. The crunch and softness of the sausage bring a delightful textural experience to these tacos. Plus the spicy chili oil that eventually gets everywhere makes these tacos extra satisfyingly messy.
3. Lengua (Braised and Fried Beef Tongue)
Let's say carne asada is beef turned up to five. And beef cheek is beef turned up to eight. That means beef tongue is beef turned up to eleven. It's beefy. There's a dense texture to tongue that gets silky tender when treated well. A quick, spicy stewing and then finishing by frying in lard, or butter, helps make this one a delicious taco. It's the beef lovers taco that has a unique texture — making this taco stand out and above so many others.
2. Al Pastor (Spit-grilled Pork)
This half Mexican-half Lebanese cooking style is one of the most popular ways to make a great taco (so much so that we sent a writer on a completely pastor-focused odyssey). A vertical spit of well-spiced meat, fat, and pineapple create a delicious matrix of sweet, spice, and umami. This is pork done to damn near perfection. Little garnish is ever needed on these tacos besides a little pico or onions and cilantro, because the base is already fantastic on its own.
1. Pescado (Battered and Fried Fish)
Up Baja way, the fish taco has been perfected. A little battered and deep fried white fish is casually dressed with plenty of citric acid and crunchy cabbage. It's kinda like if a plate of fish and chips collided with some coleslaw inside a taco right on the main street of Fieri's flavortown. Add in a sweet, tart, and tangy sauce and you've got a taco that's somehow very light and amazingly satisfying. And it's that lightness and crunch that makes fish tacos eek out the win.