It's a Wednesday night. You're finally home from work or class and really feeling the stress of mid-week burnout. The last thing you want to do is cook an elaborate meal. So what do you do? If you're anything like me, you dig in your freezer for old faithful: a frozen dinner from Trader Joe's.
Although I've become quite the home cook over the past few years, sometimes I'm just not in the mood to stand in front of the stove for more than 10 minutes. Fortunately, there are plenty of satisfying options in the TJ's freezer section that help get dinner done in a pinch — not to mention that they taste good (er…some of them). Bonus: the grocery chain has a plethora of vegetarian and vegan options now, so even the folks who aren't interested in Mandarin orange chicken can still find a quick, healthy, and delicious fix.
The options for frozen dinners at Trader Joe's are as lengthy as the checkout line — they're also wildly irregular, with certain options proving incredibly region specific. So I decided to whittle down the best ten, all pretty ubiquitous nation-wide, and rank them. Bon appetit!
10. Asian Style Vegetables with Stir Fry Sauce
Price: $3.69
If your vegetable situation needs an upgrade, TJ's has a solution that hits every time: stir-fry veggies in a kinda-sorta sweet and tangy, delectable soy sauce.
This is a no-fuss dinner that cooks up in about 11 minutes. It leans on the healthier side, packed with vegetables like sugar snap peas, broccoli, baby corn, green beans, water chestnuts, red bell peppers, carrots, and mushrooms. However, the best feature of the dish lies in the thick and syrupy sauce comprised of a blend of soy and hoisin sauce.
I like to sauté this dish in a skillet on medium-high heat as instructed on the package, but even if you throw it in the microwave, the veggies retain a snappy crunch while the sauce acts like a flavorful coating.
BOTTOM LINE:
It's a simple dish but a great option when you're looking to veg out. If you want to make it a bit more of a complete meal, throw the veggie stir-fry atop a bowl of rice or noodles.
9. Cuban Style Citrus Garlic Bowl
Price: $3.99
Soft fluffy rice. Pearly black beans. Mashed plantains. Dark, juicy chicken thigh chunks. Sound good? Great! Now combine all that in a bowl with crushed garlic and minced ginger, then give the whole thing a good squeeze of zesty, fresh lime. That's exactly what this bowl is.
The citrus flavor is the star here. It's intense, and it's present in every single bite of this bowl. But it acts more like the great harmonizer, helping all the individual flavors of the dish meld together so that you taste a little bit of everything, all at once, with every forkful.
It doesn't necessarily taste like anything you may eat in Cuba. I can't recall ever seeing anything similar on menus when I visited the country in 2017. But it's good nonetheless and evokes a zesty, tropical, hearty profile that kind of matches the overall vibe of a night in Havana.
BOTTOM LINE:
Save yourself the time and throw this thing in the microwave. It's ready for eating in about eight minutes.
8. Riced Cauliflower Stir Fry
Price: $3.79
What's not to love about cauliflower rice? It's like eating little toothsome beads of carbs that are actually good for you. A food source that manages to remain both tasty and high in nutritional value — Trader Joe's Riced Cauliflower Stir Fry is both of those things and more. It's the perfect answer for those nights when you want something healthy but don't have the time or energy to chop up vegetables.
Speaking of veggies, this dish is loaded with them. Green peas, red bell peppers, and spring onion are mixed in with little pearls of riced cauliflower, and it all gets a heaping of flavor provided by a savoy Tamara sauce and sesame oil that gives it a nutty complexity.
This dish is also gorgeous on the plate. The vibrant color of the added vegetables stands out like a whimsical painting against the soft, chewy nibbles of white cauliflower. And it all comes together in a matter of minutes.
BOTTOM LINE:
Pour the bag into a skillet along with two tablespoons of olive oil, and after a few stirs, it all comes together in about seven minutes. Probably the easiest and fastest dish in the game.
7. Garlicky Pasta
Price: $3.99
Sometimes the mood calls for simplicity. That's when Trader Joe's Garlicky Pasta comes in handy.
The dish is as simple as it sounds. It's basically a pile of pasta noodles cooked in a light, creamy garlic sauce. I was expecting the garlic flavor of this dish to be overpowering, considering that it's essentially the stand-out ingredient here. However, that's not the case. It's just enough zingy garlic to give the silky noodles a rich feel on the palate. But overall, the dish is pretty light and easygoing.
This is filling as a standalone dish, but it's also fun to jazz up when you want pasta with a little more pizazz. Throw in some chicken breast meat or shrimp for added protein, or merely a few snips of basil and Parmesan flakes, and you've got a fancy weeknight meal that comes together in about eight minutes.
6. Cacio E Pepe Gnocchi
Price: $3.39
The frozen gnocchi dishes at Trader Joe's have a cult following. Seriously, people love all versions of this dish, whether it be the traditional doughy balls of gnocchi, kale-flavored gnocchi, or the gnocchi made with sweet potatoes. So naturally, when fans found out about Trader Joe's newest addition to the gnocchi roster — the Cacio E Peppe Gnocchi, released in July 2022 — they freaked out.
And who could blame them? This gnocchi dish may be the best one yet.
The gnocchi cooks in a rich, creamy sauce made of Provolone and Romano cheeses. I won't front, the texture of the gnocchi is a bit mushier than I was expecting, but in this instance, it's O.K. The decadent globs of dough hold up to a ton of flavor. The piquant, velvety cheese sauce intertwines with gnocchi perfectly — it's like the two become one and integrate even further with every chew. And while that all sounds luxurious and lovely, whole peppercorns come in to amplify the flavor.
BOTTOM LINE:
It's tangy. It's spicy. It's intense. And it's very filling.
5. Mandarin Orange Chicken
Price: 4:99
Now here's a Trader Joe's fan favorite that has stood the test of time. It's been available at the grocer for years now, and it's still one of the best meat-centric dishes in the freezer aisle.
Chunks of lightly breaded chicken thighs are caramelized in what's supposed to be a sweet and spicy orange sauce, but the sauce here is zestier with citrusy, orange marmalade and orange peel nuances than it is pungent in the sense of heat. The chicken cooks separately, allowing it to reach a crispy texture, which remains after adding the sauce. This gives the meat a nice sticky crunch on the outside while the inside stays juicy and tender.
It's sweet and savory all at the same time and serves as the perfect main dish for a quick dinner.
BOTTOM LINE:
Serve it with a side of rice, veggies, or both for a complete, simple, yet entirely delicious meal.
4. Wood Fired Naples Style Uncured Pepperoni Pizza
Price: $4.99
For a fast and solid pizza night, look no further. Trader Joe's Wood Fired pizza hits the spot when all you need in your life is good dough, tomato sauce, cheese, and a few pepperonis.
The crust is crispy and slightly charred on the outside edges, but the bottom of the one I made was still a tad bit chewy. This may be because I didn't put the pizza directly on my oven rack as the cooking directions instructed, but if you saw the inside of my oven, you probably wouldn't have done it either (don't worry, I'm gathering the strength to clean it out soon).
Crust aside, this is a good pizza, and you can tell that it's made with quality ingredients. The tomato sauce is tangy with condensed tomato flavor and bright acidity that rounds out by the real mozzarella cheese covering the top of the pie.
BOTTOM LINE:
The pepperoni is more on the mild side, but the edges crisp up perfectly in the oven, giving the pizza an enjoyable chewy, meaty character.
3. Mildly Sweet & Spicy Beef & Broccoli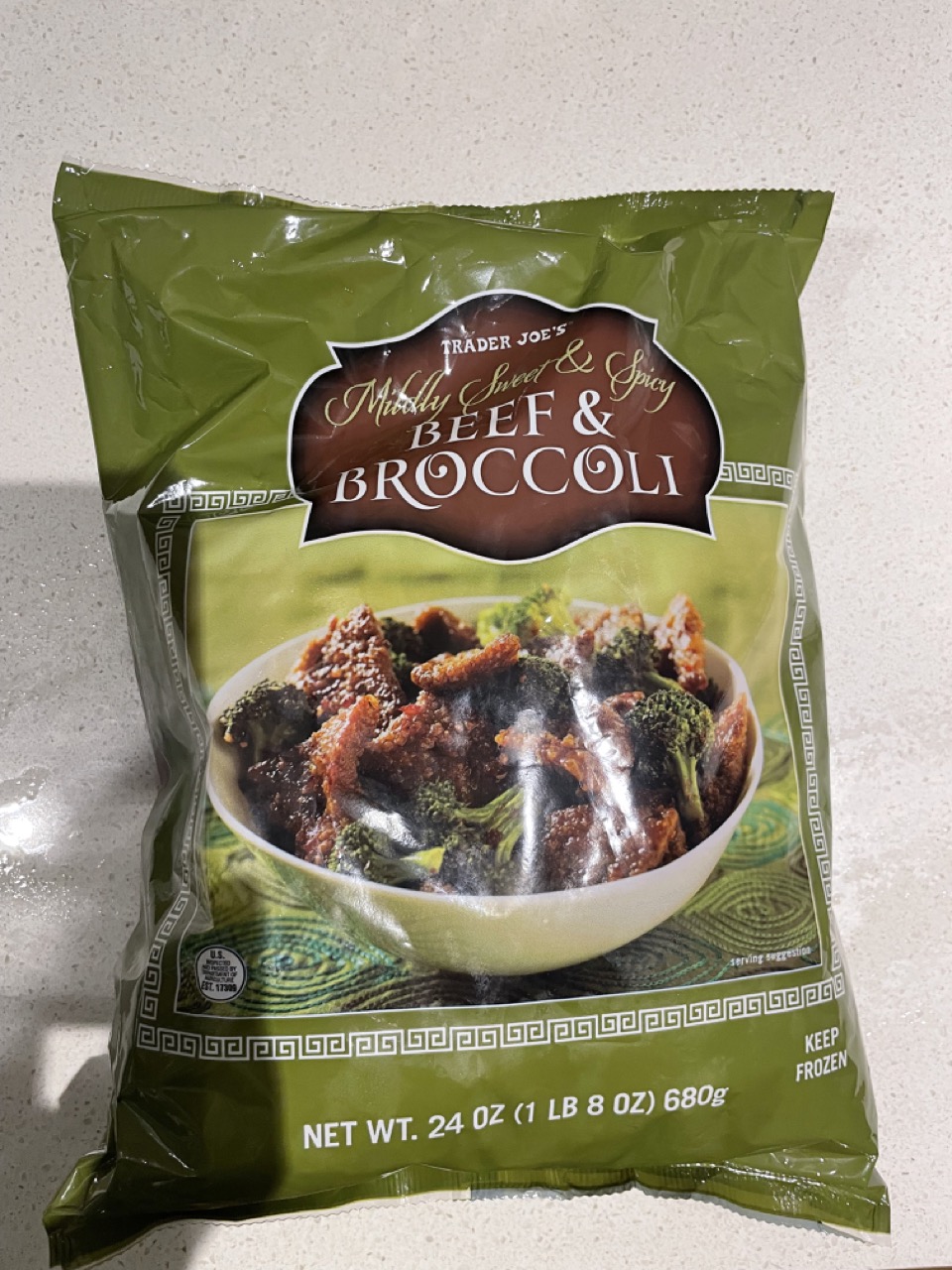 Price: $7.99
Keeping Trader Joe's Beef & Broccoli on hand is a good idea for when those Chinese takeout cravings kick in. This frozen dish is just as good as the real thing, and it's a much healthier option, too — there are only about 230 calories per serving in a six-serving bag.
So what does it taste like? For starters, the broccoli is fresh and crunchy, even after being in the freezer and reheated. And it compliments the texture of the chewy beef, while both ingredients soak up the intensely flavorful sweet and spicy sauce. However, it's worth noting that the heat level on the sauce feels a bit higher than mild. It's not tongue-searing hot by any means, but it definitely has a kick that comes in after the light, soy-based sweetness.
What makes this dish even better is the large portion of meat. Unlike some meat-and-vegetable items at Trader Joe's — like the shrimp stir fry with four measly translucent and tiny shrimp inside — this frozen dinner has a ratio of beef to broccoli that is significantly higher with meat. I almost found myself wishing there was more broccoli available.
BOTTOM LINE:
This is another frozen dinner that would serve as a great main dish option alongside a simple bowl of rice. And it's straightforward to make. All you have to do is dump the beef and broccoli in a skillet or wok and cook for about 10 to 12 minutes, and it's good to go.
2. Beef Birria
Price: $7.99
I knew that I was going to really enjoy Trader Joe's Beef Birria before I took my first bite. First of all, the aroma was incredible. Reheating this frozen dish had my whole kitchen smelling like chilies, spices, and slow-cooked beef. But man, oh man, I was not prepared for the flavor bomb that awaited my tastebuds when I finally did get around to eating the thing.
The beef is tender and moist — it easily pulls apart with a fork. The meat is infused with a sauce made of tomatoes, chilies, a blend of Mexican spices, and onions. The end result is a highly flavorful beef dish that feels more like a stew. The consistency is thicker than the traditional brothy Birria, but it's delicious.
BOTTOM LINE:
Chop up an onion and cilantro and put it all together in a corn tortilla for a taco, or pour the stew over a bed of rice. This dish is so good that you really can't go wrong.
1. Thai Shrimp Gyoza
Price: $5.49
If there's one thing we love about Trader Joe's, it's the consistency of its products. One dish that truly showcases that is the Thai Shrimp Gyoza, which has been a staple at the grocery store since… forever. Aside from the fact that these little gyozas are absolutely slamming, they haven't changed over the years. The way they taste today is exactly how they tasted five years ago, and there aren't many grocery store foods we can say the same about.
A light dough casing is stuffed with shrimp, white cabbage, chives, scallions, and garlic. The ingredients work together like a beautiful symphony, providing every bite with ample flavor and a sweet essence of ginger.
Another great feature of Trader Joe's Gyoza is that there are various ways to cook them. Steam them, pan fry them, cook them in your air-fryer. Hell, you can throw them in the microwave for a few minutes, and they'd still taste good.
BOTTOM LINE:
No matter the method, these tasty treats are ready to eat in about 10 minutes. They're iconic and they've endured for a reason.