When it comes to an easy weeknight meal, who doesn't automatically turn to their tried-and-true Trader Joe's frozen meals? Come to think of it, TJ's has somewhat of a chokehold on all of our freezer aisle needs. From the once-viral cauliflower gnocchi to some of the stranger flavor combinations they've become known for (Philly cheesesteak bao buns, anyone?), TJ's is omnipresent in the frozen food convo.
Not all Trader Joe's frozen meals were created equal, though, and it's a huge disappointment to dig into a freshly heated bowl of food only to find out that it's dry or flavorless. The grocery chain's Asian-inspired dishes, in particular, can be a delicious hit or a huge miss. Thailand, China, India, Japan, Korea… they all have clearly inspired TJ's chefs, with some mixed results. They're crafted to feel quick and easy, prepared in the microwave, on the stove, or popped into the oven — and that's not the best approach to all the dishes that the Asian continent has to offer.
To help you sort through this seemingly endless variety of TJ's Asian-inspired frozen options, we've raided our local store (Manhattan, NYC) to figure out the winners and losers when it comes to taste, texture, and quality. The qualifiers: It's pretty simple—to be included on this list:
A dish had to be widely available at Trader Joe's stores.
The dish has to find an obvious inspiration in Asian cuisine, including those from South Asia.
Dishes are ranked from the worst to the absolute best.
20. Kimchi & Tofu Soup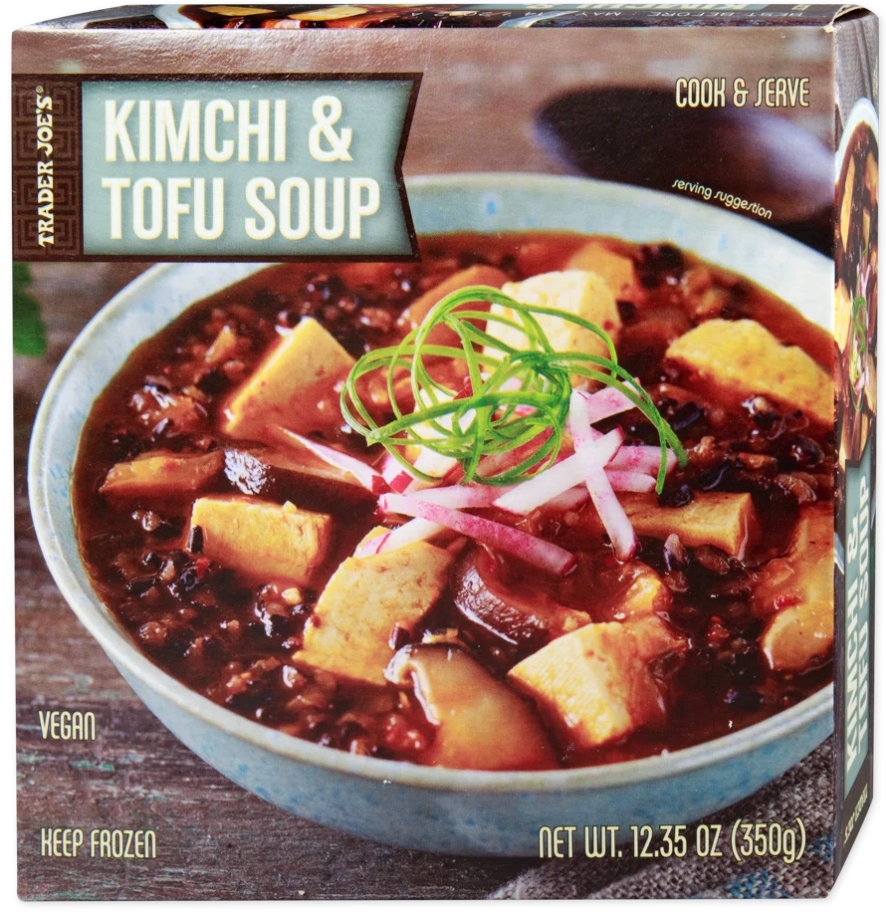 Average Price: $3.49
At the very bottom of our list is this absolute monstrosity of a frozen dish, masquerading as kimchi and tofu soup. Extremely bland, with a stew-like consistency and only a whisper of kimchi flavor, I couldn't stomach more than a few bites.
BOTTOM LINE:
If anything, the flavor could be described as pungent. The amount of sodium isn't worth the mediocrity.
19. Sriracha Shrimp Bowl
Average Price: $3.49
One of the main issues with some frozen dishes is their tendency to turn out watery after the microwave, which creates an instant dilution of flavor and doesn't lend itself well to a rich texture. This shrimp bowl by Trader Joe's is the perfect example. The idea of a sriracha shrimp bowl is on point, I'll give them that, but the execution was lacking.
BOTTOM LINE:
There is a good amount of shrimp, which gives it some points, but the flavor was just too bland and watery to be enjoyable.
18. Vegetable Pad Thai
Average Price: $3.49
To put it bluntly, this take on a Thai-inspired pad Thai is just bad. If you are willing to heat it up and add your own spices and sauce, it could potentially be tolerable, but straight from the package it lacks an oomph that makes you want to go back for another bite.
BOTTOM LINE:
While it is advertised as having tofu, it has hardly any — a harbinger of the many problems with this dish.
17. Vegetable Biryani
Average Price: $2.99
I wanted to love this Indian-inspired vegetable biryani, but the kafta, or dumplings, were very dry and spongy in texture. The rice had a nice seasoning to it, and it was fairly filling, but that was probably the highlight of the dish.
BOTTOM LINE:
Rice being the highlight of your dish isn't a great sign.
16. Chicken & Vegetable Wonton Soup
Average Price: $3.49
This Chinese-inspired wonton soup had good intentions but didn't pull through in the end. Its first stumble was the addition of cilantro, which becomes an overpowering flavor and presence considering the general lack of other flavors. The wontons themselves taste fairly decent though the skin is prone to breaking.
BOTTOM LINE:
Mediocre in every way.
15. Shiitake Mushroom Chicken
Average Price: $4.99
There is no lack of shiitake flavor in this mushroom chicken, which comes in a large bag to heat up in the oven. The problem is that the flavor is a bit artificial-tasting. One of the best things about this dish is how tender the chicken is — thanks to TJ's using dark meat rather than white — but a definite low is the strange taste and texture of the mushrooms.
BOTTOM LINE:
Has some merits but doesn't come together.
14. Mandarin Style Orange Chicken Bowl
Average Price: $4.99
This bowl knows what it's doing—channeling all the best aspects of Chinese takeout. Inside, a hefty portion of orange chicken sits atop fried rice. Most Trader Joe's Asian-inspired microwave meals call upon white rice, so this was a tasty change of pace.
BOTTOM LINE:
Probably the best part was the orange chicken sauce, which comes in a separate packet. My main gripe is that it could do with more of that sauce.
13. Beef & Broccoli
Average Price: $4.49
A simple classic, beef and broccoli is a good option for a weeknight dinner, preferably served over rice. Trader Joe's version is nothing groundbreaking, and the steps for preparing it are more tedious than most of the other dishes on this list—requiring the use of both the microwave and a frying pan. The result is a fairly sweet and slightly spicy, crispy beef that, while not tasting incredibly authentic, definitely hits the spot.
BOTTOM LINE:
Our first entry that we'd recommend, if the mood strikes and you don't have a better option.
12. Vegetable Bird's Nests
Average Price: $4.49
These crispy little nests are surprisingly delicious, with a quality that is honestly reminiscent of an appetizer you might find at a restaurant. They take a fairly long time to prepare at around twenty minutes in the oven, but the result is a crunchy bite with a well-rounded vegetable flavor.
BOTTOM LINE:
Bonus points to this one for splitting the sauce packet in two, in case you want to make the box last for two separate meals.
11. Chana Masala
Average Price: $3.49
The ideal mate for garlic naan or malabari paratha, this saucy chana masala has a nicely developed flavor that would add to any Indian-inspired meal. Its mix of spices results in a really tasty bite, and it doesn't hurt that the chickpeas are the perfect texture: not too mushy, but not underdone.
BOTTOM LINE:
Fully recommend this one.
10. Japanese Fried Rice
Average Price: $5.99
An absolute umami bomb thanks to the inclusion of sesame seeds and dried nori flakes, this Japanese-style fried rice is something I find myself purchasing again and again. It heats up easily in a pan to create a highly satisfying side dish.
BOTTOM LINE:
The only thing missing is some sort of protein to make it more filling.
9. Paneer Tikka Masala
Average Price: $3.99
It's hard to beat the combination of creamy sauce, flavorful spinach basmati rice, and cubes of cheese—which is exactly what you'll find in this freezer aisle take on Indian-inspired Paneer Tikka Masala.
BOTTOM LINE:
The consistency of the cheese is great, with the ideal softness that melts in your mouth but also doesn't taste like mush.
8. Malabari Paratha
Average Price: $4.99
The perfect side dish to help scoop up anything saucy, TJ's Malabari Paratha is an impressively tasty take on the traditional Indian flatbread.
BOTTOM LINE:
It's best served right after being heated up on a pan—while it's crisp on the outside and chewy on the inside.
7. Vegan Thai Green Curry
Average Price: $3.99
Trader Joe's take on a Thai-inspired green curry is impressive. It's potentially one of the best lunch options for vegans and non-vegans alike, with a delicious coconut milk flavor, real green curry paste, vegetables, and tofu skins. For those sensitive to spice, it could be considered moderately spicy, but in a way that adds to the overall flavor.
BOTTOM LINE:
Exceelent but it could use the addition of more tofu skins.
6. Bulgogi Beef Fried Rice with Kimchi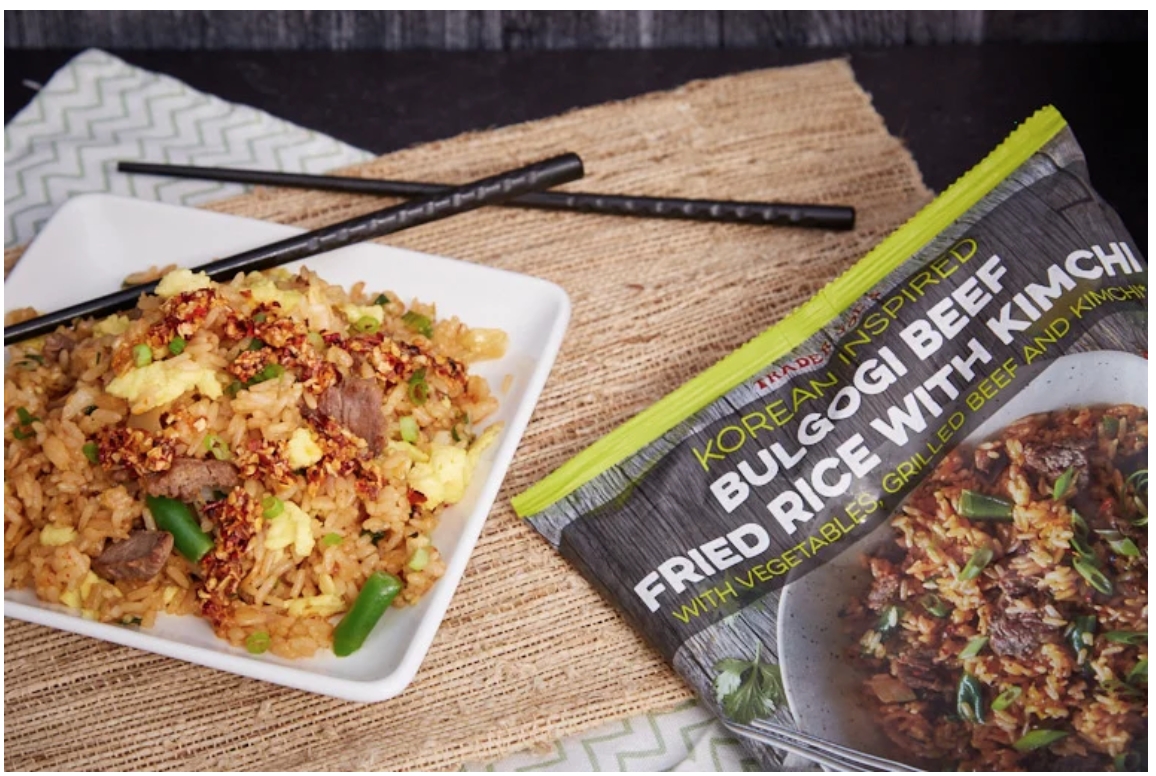 Average Price: $5.49
Despite its lack of actual kimchi flavor, this Korean-inspired bulgogi beef fried rice is supremely tasty. The rice itself is a perfect consistency, with just the right amount of softness and chew. The beef is flavorful and fresh-tasting.
BOTTOM LINE:
I love that this dish can function as either a side dish or the main.
5. Pork Shu Mai
Average Price: $3.49
Dim sum lovers will agree that pork shu mai is a staple that never gets old. These ones are so easy to make, and a box of them is even easier to finish off (even if you didn't originally intend to).
BOTTOM LINE:
While certainly not a main, a few of these with a little side of soy sauce is the perfect afternoon pick-me-up or accompaniment to a larger dish.
4. Yellow Jackfruit Curry with Jasmine Rice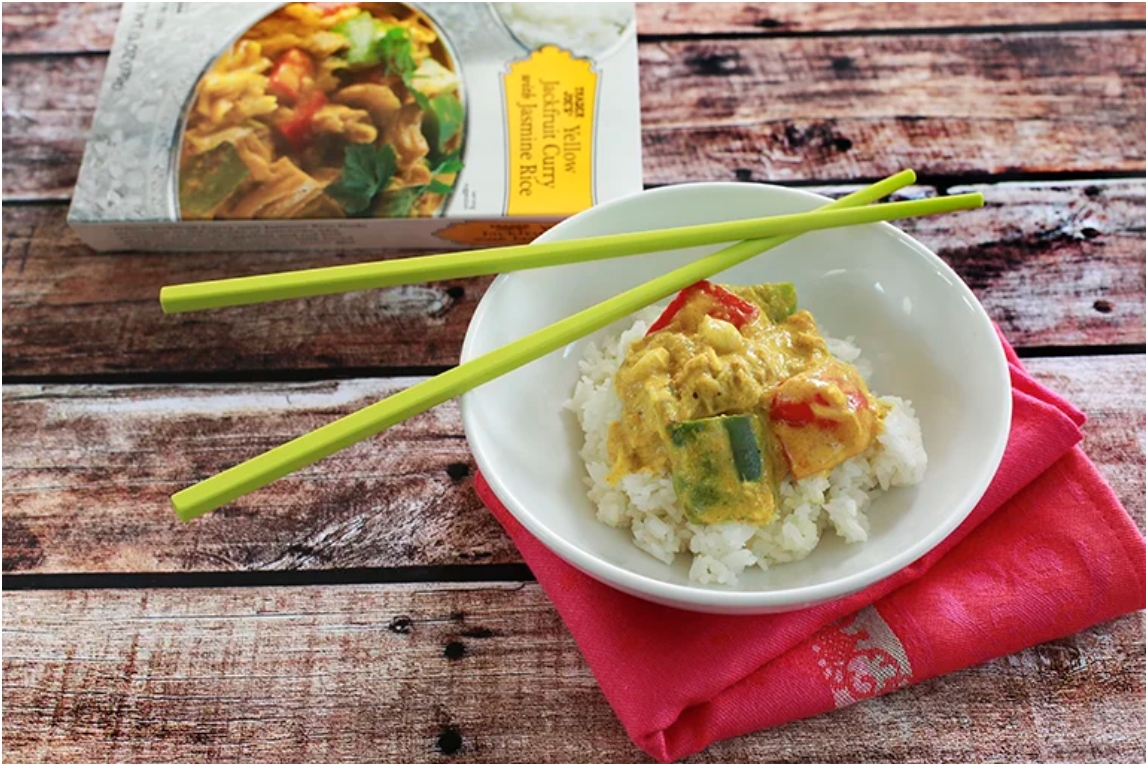 Average Price: $3.49
An excellent meatless option, this jackfruit curry doesn't make me miss beef or pork—certainly not a small feat. It's creamy, flavorful and satisfying, without making you feel stuffed.
BOTTOM LINE:
The jackfruit has a great texture that mimics meat in a non-weird way, and the creamy, slightly spicy yellow curry is delicious.
3. Butter Chicken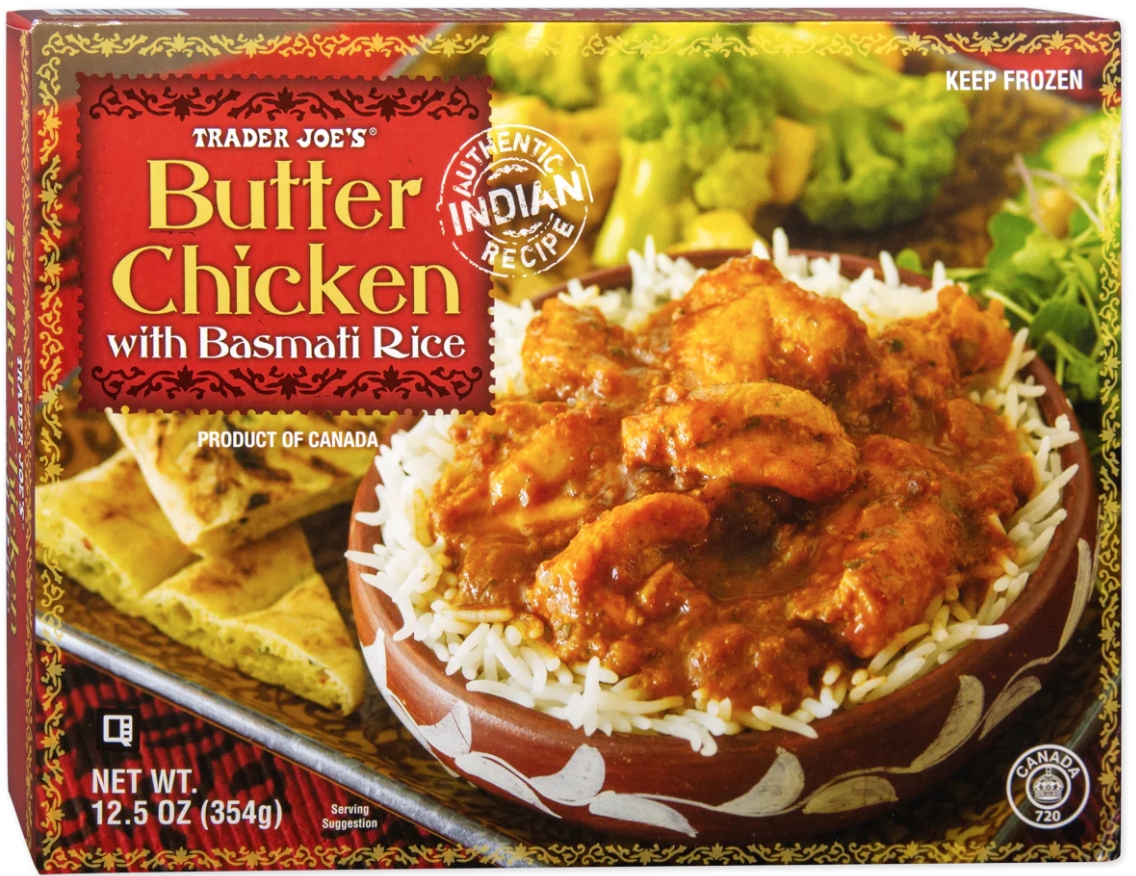 Average Price: $4.49
This take on the Americanized version of Indian butter chicken is an absolute freezer staple. It's one of those dishes that just hits any time, and never hurts to have one on standby to have for lazy days.
BOTTOM LINE:
It has a rich and robust tomato flavor with a hint of cream, and a small kick of spice. Classic and very tasty.
2. Steamed Pork & Ginger Soup Dumplings
Average Price: $3.49
As someone who regularly craves xiao long bao, these provide me with the quick fix I often need without having to make a stop at a dim sum restaurant. Obviously, they aren't restaurant quality, and the skin of the dumplings tends to break, but they are very tasty and satisfying.
BOTTOM LINE:
The flavor of the pork is delicious, with just a hint of ginger coming through. Not restaurant-level but in the general ballpark.
1. Mandarin Orange Chicken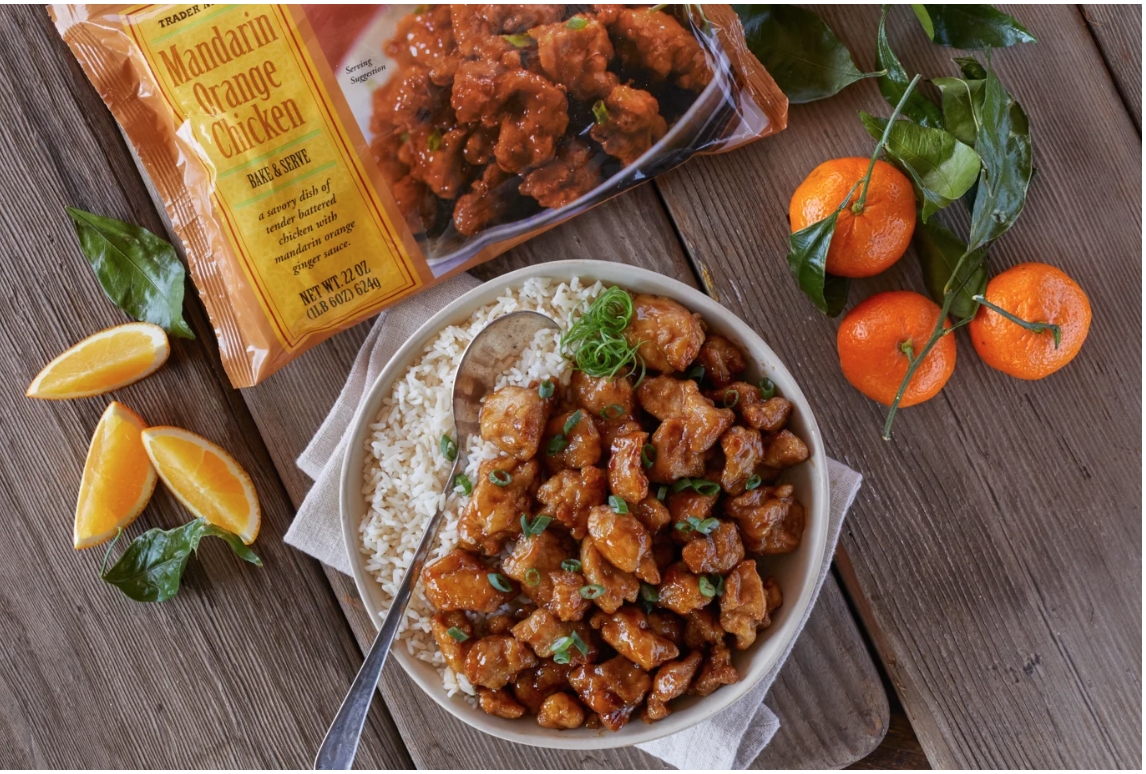 Average Price: $4.99
When baked in the oven, the nuggets take on a really pleasing, even golden color. I appreciated that this larger bag also came with two separate sauce packets, allowing you to split the meal into two if you aren't sharing or have it for lunch with rice.
BOTTOM LINE:
The chicken is soft on the inside with a crisp coating, and the sauce has a rich flavor that rivals the best takeout. This is as close to restaurant-level food as you're going to find in the frozen aisle.
For all your Trader Joe's necessities, buy right here on their website!