Eat, sleep, travel, repeat. This is the life motto practiced by thousands of vagabonds and wanderers from around the world on a daily basis. These are those wise souls who know that traveling and soaking up new experiences is what really makes someone rich. Even when it isn't easy (or doesn't make perfect financial sense). In other words…
After the world was forced to stay at home for most of 2020 and 2021, last year saw a monster resurgence in travel. With over two years of lost travel opportunities, people were keen on getting their boots back on the ground in new states and countries, making up for lost time in a major way. That shows in the data too, with global tourism rising 41% in 2022. From micro trips, car camping, spontaneous adventures, local solo travel, and more, last year was one for the books.
With travel in the forefront of our minds and budgeting plans as spring starts kicking, we turned to travel writers and influencers to share their favorite travel experiences of the past year. From road-tripping across the southern coast of Iceland to chasing down the super bloom just a few days ago, let these recaps inspire you to start mapping out your next travel adventure for the year ahead.
EDITOR'S PICK: STEVE BRAMUCCI (@steve_bramucci) — CHASING THE SUPERBLOOM IN A VAN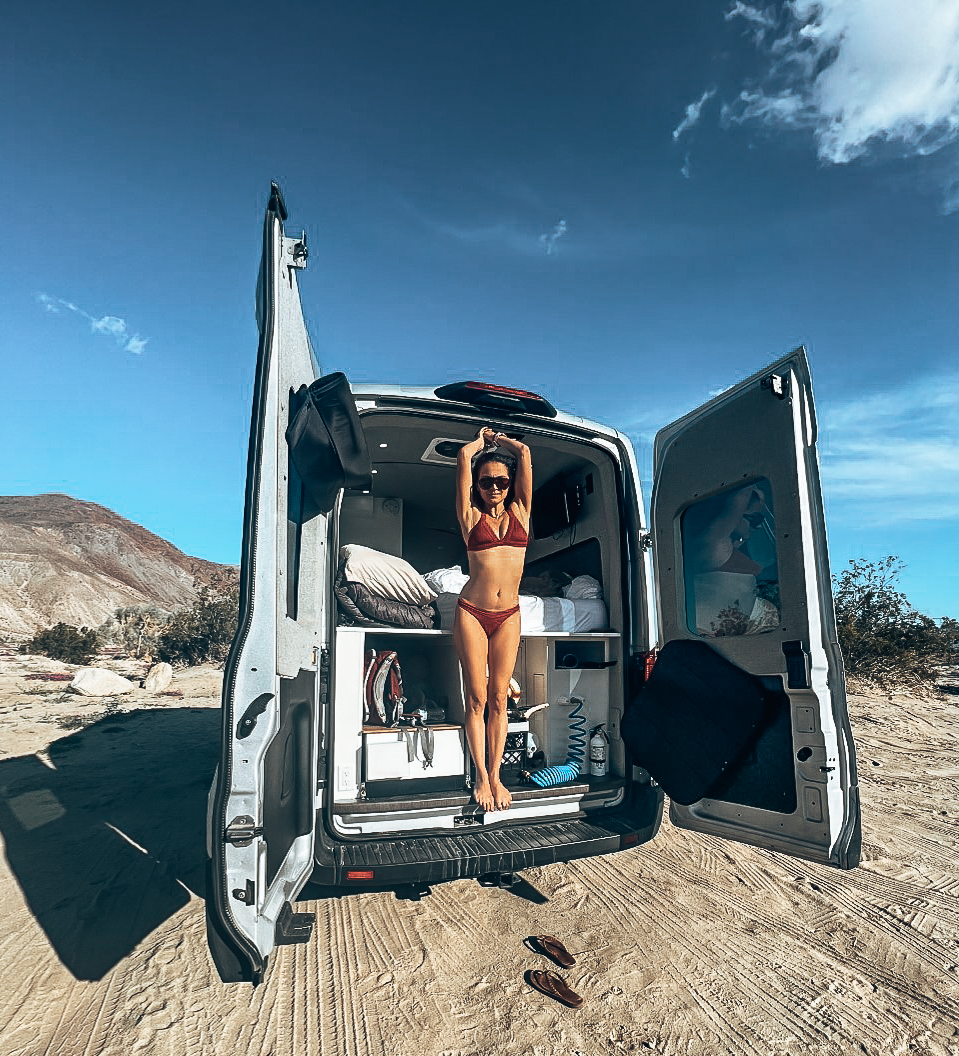 A few weeks ago, I drove up to LA, grabbed a Cabana Camper Van from a nondescript parking lot, unlocked it with my phone, and hit the road with my lady. It was incredibly easy and totally intuitive. Absolutely un-stressful. From there, we headed to the less trafficked and most-underrated of California's many hotly debated superbloom spots, Anza Borrego.
The trip was, in short, a marvel. Not necessarily because of the bloom, though seeing a desert floor carpeted with flowers is really lovely. It was more… a reminder.
I've traveled around the world more than a few times, seen 50+ countries, partied on white sand beaches, driven a car across the Australian outback powered by used french fry oil, eaten a few of the best restaurants on earth, stayed in some absurdly decadent hotels, and had wild adventures in Jurrasic canyons. And yet, this trip reminded me that there is always so much to see in your own backyard. That's an important reminder for anyone who truly loves travel.
Anza Borrego is a desert hemmed in by mountains. After the wild winter that Southern California has had, the rivers were surging up over their banks. It was unseasonably warm but not oppresively hot. And then there were those flowers, sprouting out of the cracked earth, showing off their beauty in bright bursts of color before the sun could shrivel them.
As you might expect, the trip itself was defined by the mode of transport/ shelter — the van. Since we started Uproxx Life, I've been a huge proponent of the #VanLife. But vans have grown exceedingly stylized and with that has come expense. A fully kitted out Sprinter van is going to run you at least $100. Then there's the fuel, the upkeep, the worries over theft, the storage, etc. It's a lot. Whereas renting a Cabana Van was defined by how easy is was.
I still got to way up surrounded by nature, I still got to take roadside naps with the sun filtering through the curtains, but I also got to drop the thing off at the end and let someone else empy the waste tanks. It's a superb road tripping alternative for anyone who doesn't have the money, time, or energy to go full #vanlife.

MARISSA STRANG (@marissa.daily) — ROAD TRIPPING ACROSS ICELAND
View this post on Instagram
Last September, I spent a week solo road-tripping across the southern coast and western peninsula of Iceland, which is called Snæfellsnes. The natural landscapes are unlike anything I've ever seen before. I love the outdoors and I felt like I was in outer space, the diversity of the landscapes is really mind-blowing. You could be driving and see towering snow-capped mountains and then see tall green, grassy hills, and even miles of flat, mossy rocks. While I was there, I got to visit the Blue Lagoon, bathe in the silica-rich mud, and walk behind the 200-foot tall Seljalandsfoss waterfall.
In this photo, I'm standing on Diamond Beach which is a long strip of black sand that glisten like diamonds. It was really cool to feel so small among these huge iceberg fragments. Also in that same day, I took a glacier tour of Jökulsárlón glacier lagoon, which is at the foot of Europe's biggest icecap. It was really cool to take this boat and get up close to these free-flowing icebergs that gradually break off and become smaller chunks.
Aside from those things, I definitely can't forget to mention seeing the elusive northern lights for the first time. That was something on my bucket list and it was just so incredible to see it in person. If somebody was on the other side of the sky with a paintbrush and they were painting it, and just watching the paint strokes, that's the way I would describe it. Watching the lights dance was just so magical.
I really couldn't have asked for a better experience being there.
CHLOE CALDWELL (@chloeicaldwell) — HOTEL HOPPING IN HAWAII
View this post on Instagram
My favorite travel experience of the year was visiting Honolulu, Hawaii. In addition to the classic tourist attractions like hiking Diamond Head and surfing at Waikiki Beach, I stayed in three different hotels around Honolulu. I know that may seem weird, but I love hotel hopping when I travel because different properties often offer a range of experiences, perks, and locations. And in a tourist-centric, resort destination like Honolulu, the hotel you choose can make or break your experience.
I first stayed at White Sands Hotel, a budget-friendly option that also happens to be home to one of the newest bars in town, Heyday. Rumor has it that White Sands is also opening a speakeasy! It's the ideal spot for young travelers looking to party without spending their life savings. Next, I stayed at Waikiki Beach Marriott Resort & Spa — because sometimes living that basic resort life really is worth it. It was walking distance to everything, offered free classes like lei-making and yoga, housed several restaurants, and had two pools to choose from, not to mention the incredible views (you won't regret splurging on an oceanfront room). Lastly, I spent a few nights at Kaimana Beach Hotel, a luxury boutique property that's tucked away from the craziness of Waikiki but still close enough to walk to the heart of the action. With surf lessons, yoga classes, its own private beach area, and a trendy, up-and-coming restaurant called Hau Tree, this is a hotel I would come back to again and again.
Skipping around to all of these hotels in between my daily adventures is what made this trip to Honolulu so memorable. If you're visiting a destination for a week or longer, I definitely recommend checking out a few different hotel properties during your stay.
MIKALA LUGEN (@miklugen) — BACKPACKING & ROCK CLIMBING IN THE SAN JUAN MOUNTAINS
View this post on Instagram
While last year saw me enjoying mny most robust travel plans and trips to date, backpacking in the San Juan mountains was my favorite experience. In the sweltering heat of August, my friend Liz and I ventured off into the cooler San Juan Mountains in Colorado for a three-day backpacking and rock-climbing adventure. They say the mountains you climb represent your mind, so I find it ironic that we chose to take on one of Colorado's hardest 14,000-foot mountains, Mt. Sneffels.
The first bit of the hike was fairly easy, bringing us four miles into the mountains where we camped at the base of these breathtaking alpine Blue Lakes. The turquoise waters were something out of a movie, and watching the sunset while cooking our dinners and going to bed to the sweet silence of the mountains is something I'll never forget. That second day was one of the hardest physical challenges of my life, as Liz and I had the last three miles to go with over 3,000 feet of elevation gain. After several hours, we found ourselves looking over the world at over 14,000 feet high, exhausted but holding so much pride and accomplishment.
If you've never gone hiking before on am actual mountain, the way down can be just as much – if not more – hard on your body as going up. After six or more hours of down-hiking, we finally arrived at our cars. Dirty, sweaty, and sore, we drove down into the town of Telluride and pulled up to a restaurant, and completely devoured some delicious greasy cheeseburgers and fries. We were able to sleep really well that night, as a friend of mine gave us his guest room to sleep in.
Without waiting, we hit the ground running the next day and conquered yet another massive feat, the Telluride Via Ferrata. The term "via ferrata" is Italian for "iron way." A via ferrata is a route on a mountain face equipped with steel cables, ladders, and other fixed anchors that allows people to traverse or travel across rock faces without their own climbing rigs. With our gear ready to go, Liz, my friend Benson, and I started our crazy adventure in the morning, traversing the rock over 600 feet above the forest floor and town of Telluride. This was easily one of the most exhilarating experiences of my life, and seeing the views of Bridal Veil Falls, the town of Telluride, and the surrounding peaks of the San Juan Mountains was truly incredible.
Let's just say my body was very sore after this mountain trip but something I'll never forget taking on these beautiful mountains.
CAMERON LEE (@thecameronlee) — STAYING AT AIRELLES LA BASTIDE DE GORDES IN THE MAJESTIC LUBERON VALLEY OF PROVENCE, FRANCE
View this post on Instagram
Sitting atop a hillside village in the majestic Luberon Valley of Provence, France, my stay at Airelles La Bastide de Gordes was my favorite travel experience in 2022.
The whole experience was like stepping into an enchanted French fairytale. The 18th-century decor, from the period furniture to the staff's uniform, gave off an atmosphere of magical grandeur, as if I'd been transported back in time. There are antiques and artwork from the 18th century sourced across France around the property.
My favorite part was definitely the stunning panoramic view of the Luberon Valley, especially from the outdoor pool – truly magical! Needless to say, I spent the majority of my stay by the pool. Watching the sun goes down from their open-air restaurant terrace at dinner was probably one of the most romantic dinners I've ever had. In fact, when I posted about my dinner here, someone DM me on IG to ask about my exact table location because he wanted to propose to his girlfriend there.
Everything here captures the timelessness of a classic fairytale. If you ever want to experience what it's like to live in a fairytale, this is the closest you will get to it.
GABBY BECKFORD (@packslight) — HANG GLIDING IN CAPE TOWN, SOUTH AFRICA
My favorite travel experience of the past year was hang gliding in Cape Town, South Africa. It was extremely affordable being only $30 and it was one of the most magical experiences I've ever had in my entire life. Cape Town as a city is extremely dynamic and complex and has beautiful parts to it. I'm extremely grateful I was able to do a hang gliding experience over the city at the end of my trip to round it all out and get that full bird's eye view of the city.
This was in October 2022, so it was getting into their warmer season. It was pretty windy and we had tried to go the day before but the wind was too much. When they messaged us bright and early the next day, we got to the top of the mountain as soon as we could. It was maybe a 30-minute drive to the top of the mountain and once we got there it was so quick to sign the release forms and get strapped in.
At that point, the clouds separated and you could see the entire view of Cape Town from sea point to the waterfront. It was absolutely gorgeous. Before we knew it, we were running with our instructor and jumping off the side of the mountain into the air. The parachute catches you and you're gliding above the city and out above the water. We could see dolphins from our paragliding vantage point which was absolutely beautiful. The wind rushing past your face mixed with the smell of the ocean was really one of those moments where you don't want to speak and just take in every single sense and smell and sight that you can.
REBECCA FELGATE (@missrebeccaj) — SIPPIN' ON WHISKEY IN ISLAY
View this post on Instagram
Oh my God, I don't think life gets better than on Islay? Like, seriously, can I move there? Okay, sure yes, I went on a far-flung whisky adventure during the rare occasion that the Weather Gods shone their good graces on the outer Hebrides, but I have a feeling I would have been just as enamored with the mecca of peated Scotch in the rain. Heck, the "water of life" tastes so great out there, I'd tackle a tempest to return! #WhatWouldRonSwansonDo?
Islay, population 3000, is just 620 square kilometers but is home to nine distilleries producing world-famous single malts. I have my favorites — Ardbeg, Laphroaig, Lagavulin, Bowmore — but each distillery is a welcoming space to be and the Islay locals are thirsty and amiable people across the board. If you get lucky, you might be invited down to a local peat cutters hut for a scythe adventure, followed by a swill of the good stuff from a literal horn (in that order, 'cause nobody needs to die today).
The iconic distilleries are nearly as compelling from the water as they are when standing next to their distinct copper stills. From the ocean, each has its name painted on the side of the building which is frankly just incredibly exciting to witness for a whisky nerd like me. Arriving at the Ardbeg distillery on a boat and standing by that emblazoned white wall is a moment I will never forget, which is impressive considering the amount of Scotch I proceeded to sample henceforth.
The sunrises and sunsets were something I felt as much as I saw, and if you visit in the summer you'll be treated to as much as 17 hours of light! If nights are your bag, there are plenty of pub spots to cosy up at to enjoyed a sweet sweet round of live bagpipes and local ale. Or, y'know, more whisky.
Ah, Islay. Long may you reign as King of my heart!
VESCOE BLAKE (@vesblake) — CAMPING IN THE OKAVANGO DELTA IN BOTSWANA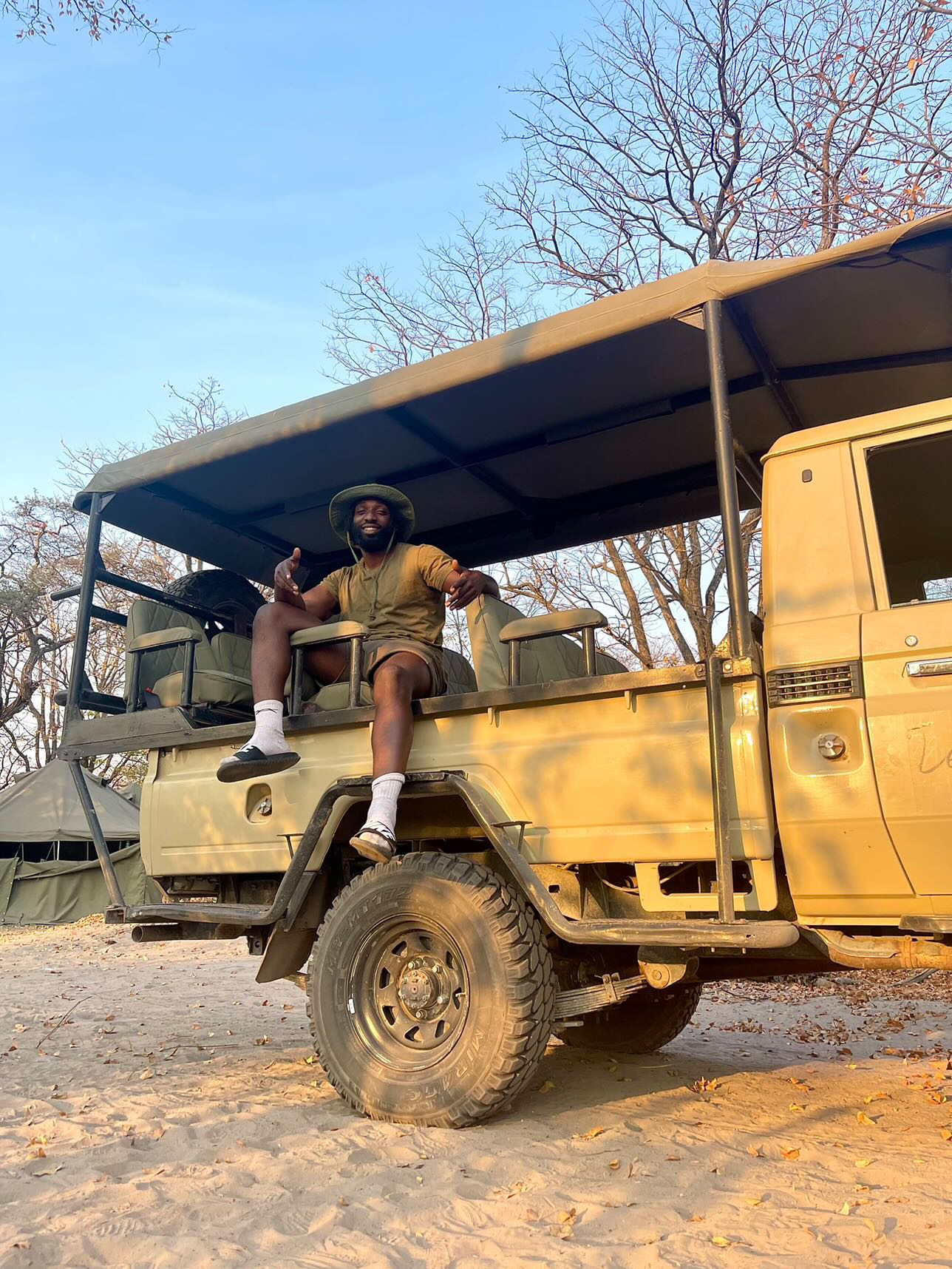 My most memorable trip of last year was my trip to Botswana. I didn't know much about Botswana other than that it's 75% wildlife and desert. It's home to the Kalahari Desert and also the world-famous Okavango Delta, a stream that flows through the Northern part of the country that is fed by the rain of Angola. The Delta is a very special place, probably one of the only places in the world where you'll see Lions swimming and it's also the hub of so much wildlife.
My trip started in the capital, Gaborone. It's a very beautiful city and I felt at peace there. After a few days, I went over to the tourist capital, Maun, and also saw the gateway to the Delta. It was quite the experience — seeing more of the rural side of these places, where you could go jogging and see a crocodile. I saw elephant footprints just a mile away from where my hotel was, too.
Then I started the camping part of my trip. I was afraid to camp in the Delta, petrified actually. At the same time, I was proud of myself for conquering this fear of being eaten alive, or actually while sleeping. Our camp was located in a very active area of the Delta with both predators and prey. The first-night camping in the Delta, I couldn't sleep. You hear noises throughout the night of all the active wildlife at night. Unfortunately, I actually had to leave the camp two days early because I got really ill. I ended up coming back to Delta a week later when I recovered from my illness and this time I stayed for a week and saw lions, hyenas, and elephants. It was the most mesmerizing thing I've seen in my life.
What I really enjoyed the most was being able to see all of this in three different ways. I did a game drive through Moremi, flew in a small aircraft over the Delta, and I also did a boat trip through the Delta. On my last night, I spent a lot of time outside of my tent around the campfire and in the middle of the night jI ust stared up into the sky. In the middle of the desert there's no light pollution so it was a beautiful view of the stars of the southern hemisphere.
PREETHI CHANDRASEKHAR (@eagertravele) — GLAMPING IN VAIL, COLORADO
My best travel experience of 2022 was a glamping trip in Vail, Colorado at the incredible Piney River Ranch! It's a private 40-acre Rocky Mountain retreat, nestled at the foot of the majestic Gore Range. This place is so magical and it's located just twelve miles north of Vail Village, surrounded by thousands of acres of back country wilderness within the White River National Forest.
The ranch has lake-view cabins and tents. You have to wake up for sunrise because the chances of seeing moose are very high! Canoeing on Piney River is a highlight early morning. The lake is still and canoeing into the reflection of the Gore mountains was surreal.
If you're looking for a restful, healing weekend getaway this is it. There's also a restaurant on-site and even a hike that leads to a waterfall.
JOE SILLS (@joesills) — DOCUMENTING CHEETAH, COUNTING RHINOS, AND MONITORING PANGOLIN IN SOUTH AFRICA
View this post on Instagram
A few months ago, I boarded a flight to King Shaka International Airport and walked out of its doors into a completely alien world to me. As a transfer whisked me up the coast from Durban, I became immersed in a rolling, hilly landscape that inspires both awe and ire. Awe, because the province of KwaZulu-Natal is home to lively communities of people and spectacular species like cheetah, rhino, and pangolin. Ire, because Africa's cheetahs have lost 90% if their historical range, its rhino brought to the brink of extinction in recent decades, and the pangolin have become one of the most trafficked animals in the world.
I was there, ostensibly, because I had a camera and a pen to tell part of that story with. Embedded with ecology voluntourists at Phinda Private Game reserve, I did just that. We bounced around in the bush for weeks, documenting individual cheetahs, counting rhinos, and monitoring pangolins. It was a photographer's dream assignment.
But here's the kicker—anyone can hop on that team. You don't have to take a luxury safari to enjoy the place. If you're willing to bunk up with ecologists and spend long days (from dawn to dusk) dedicating your time to wildlife, then you can be a temporary part of the team and form some of the same memories that I have.
CANDACE & GEOFF WONG (@ajourneyinspired) — BACKPACKING MOUNT ASSINIBOINE PROVINCIAL PARK IN BRITISH COLUMBIA, CANADA
Backpacking Mount Assiniboine Provincial Park in British Columbia, Canada was hands down the most memorable trip of our past year. Assiniboine is iconic not only because of its striking resemblance to the Matterhorn but also its desktop wallpaper-worthy landscapes that people dream to see once in their lifetime.
The park is only accessible by helicopter or by foot, and we decided to take the latter option to challenge our physical and mental strength. Carrying 30 lbs on our backs, we hiked 27km each way between Alberta and BC and were surrounded by the most stunning views throughout.
Over five days in the park, we also bagged three peaks. If you do visit, we would highly recommend the day hikes that we did – Niblet, Nublet, and Nub Peak (one of the most famous hikes in Canada), the Towers scramble, and the Sunburst scramble. Altogether, the 80 km of hiking made for the most rewarding and beautiful trip in the Canadian Rockies!
ALISE GRAVES (@leeleetalks) — VISITING EL NIDO ISLAND IN THE PHILIPPINES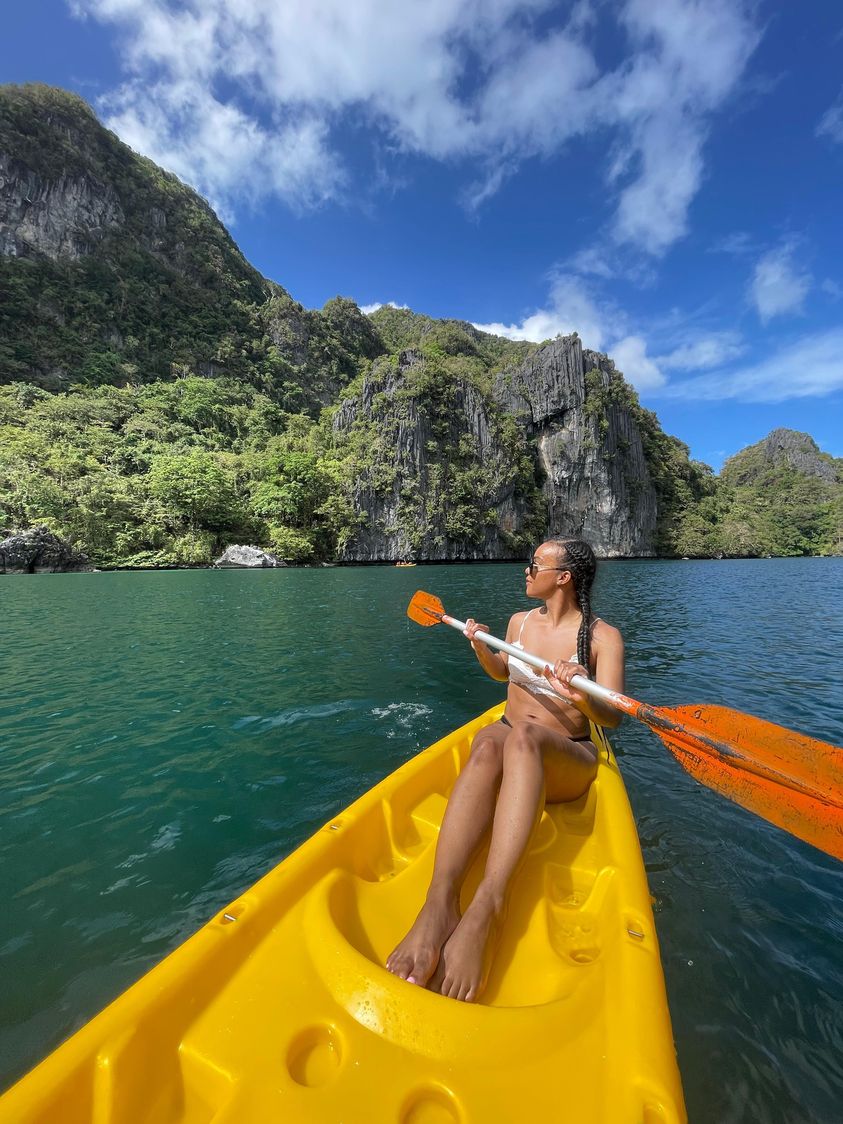 I started my 2023 with a bang. I visited El Nido Island in the Philippines, which offers the most beautiful scenery I have ever seen. From the crystal clear water to the views of the surrounding limestones covered with lush plants.
There are some great to do in El Nido from island-hoping to scuba diving to kayaking in the Big Lagoon. I highly suggest adding El Nido to your travel list for 2023.