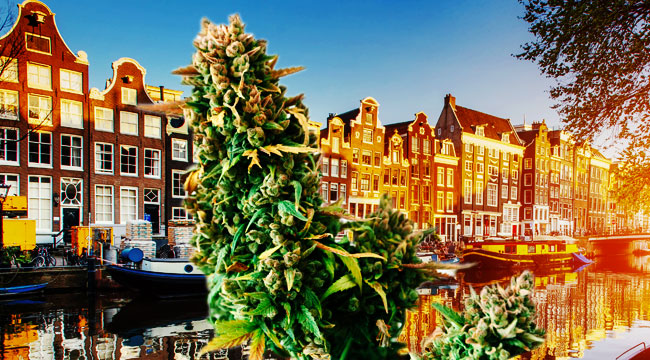 American cannabis tourism is growing by leaps and bounds (particularly on the West Coast), which is why we took time out — very recently — to cover ten ideal weed-friendly domestic destinations. But America certainly doesn't have a premium on awesome cities where you can happily get stoned and enjoy some bomb food. There are cities all over the globe that either have legalized cannabis or maintain a practice of turning a blind eye to it.
If you can afford to book a flight and take some time off work, you could easily be sitting on a tropical white sand beach next week toking the locally grown herb. Or you could be getting high in a cannabis café before wandering through a respected museum with a newfound appreciation for other people's creativity. And, no matter where you visit, you will have to take advantage of your weed-enhanced appetite and eat all the foods. Travel is meant to be a feast for the senses, after all.
The following cities both allow for cannabis use and are dope destinations for travel, drugs notwithstanding. We included a place to stay and a place to eat with all of them, but you're encouraged to make your trip your own. And, above all, when getting high abroad, behave yourself. You gotta respect your host country.
Lisbon, Portugal
This year's hottest international travel destination has a rad climate (it gets more sun than anywhere else in Europe), massive amounts of street art (there are even tours), and an amazing food scene (which includes a ton of rooftop bars and restaurants). Better still, small amounts of all drugs were decriminalized in 2001, when optional therapy replaced jail sentences. That doesn't mean that there are any legal sales or lounges, but it does mean if you have some bud, you aren't likely to be hassled by the police for it.
There aren't any accommodations that are cannabis-friendly per se. You won't find a bud and breakfast in Lisbon. But there are a lot of incredible properties to stay in that make for a fab vacation. And really, how much time are you going to be spending in your room anyway? We're big fans of My Story Hotel Rossio, which feels like the baby that the 17th century and the pop art movement never intended to have. Think ancient tiles, chandeliers, and neon lights. Also, 18 of the rooms have a view of the Rossio — so you can watch the hustle and bustle of the city whenever you want.
Lisbon is known for its iconic egg tart and if you're the kind of person whose sweet tooth goes into overdrive when you get high, get thee to a pastelaria as part of your trip. In fact, your best bet is to head to Antiga Confeitaria de Belém in Lisbon's hardcore tourist neighborhood and suffer through a long tedious queue early in the day. Grab a box of these puff pastry and egg custard delights and save them for after you roll home from partying.
https://www.instagram.com/p/BYa7kLvjoYl/?tagged=antigaconfeitariadebelem

Barcelona, Spain
The proliferation of "cannabis social clubs" in Barcelona might feel like coffeeshops in Amsterdam to some people, but they remind us a bit more of bars in Utah. No, not because they are full of lapsed Mormons. It's because any adult with an ID can bust into a Dutch coffeeshop, but Spanish clubs make you pay for a membership first. Thus, when you lay down your funds for their bud, you aren't buying it, you are simply "donating" toward the club's cultivation costs for members. Tricky. You need to know that there is a two-week waiting period before membership activation, so plan ahead. If you want to really have fun, go in March, when the city holds Spannabis — the largest gathering of the cannabis community in Europe.