Kate Winslet went full Brad Pitt with her on-screen eating in HBO's huge hit Mare of Easttown. Winslet's titular Mare eats so much during the run of the series that it's a focal point of SNL's parody of the show. In the second episode, there are three scenes that feature Mare eating in various situations — from downing a cheesesteak to stuffing duck liver in a couch cushion to digging into a hoagie. Each perhaps deserving of a culinary homage, in its own strange way.
It's that first meal that caught my attention, though. I'm a big cheesesteak fan. Back in college, it was a pretty normal occurrence to drive up to Philly on a day off just to get a cheesesteak (I went to school in Washington, DC). Luckily, I was usually going with a friend or two who actually came from the home of Gritty. So I got turned onto Jim's South Street early and never really hit up the other famous spots too often (though they were all tested at some point).
Even as my life has changed, my love for this perfect, messy sandwich has endured. So when I eyed Kate Winslet tucking into a quick cheesesteak, I knew I had to make one.
Since Mare of Easttown has sort of become internet famous for being a food-filled show, it wasn't too hard getting information. Vulture has an episode-by-episode guide of every food scene and what's being eaten in each one. Turn's out the cheesesteak in question is from Cocco's in Aston, PA. After perusing their menu, it became pretty clear that we're dealing with a classic cheesesteak with no frills. Exactly what I was hoping.
I set out to make a cheesesteak the way I'd always order it, "sweet peppers, onions, whiz." Look, provolone is fine on a cheesesteak but you're already going for a gut-bomb. So I always thought you may as well go the whole way and get your neon cheese on. And with that spirit, let's dive into making a cheesesteak at home for all of us who don't live near Philly.
Classic Philly Cheesesteak with Whiz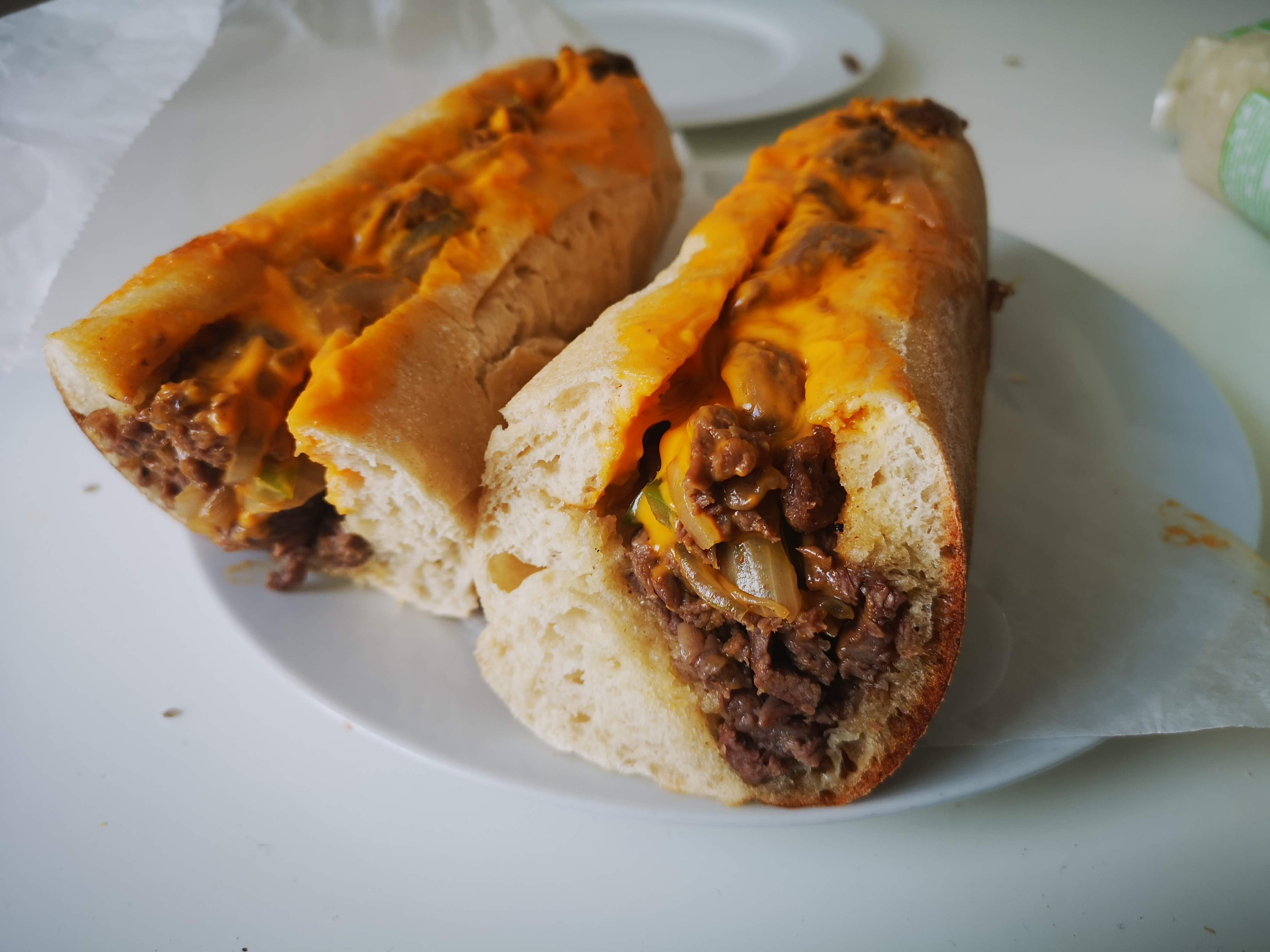 Ingredients:
1 12-inch hoagie roll
1-lb. ribeye steak
1 green bell pepper
1 large yellow onion
1/2 cup Cheese Whiz (or equivalent)
Worcestershire sauce
Dried oregano
Sea Salt
Black Pepper
Olive Oil
I can't get Amoroso's hoagie rolls in Berlin (where I live), obviously. But, I can get a soft sandwich roll that is shockingly close. The main element missing is the dusting of cornmeal. Otherwise, it's a soft, long sandwich roll and that's what you need for this.
Next, I'm using rib eye. It's undeniably the best cut to use for a cheesesteak. I even scored a ribeye from the U.S.A. to make this one extra authentic.
Finally, the cheese sauce is pretty standard. I can't get the exact Kraft Cheese Whiz but I can get the exact same thing under a different label. Plus, I got a pretty big jar. So I guess I'll be making movie theater nachos this weekend. Win-win?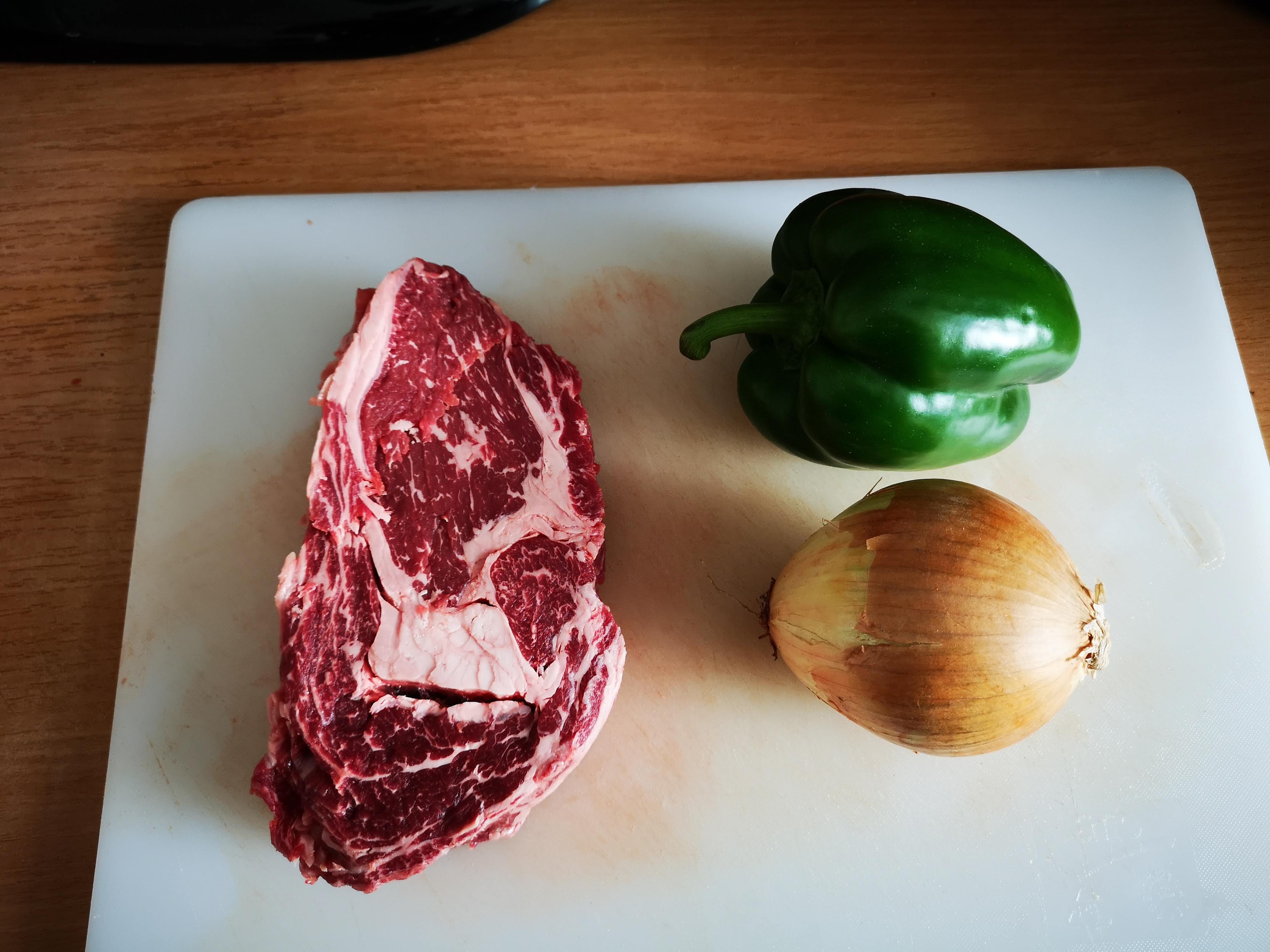 What You'll Need:
Large saute pan
Small pot
Bowl
Cutting board
Kitchen knife
Bread knife
Heavy metal spatula
Tongs
Spoon
White wrapping paper
Foil
Method:
Place the steak in a small Ziplock bag in the freezer for about 30 minutes to firm it up.
In the meantime, slice the onion and bell pepper.
Heat the large saute pan on medium-high heat with a thin layer of olive oil.
Add the onion and bell peppers and saute while moving around with the spatula.
Once the onions just start to brown, lower heat to medium, and hit the peppers and onions with four or five dashes of Worcestershire, a few cranks of black pepper, a few pinches of dried oregano, and two big pinches of salt. Keep moving everything with the spatula to fully combine.
Once the onions are brown and the peppers are soft, set them aside. The saute pan should have a nice fond on the bottom — KEEP that.
Put the cheese into a small pot and place it on low heat.
Fetch the steak from the freezer.
Use a very sharp kitchen knife to slice the steak as thin as possible against the grain.
Turn the heat back onto medium-high under your saute pan and add another thin layer of olive oil.
Add the steak into the hot pan and hit with two big pinches of salt and a few cranks from the black pepper mill.
Use the edge of the metal spatula to hit the meat, sort of like you're tenderizing it in the pan. Be careful as the juices coming out of the steak will splash around.
Once the meat is browned, move it to one side of the pan and re-add the peppers and onions to rewarm them in all the steak juices in the pan.
Use the bread knife to cut the hoagie open and place it over the steaming meat, peppers, and onions to warm it up for about a minute (you can also warm it up in a microwave or an oven).
Open up the warm hoagie without breaking the hinge. Use the tongs to load all the steak into the bread then top with an even layer of peppers and onions.
Move the sandwich over to a cutting board.
Using a standard kitchen spoon, drizzle the cheese up and down the sandwich.
Wrap the sandwich up in white paper, making sure to keep the cheese, steak, peppers, and onions tucked into the sandwich then wrap that in foil and let it rest for five or more minutes to let everything come together.
Use the bread knife to cut in half and tuck in!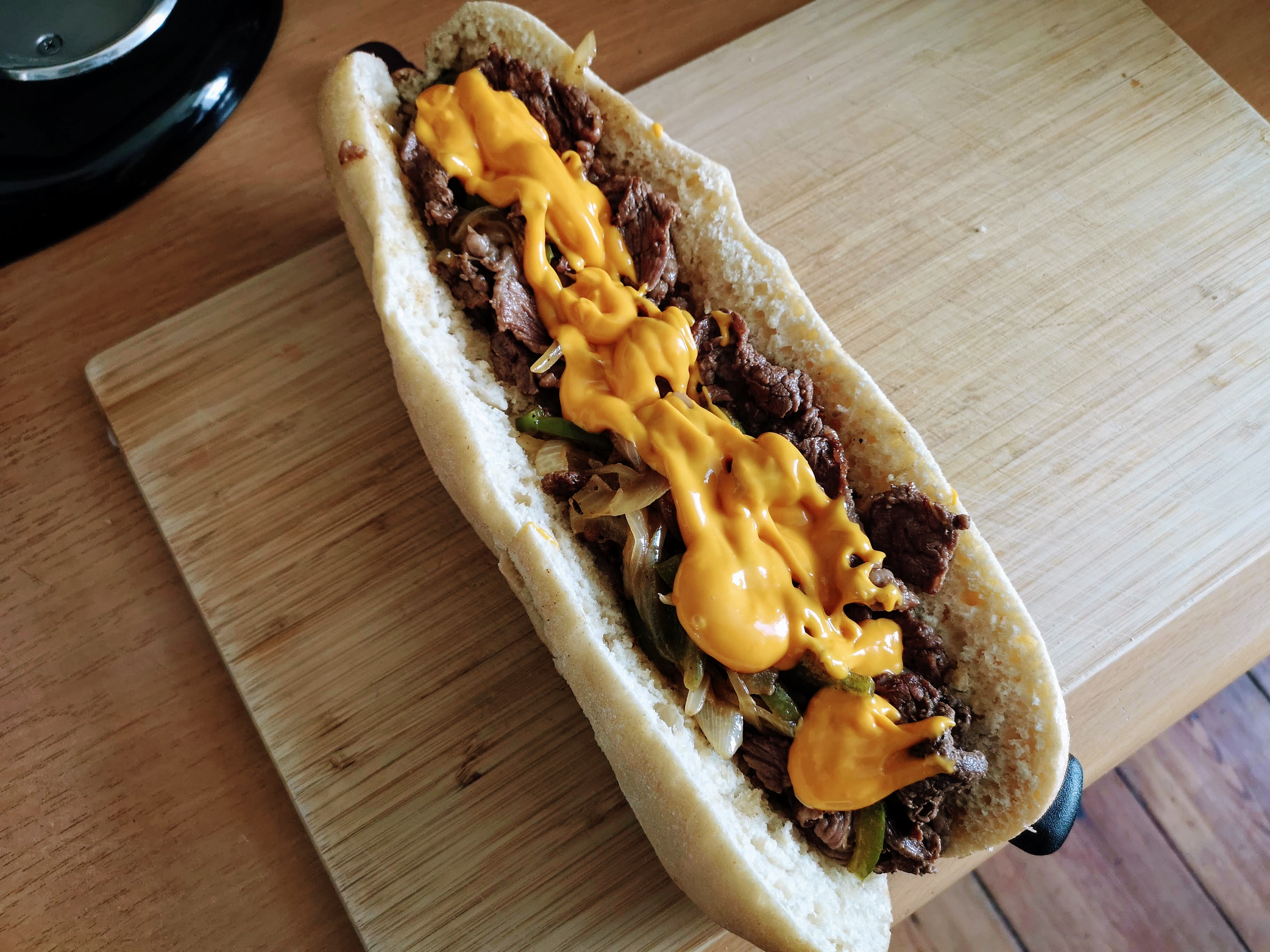 Bottom Line: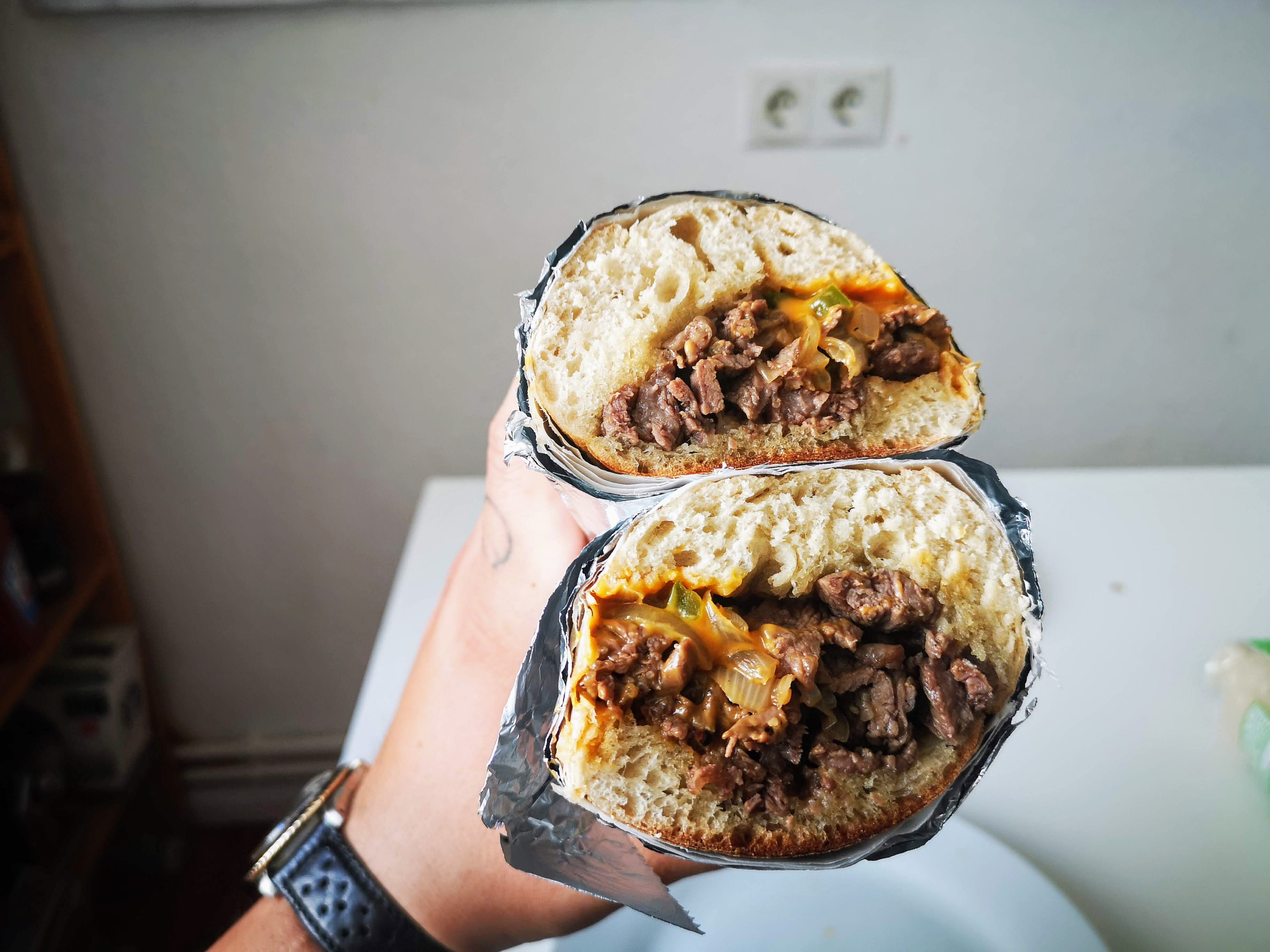 This was a f*cking cheesesteak with neon orange cheese on it. Of course, it was amazing. No need to ask, really.
The meat was easy to chew and fell apart without falling out of the sandwich. The green peppers and onions added a really nice sweetness and a touch of crunch. The cheese "whiz" was on point — a gooey umami bomb in neon orange. The juices from the meat really helped the soft and slightly sweet bread become a nostalgia-inducing treat. Every bite was an "ahhh…" moment.
Overall, I got good reviews from my lunch companions. This was a win as a homemade edition. Moving forward, I might pull a little bit of the bread out before I fill in the meat. Trying to stay carb conscious and all that. But maybe not. All that I know is that I want to make this again very soon.