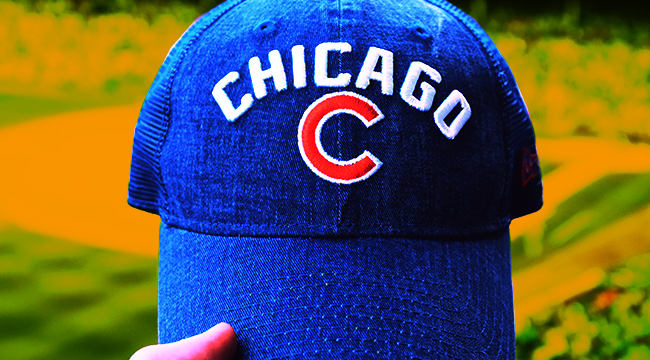 Chicago's winter is extreme. I've been there during blizzards — driving in whiteout conditions where I was actually using the GPS to guess where the road was, Bird Box-style. I've tried to leave my apartment in snow drifts that came up to my waist. I've thought I had frostbite on at least 100 separate occasions. And the inside of my scarf has heard me utter, "Screwwwwwwww this!" while icy wind blasts my face more times than you've checked your ex's Insta this month. So, at least a billion. Probably more.
But then the sun comes out. And it's summer. And none of that matters.
It's hard to describe what Chicago is like in the summer without using superlatives. It's like the entire city is on Molly, non-stop, for three glorious months. You try to describe it to your friends like you would a drug trip, but words fall short. Everything is heightened. There's an easy peace to your existence. The sun on your skin feels like the welcome caress of a lover.
In the winter, strangers who chat with you in a bar can go to hell. In the summertime, you're on a rooftop taking shots with them and revealing every detail about your complicated childhood. You want to connect with everyone around you. You lock eyes and smile at someone on the street and you both just get it. It's like the entire city is sharing one big secret. "We did it," the eyes of strangers seem to say. "We made it to June."
The Chi in the warm-weather months is pure happiness distilled. And it's 100 percent legal to take. Here are the reasons there's no better place in the country this time of year.
The Skyline Makes For The Best Pictures.
Want the perfect summer Instagram pic? Head to Chicago where you will be overwhelmed with options.
Downtown Chicago is beautifully laid out. I've heard that this is because after the Great Chicago fire they rebuilt the city all at once, with a clearer plan. Whatever the reason, it's just a darn good-looking city — like a literal postcard from every angle. The towers gleam in the afternoon sun, shards of gold reflect off lake Michigan, the art is at once imposing and a testament to creativity. It literally doesn't stop.
Best places to take pics: Millennium Park with its bean sculpture and gorgeous landscaping in the heart of downtown is probably the best-known picture spot in the city. If you're looking for skyline pics, along the lake you'll find the Lakefront Trail which has truly beautiful views and tons of Insta-worthy spots. And if you're willing to head north to Evanston, the lakefront on Northwestern University's campus has a perfect city view to snap pics in front of.
Want to get out on the water? Taking a lake or architecture boat tour gives you amazing views of the buildings, skyline, and Navy Pier — you'll run out of storage space on your phone after snapping.
It's An Easy-Opportunity Swim City.
If you're in New York and the days are sweltering, you'd better find a friend with a rooftop pool or drive out of the city. Otherwise, it's just a cold shower in the bathroom that you share with 17 roommates and a cat. In L.A., if you don't have pool access, sure you have the beach. That is, if you don't mind driving anywhere between one and one million hours to get there. Chances are you die of old age before ever making it west of the 405.
Meanwhile, Lake Michigan provides endless lake opportunities that are free and easily accessible. Because you know who is close to the lake in Chicago? Everyone. Look at a map of the city limits sometime, it's like a go-go gadget arm that's been stretched evenly along the shore. You have miles and miles to run, sprawl on the beach, swim, bike, walk, rollerblade and look at all the people around you with a big goofy grin because your life is perfect and so is theirs.
Beaches to hit up: North Ave Beach, Montrose Beach, Foster Beach, and 12th Street Beach are all popular options with plenty of sand, swimming, and crowds of people looking to have fun in the summer. While crowds are diverse age-wise (everyone in the city is looking to get out of the heat and into the water), those are definitely good bets if you're searching for a "young, professional" type group to hang with.

The Outdoor Patios Are The Best.
https://www.instagram.com/p/BxnRtyiB5Ac/
There are literally hundreds of amazing restaurants and bar patios and rooftops in Chicago. Here's a list of 160 that barely scratches the surface. Many are more patio than restaurant.
But that doesn't make sense, you think to yourself. Those outdoor spaces are unusable eight months out of the year! How could a business ever turn a profit with that model?
That, my friends, is how packed the patios are in Chicago in the summer months. So full that many businesses can basically make a year's worth of money in a quarter of the time. Chicagoans have to cram a year's worth of outdoor eating into a tiny frame, and as such, they commit fully to eating every meal outside.
Which begs the question: Do people work during a Chicago summer? I honestly feel like no, the entire city is off work, but that could be inaccurate. I will say, I worked at one of these Chicago restaurant patios when I lived in the city. But was it really working? Or was I just making obscene amounts of money from giddy locals and thrilled tourists while sipping a shift beer as I entered in orders? The whole waitstaff averaged about 23-years-old and none of us would leave after our shifts — we'd just transition from patio workers to patio partiers.
This is the magic of a Chicago summer patio. It unites us all.
The outdoor eating and drinking spots you need to visit: Basically every neighborhood has great outdoor spots — a few favorites though: Logan Square's Park and Field with its huge patio and outdoor firepit, Hopleaf in Andersonville with its amazing beer selection, Gene's Sausage Shop which has a super cool rooftop set up for drinks, Fountainhead in Ravenswood, a gastropub with an excellent menu, River North's Zed451 for Brazilian food as well as a cozy retreat in the middle of the city, The Promontory in Hyde Park for a gorgeous, sleek, modern patio and live music, the always packed Big Star in Wicker Park, or classic day-drinking spot, Sheffield's in Lakeview.
You could also just wander through the city and pick a place at random. It's likely to be both packed and awesome.
Nobody Knows How To Do A Summer Street Festival Better Than Chicago. NO ONE.
I've seen a lot of street festivals in other cities in the U.S. and I am baffled. They're great. Many are awesome. But none comes close to the festivals in the Windy City. Because Chicago is packed, every weekend, with street festivals highlighting amazing food, drinks, and music. Actual streets are shut down while music thrums from stacks of speakers and the beautiful masses savor foods on sticks.
Lolla, Pilsen Taco Fest, Northalsted Market Days, Ribfest… it takes a whole other list just to highlight them.
Much Of The Public Transport Is Above Ground.
Unlike other cities, where you're forced underground in the summer into smelly dens of sweat and urine, the L platforms of Chicago are primarily above ground. So, you can take in the breeze while waiting for your ride.
Why go underground to the lair of a subterranean rat king when you can glide through the air like Dany on a dragon, floating over the city and smiling at your domain?
Nobody Cares More Passionately About Baseball Than Cub And White Sox Fans
I understand this is probably a sacrilegious thing to do, saying the Cubs and White Sox in the same sentence. And also claiming that their fans are equally rabid. My uncle is a priest in Chicago and more importantly, a Sox fan, and it's entirely possible he'll excommunicate me for this sin.
But tell me, has there ever been one city with two baseball teams that fans are so equally obsessed with? Going to a game at either stadium is insanely fun. The fans are invested and passionate. Go to a White Sox Game, they'll drink you under a table and then go out for more. And yes, Wrigleyville is a nightmare, but a beautiful nightmare. On game days, Addison is packed with young fans partying — every bar literally overflowing. It's one of the few places where it's nearly as fun to watch the game from a bar or rooftop as it is from the stadium.

The Parks Are So Good And The Zoo Is Free.
Chicago has beautiful parks. In the summer, they're packed with people napping and picnicking and playing games. And Lincoln Park, what with its entirely free zoo and botanical gardens, is a gem among these. Also, Millenial Park. Grant Park. Garfield Park. Jackson Park. Anywhere on the lake is basically a park.
And seriously, The Lincoln Park Zoo — anytime you want to see an adorable gorilla or polar bear you can just go. FOR FREE. EVERYONE SHOULD FEEL EXCITED!
The Pizza Is Better Than New York's.
I'm going to say something and it's so important: If you say any pizza is better than Chicago pizza you are anti-cheese. And like… fine, you don't like cheese. Am I still going to be friends with you? No. Of course not. But live your life.
Chicago pizza is a glorious ode to the cheese that makes pizza great. I'm not saying other kinds of pizza aren't amazing. They are. But Chicago's pizza is just the best. Take Lou Malnati's, with its slightly sweet, soft crust, thick, gooey cheese falling over the sides, and chunky, light tomato sauce. You just want to live your life only eating it forever. And for the people who say, but it's so heavy! If I hear you whine one more time, I will turn this internet around.
It's rich, delicious, heaviness is a gift and you are a mere peasant in its presence,. This is absolutely the hill I'll die on. And if you really want to argue, then pick a second, friend because we're recreating the duel scene from Hamilton and I'm Aaron Burr.
They Have The Best Dive Bars
Here's something I miss deeply about Chicago: the amount of neighborhood bars and dives that are tucked everywhere from high tourist areas to the corner of many residential streets, just waiting for you to throw back a few cold ones, listen to weird bands, eat classic pub food, and chat with the other happy, summer people around you. And while I'm sure every city has great dives, you just can't beat Chicago's. Dives — like the L & L Tavern, where both Jeffrey Dahmer AND John Wayne Gacy used to drink, or the Hidden Cove, a strip mall looking karaoke wonder, or Old Town Ale House, that's hosted basically every comedy legend that came out of Chicago's Second City, or Friar Tuck, with its colorful lights and sheep butt shots (it's more or less what it sounds like, the sheep is inflatable) — are everywhere.
These unpretentious taverns that are great places to meet cool people, drink, dance, and hook up. Don't worry. You can tell your grandparents that you and your significant other met at a classical music concert and not a place where the floor is sticky, the popcorn was made in 1973, and your first kiss was in a storage closet. We won't tell.

Everyone is happy all of the time.
My number one pet peeve of travel writing is when writers generalize people and their emotions. I hate it when an article says a city is a "happy city" and the locals "always have a smile on their faces." And I do believe that. I do. Except when I'm talking about Chicago in the summer because in that case everyone is happy always and they never stop smiling and that's just objectively true.
Okay, not really. But it is the happiest city I've ever encountered in the summer months. Chicago appreciates the summer because they've lived through a terminal winter to get there. And by God, having made it, they are going to appreciate every second of that time. When you're in a Chicago summer, you pack every moment of free time with more fun than most people probably have all year.
So if you're looking for the perfect summer city, head to Chicago. But if you can't, at the very least, live the season like it's a Chicago summer. Experience it to the fullest.