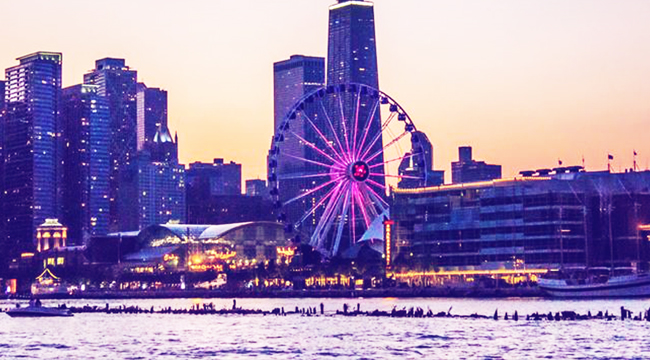 Switching Scenes is brought to you by Boost, a brand that knows the best experiences come when you change things up.
Our mistake hit us as soon as the train doors started to close. Or at least the stench did. Same difference. The point is that we immediately knew we were amongst people who had spent all day roasting in the sun. Imagine an action movie where the heroine has to leap through an automatic door before calamity strikes. Doors shut. Insane explosion. Crisis averted.
Only we didn't make it out. The calamity was unavoidable. The heroine was unable to escape her fate. In seconds, I was wedged against so many scantily clad men and women that it felt like a Roman train orgy without the sex. All the grunting, none of the fun.
This was Lollapalooza. Chicago's most famous festival.
I have great memories of Lolla, truly. But with well over a hundred thousand people pouring into Grant Park per day, and nearly 400 thousand visitors in total, it's an insanely crowded summer fest. And it's not the only option in the Chi. Not even close. The city is a literal embarrassment of riches for street festivals. Which is why — as Uproxx embarks on a month of bypassing mainstream attractions for lesser-known highlights — I knew I wanted to shout out some of the cooler, smaller festivals in the city. Festivals that embrace the omnipresent block party vibe that takes over Chicago the second winter ends.
Pilsen Taco Fest
2019 Dates:
June 15th & 16th
Where:
Pilsen (1000 W. Cermak Road, between Racine and Morgan*)
*Stay tuned for more info — organizers say they're looking at a larger location this year to accommodate the demand from last year.
Why It's Awesome:
Pilsen Taco Fest is set in Pilsen, a traditionally Mexican neighborhood that has exploded over the past few years. Transplants have taken root in the area — drawn to its affordable housing, great food, and thriving art scene. This means that there's concern about losing the longterm residents in service of new construction. Gentrification is on everyone's minds.
Taco Fest allays these fears. It's a point of connection for Pilsen — highlighting the amazing Mexican foodway (a mix of food trucks, taquerias, street vendors, and dine-in restaurants) that the area has to offer. Organized by the group, Inner City Culture, Taco Fest will be in its third year this summer and proceeds from the event go to help people in the community. Last year this meant scholarships for DREAM Act recipients.
The festival is free to enter and includes musical performances, art, and of course, tons of tacos. Delicious food in a cool, diverse neighborhood (Forbes named Pilsen one of 12 coolest neighborhoods in the world last year) with tons of street art dating back to the 1970s, cool bars, studios, and an extensive Mexican Art Museum? Yep. That's a win.
Northalstead Market Days
2019 Dates:
August 10th & 11th
Where:
Boystown (N. Halsted Street, between Belmont and Addison)
Why It's Awesome:
Northalsted Market Days, located in Chicago's Boystown, is an absolutely joyous/wild block party to go to every summer. Market Days lays claim to being the largest street festival in the midwest and is absolutely chaotic in all the best ways. Boystown is the first officially recognized gay village in the United States and the festival embraces this designation. There are huge performances with dancing, singing, and games in the street. Masses of people are dressed in elaborate costumes or basically nothing at all and the party rages deep into the night/morning.
It is an absolute feast for the senses and a ton of fun. Definitely a highlight every summer.
Ribfest
2019 Dates:
June 14th-16th
Where:
North Center (Lincoln Avenue from Irving Park to Berteau)
Why It's Awesome:
As I looked through pictures of Rib Fest to pull for this article, I began to tear up. "Look at that mac and cheese with BBQ pork," I said to my colleagues with a genuine outpouring of emotion. "I want to move back to Chicago now."
This is not just because I love all things pork/ham related (though to be clear, I do), but because I basically lived in Ribfest when I lived in Chicago. "I'm just trying to get into my apartment," I used to say to the staff as I passed the entry gates. This was true, but I also never seemed to make it inside before buying myself something delicious to eat.
Located in North Center, the food is incredible. Corn on the cob, every kind of pork sandwich piled high with amazing toppings, and the ribs. Oh, the ribs. You can get taster portions so you can (theoretically) try them all and vote on your favorites but I don't think I ever got through more than a third of the options in one sitting. Sipping on a cold Chicago beer on the street as the muggy day turned into a warm night, quite literally felt like heaven. Ribfest has fun music and performances that draw crowds right up until closing time, (at which point they say, you don't have to stop eating ribs but you can't stay here). It's just one of my favorite fests on earth.
https://www.instagram.com/p/BVL5RL5B3GR/
Lincoln Park Wine Festival
https://www.instagram.com/p/BFuXC7bPP2O/
2019 Dates:
May 17h-19th
Where:
Jonquil Park (At Lincoln, Wrightwood, Sheffield)
Why It's Awesome:
Lincoln Park Wine Festival is the perfect excuse to spend the day pretending you're in wine country, the greenery of the park standing in for the rolling hills of Napa, brick apartment buildings your stunning country view, and drunken Depaul students your sommeliers…. Okay, well there are actual sommeliers there, technically. But you get the picture.
While most fests in Chicago lean on the beer heavy (it is the midwest after all), Lincoln Park Wine Festival gives those of us who'd prefer a nice Chenin Blanc to a crisp amber ale the opportunity to really shine. And by shine I mean get tipsy in a park while pretending to understand what a "full-bodied merlot" is.
Last year, LP wine fest had more than 90 kinds of wines. You can choose a ticket with either 12 or 17 wine tastings and you get a little commemorative wine glass to mosey around with. It's a blast and absolutely worth the money which is somewhere in the $40-75 range depending on the tier of ticket you buy (think of all you save by never having to go to Italy to taste wine!).
Ravenswood on Tap
2019 Dates:
June 22nd & June 23rd
Where:
Ravenswood (Ravenswood and Berteau)
Why It's Awesome:
I love the Ravenswood neighborhood. Great restaurants and great craft brewers. The little section of this neighborhood that plays home to the fest has the highest concentration of breweries in Chicago — with eight craft breweries and one craft distiller. The festival, Ravenswood on Tap, celebrates all things Chicago beer. It's a more intimate festival that feels less like powering through your day in the hot sun and more like chilling with a bunch of friends listening to tunes and throwing things on the grill. Outdoor games abound to give you even more of that relaxed vibe. And the brewers are all knowledgable and friendly — happy to get into the intricacies of their brews.
The local restaurants involved are excellent or you can venture out to any of the multiple tasty establishments nearby. Is there a breakfast place in Ravenswood so good that I once tried to visit, found closed, and burst into tears about? Theoretically. Who's asking?
Roscoe Village Burger Fest
https://www.instagram.com/p/BWV115-Bx2C/
2019 Dates:
July 13th & 14th
Where:
Roscoe Village (Belmont and Damen)
Why It's Awesome:
One of the things that I miss most about Chicago is the sheer number of neighborhood bars that serve up fantastic burgers. You can go into almost any pub and know that they'll have a good beer selection, be filled with people who live in the area, and feature a signature burger that will be better than most you'll ever find in other cities. Roscoe Village definitely is packed with these little no-frills gems. Which kind of makes Rosco Village Burger Fest a slam dunk.
Like Ribfest, there is a huge selection of choices and you can buy "tasters"* so that you can vote on your favorite local burgers. All the standards are here — music, booze, a blinking Chicago population in jean shorts looking up at the sky in wonder that there is actually sunshine and warmth. It's a super fun time.
*Note: the tasters are still huge and if you try to eat every burger you will literally die. This is not a challenge. You cannot do it, buddy.
Pitchfork Music Festival
2019 Dates:
Not announced yet, likely mid-July
Where:
Union Park (1501 W Randolph St)
Why It's Awesome:
One of America's best music festival's, Pitchfork is smaller than some of the others. But the fest, though less likely to involve people walking around in assless chaps while setting giant wooden structures aflame, makes up for a less performative crowd with fantastic musical performances and performers. They simply curate a superb line up — mixing classic bands with current indie powerhouses and new talent. It's an awesome festival that doesn't feel like it excludes anyone, but rather embraces all who want to actually listen to good music.
Definitely a must-visit in the summer music circuit.
Taste of Randolph Street
2019 Dates:
June 14th – 16th
Where:
The West Loop (900 W. Randolph St.)
Why It's Awesome:
One of Chicago's best street/food festivals is Taste of Randolph which highlights the many amazing/trendy restaurants in the area without all of the horrid masses of humanity that are drawn out to Taste of Chicago (to be clear, I love Taste of Chicago, it's just super crowded.).
There's tons of food, plenty to drink, music and dancing. It gets crowded and you're going to end up spending some money (the food/drinks aren't super cheap and you might want to spring for the VIP for the clean bathrooms alone), but for a full day and night of fun, dancing in the street, and celebrating Chicago summer, it's absolutely worth the splurge.