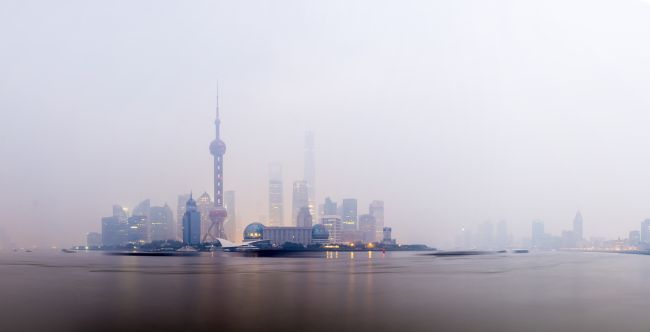 This is not a picture of some dystopian future. This is Shanghai, China's most populated city. And no, it isn't just a particularly foggy morning there.
Shanghai has stopped school activity and implemented a 'smog fee'. Just yesterday, Beijing declared their second smog red alert of the month, as no winds are forecasted until Tuesday. Cars are required to stay off the roads and factories have halted production as small children and elderly have been urged to stay indoors.
The eye burning, throat irritating smog is showcasing the harsh downside to China's age of mega-industrialism. Who would have guessed Canada's sense of humor would come to the rescue while a long-term solution is being figured out?
That's right. Canada is now making canned air.
Vitality Air markets themselves as a work-out aid and features bottles from Banff or Lake Louise with bottles of 150 breaths selling for nearly $23 U.S.
"Our first shipment of 500 bottles of fresh air were sold in four days," Vitality Air co-founder Moses Lam said in a recent interview with UK news source The Telegraph.
Lam admits that he started the company as a joke when he and co-founder Troy Paquette filled a plastic bag of air and sold it on Ebay. The first bag apparently sold for just less than 50 cents; the second bag sold for $160.
"That's when we realized there is a market for this," Lam says.
Since their humble beginnings on internet auction sites, Vitality Air has been expanding, reaching markets in India, the Middle East, and the U.S. But their biggest market is China. After the first 500 bottles flew off shelves last month, a crate of 4,000 are making their way over, but Lam says most of that shipment has already been spoken for.
Seeing as each bottle is filled by hand, production is slow; but the company has been working hard to keep up with demand.
(Via The Telegraph)