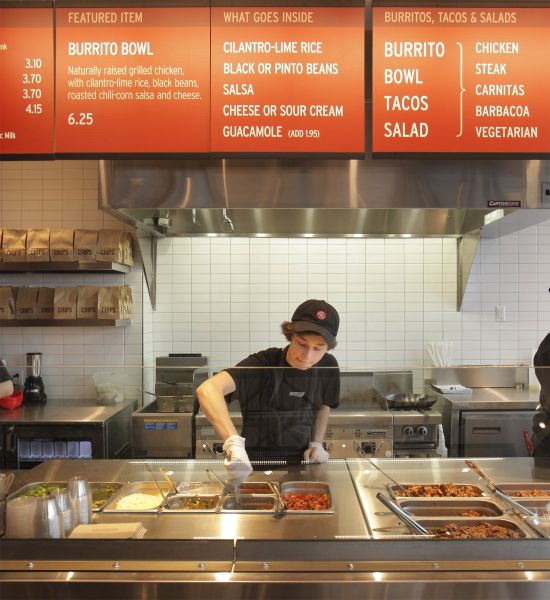 I've never fully understood the cult of Chipotle. That might be because I'm a fancy food writer who eats foie gras for breakfast… or it could be because I've lived half my life in Southern California where every single corner taco stand serves an amazing carne asada burrito.
It's not that I dislike Chipotle's food, it's just that eating there never comes to mind when I'm hungry.
That's not a huge criticism (it's downright soft compared to the heat that Yelpers throw at the company). Having been around the food industry for a long time, I can say with certainty: Scale is a tough thing to manage. Scale paired with sustainability — which is what Chipotle is attempting — is even tougher. My own favorite Mexican food spot (in the U.S.) might not hold up well with 1,500 locations and a bunch of frazzled teenagers slinging the guac.
Regardless of my personal tastes, I have to credit the fast casual restaurant for cracking the code of mainstream appeal — like the Cheesecake Factory at the turn of the century and P.F. Chang's in the mid-2000s, Chipotle has managed to become a major chain that people giddily obsess over. There is a "cool factor" — a big part of which comes from the company's focus on smart sourcing and ecology.

The trouble here is that the food-obsessed public is fickle, and while a bad review can sink a fine dining restaurant, a whole pile of E.coli cases (which later seems to be under control only to bloom all over again) can seriously mess things up for a fast food Mexican joint. Just ask Taco Bell. After a 2006 outbreak due to tainted lettuce, sales for the entire company flagged — and this downturn persisted for five-straight quarters.
The fact that this latest bout of illness affected a college basketball team gives the news an extra viral push, much like the norovirus itself (which was responsible for the 80 cases of illness). Bottom line: Chipotle's PR team is having a rough couple of weeks and is certainly worried about the loss of public goodwill.
Business Insider suggested that Taco Bell offers a good case study, but there are some big differences. Taco Bell never benefited from the cool factor that Chipotle has, and with tons of interesting fast casual concepts standing in line to be the next Chipotle, the long term loss of public adoration might be worse than the (relatively) short term loss in sales.