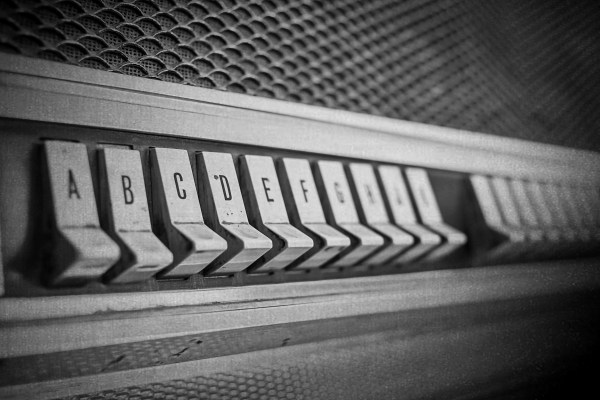 On a Friday afternoon in Philadelphia's East Passyunk neighborhood, Mike the baseball writer and Metro the morning-show-host-turned-radio-producer walked into a Mexican spot known simply as "Cantina." It was about quittin' time for the 9-5 folks and we were closing in on summer's midpoint. Everyone who wasn't stuck sitting in Shore traffic was looking for a margarita. The joint wasn't packed — just full enough that we couldn't find seats at the bar.
Instead, we ordered our drinks and planted ourselves in the back corner, where we discovered a good ol' fashioned jukebox. It wasn't the kind of jukebox that requires you to download an app, but the kind with hard copies of classic albums and buttons that stick when you try to leaf through the pages. We dumped a couple of bucks into the relic and leaned against its hulking mass in that classic James Dean pose. Side-by-side we surveyed the room, watching closely as people reacted to our carefully curated playlist.
We led with "This Charming Man," followed by "Alison," and then the obligatory-and-cliche-but-still-somehow-wonderful "You Make My Dreams" by Hall & Oates. Before long, the whole place was like this:
The scene at Catina got us thinking: Back in ye olde times, the most exciting part of a road trip was making it to the end of the Oregon Trail without dying of dysentery, but summer was moving fast and we craved an adventure. What was stopping us from driving across the country in search of the perfect jukebox? What was holding us back from a Jack Kerouac-inspired, Americana infused road trip? Nothing, that's what. We started sketching a route on a cocktail napkin.
As of now, things like rent and girlfriends and dogs and deadlines have left our little plan at a crossroads. It's stuck in the idea stage…but we still swear we're going to make it happen…someday. And if we don't, maybe you can. Get out there, roll down the windows, turn up the stereo and just go. If you do, please send a postcard and play some Hall & Oates for us.
Here are eight juke joints and dive bars worth visiting as you cross the country…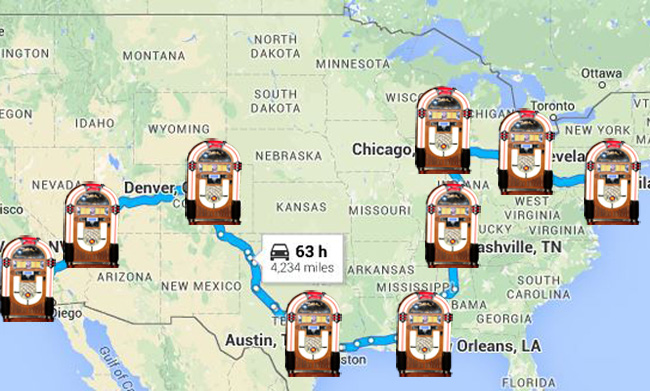 Jukebox — Cleveland, OH — The aptly named spot on W. 29th Street is proof that Cleveland really does rock. Some bars have rotating draft lists, Jukebox has a rotating jukebox to go with its music-themed cocktails. Their catalog has everything from The Very Best of Otis Redding at 00 to Sam Smith's Nirvana EP at 99. They update it monthly and highlight which acts have upcoming shows in town. 1404 W 29th St, Cleveland, OH 44113
aliveOne — Chicago, IL — Paul Simon's Concert in the Park, Warren Zevon's Stand in the Fire, Etta James' Rocks the House … aliveOne's juke is filled with nothing but live albums, so make sure you bring your lighter. 2683 N Halsted St, Chicago, IL 60614
The Villager Tavern — Nashville, TN — Some places will give you a complimentary piece of cake or sing you a song on your birthday. The Villager Tavern will simply serve you a beer in its infamous dog bowl. More than just that novelty, The Villager is a classic haunt where the Dirty Dancing soundtrack, Meatloaf and vintage Nashville albums play in the background as the regulars share stories about recording with Willie and Dolly and Johnny and Patsy. 1719 21st Ave S, Nashville, TN 37212
The Chart Room — New Orleans, LA — Widely renowned as one of the best jukes in the French Quarter, The Chart Room is the kind of place where you'll get Bill Withers, Muddy Waters and The Commodores. On July 4th, you're sure to hear "America the Beautiful" by Ray Charles on more than a few occasions. Go for The Radiators, stay for when someone plays an entire Leonard Cohen album from start to finish. 300 Chartres St, New Orleans, LA 70130
Casino El Camino — Austin, TX — You can find The Pogues, Howlin' Wolf, Bowie, the Dr. No soundtrack and one of the best burgers in Austin at Casino El Camino, a dark twist on your typical neighborhood bar. Plus, you know it's a party if Andrew W.K. is hangin' out there during SXSW. 517 E 6th St, Austin, TX 78701
The Lion's Lair — Denver, CO — Colfax used to have a reputation as being a bit on the seedier side, but you'll feel at ease when you remember that Joe Strummer used to hang out at the Lair. They've been known to give out well shots for every Broncos touchdown and tout a handful of Springsteen albums, Miles Davis, and enough punk to last for days. Yup, this is home. 2022 E Colfax Ave, Denver, CO 80206
Frankie's Tiki Room — Las Vegas, NV — It doesn't matter when you arrive in Vegas, just that you get there in one piece. Frankie's is open 24/7 with surf rock setting the vibe on the jukebox. Obscure records like The Best of Twist-A-Rama (an American Bandstand knockoff in Utica, N.Y.) play while you suck down Polynesian Pile Drivers in souvenir Frankenstein mugs. There just might be a vintage adult film playing on the TV while you drink and groove. We're telling you, Frankie's is an experience. 1712 W Charleston Blvd, Las Vegas, NV 89102
The Drawing Room — Los Angeles, CA — There's no better way to get to know a bar than by studying the people who hang out there. And, really, what better way to get to know someone than to let them make you a mixtape? Drawing Room's old-school CD juke has a slew of customer-curated mixtapes on rotation to go along with the throwback hip-hop and The Smiths. 1800 Hillhurst Avenue, Los Angeles, CA 90027