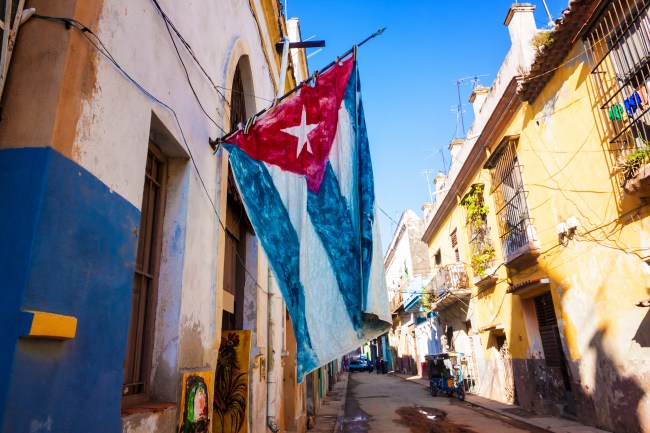 Last week we wrote about the continual loosening of Cuba-U.S. travel restrictions and what that means for those hoping to travel to Cuba in the near future. The TL;DR version is: it's easier than ever to go legally, and has become shockingly simple to take an under-the-radar trip (if you want an un-guided experience).
After seeing our original post, friends of Uproxx Nick Watt and Courtney Scott checked in with a few snippets from their own recent trips to the still-kinda-shrouded-in-mystery island nation.
First, this clip from Watt's World in which Nick visits a Sunday afternoon party filled with spinning cars and swaying hips.
Next, Courtney shared her first impressions from a series of recent trips to film a few episodes of Globetrot With Courtney Scott:
I arrived in Cuba for the first time in January 2015, the same week that Obama made his first announcement easing travel restrictions. Jose Marti International Airport was packed with families waiting to see relatives whom they likely hadn't seen in decades. Emotional reunions were erupting everywhere. The next thing I noticed were the cars. The parking lots were filled with vintage Chevys and Fords, with a few horses and buggies mixed in. Most of the classic cars are "share taxis" that operate like shuttles with different routes throughout the city. The majority of Cubans rely on various inventive forms of public transportation  — like the American-made trucks with open-air backs that are used to carry the overflow of people who can't fit in traditional buses. If you happen to be driving a car and it's not full, you are obligated to pick up the hitchhikers lined up at nearly every mile-marker along the road.

Resourcefulness seems to course through Cuban veins. They are the MacGyvers of the Caribbean. Nothing is wasted. Ever. At a paper factory in Holguin, we met a man named Boris who used a Russian washing machine rigged with a motor to churn up his paper pulp. On a street in Santiago, a man's motor bike was outfitted with a water bottle for a gas tank and CD reflectors. Kids on the island of Cayo Granma, which was decimated by Hurricane Sandy, were using trash that had washed up on the beach to create art for their local community center. You have to stand in awe of the inventiveness.
Courtney also offered a few tips for those looking to plan a trip of their own:
Go to Camaguey, Santiago, Holguin, Gibara. There is so much more to Cuba than Havana.
Enjoy being off the grid. In a world where you can snap selfies at the top of Mount Fuji, it's a wondrous feeling to leave your phone at home.
Bring cash. You can't take money out of the ATM.
Ask questions. Cubans are very open people, you'll appreciate your experience even more if you understand their way of life.
She added a few thoughts about "getting off the beaten track":
The majority of Cuba is off the beaten track. With the exception of Havana and some of the resort hotels, I very often felt as if I was the only traveler for miles. Some advice: Take every invitation that you receive from a local Cuban to enter their home, or spend some more time with them. If you do have any free time in your people-to-people itinerary, use it wisely. Get lost in the maze of streets, hop in a share taxi and see where it takes you. Cuba is an extremely safe place to travel.
Check out one of Courtney's Cuba episodes below:
To sum up: travel hosts are filming TV shows in Cuba, which means that the people watching them will be inspired to follow suit, which means that if you want to be on the front end of this trend you need to start looking for tickets soon.
[As of July 28, return flights for August from JFK are hovering in the $1,000 range]