Welcome to Flavor Creators, a new series from Jack Daniel's Tennessee Apple and Uproxx that will offer you cocktail recipes, ingenious tips, and a look at a bold dinner party where two chefs create food + drink pairings based on their guest's personalities. First up, our guide to throwing a great dinner party. Check out our Flavor Creators hub for more recipes and for the next chapter in the series.
Our backyards aren't quite as sunny these days. The leaves are turning. Rain is likely coming down and might well turn into snow. That means house party season is upon us. The first (relatively) full-on house party season since early 2020.
As the weather cools and the holiday season arrives, inviting friends to eat, drink, and be merry is sure to be a common denominator in many of our lives. But while inviting your crew to hang is one thing, actually executing a proper party is quite another. Not that it has to be an over-whelming endeavor. With a little patience, foresight, and prep, you can throw a gathering with awesome food, fun games, and remarkable cocktails that are sure to be a hit.
While it'd be easy to say "buy this wine, that bottle of whiskey, and these oysters," that'd also be a little disingenuous. We don't know your budget, theme, vibe, or palate. So we're going to give some broad strokes that'll help you throw a dope party and leave the hard details to you. Ready?
Let's Dive In
Get what you can get done ahead of time. I know. You've probably heard this before but it's so crucial that it bears repeating again and again.
– Do your cocktail shopping well before the party. Take that extra minute in the liquor store or your favorite online delivery service to find the syrups you need (they'll all be there) and the aisle with Jack Apple in it. Then, make batch cocktails the night before and let them rest in the fridge to really emulsify. After that, all that you have to do is serve on the night of.
– Do all your mise en place (dicing, etc.) as early as possible. You never, ever want to be in the weeds in the kitchen when people are ready to eat and drink. If you're making a demi-glace for a braised short rib, get that done the day before. It'll be much better after settling in the fridge overnight anyway.
– Count your plates, cutlery, and glasses before too. No one wants to be left with a lone paper plate or a plastic fork when everyone else has real plates and cutlery. That's just bad form.
– Make that playlist! That being said, don't be unmovable about it. Keep it loose and go with the flow as the night wears on when it comes to music.
– This may be obvious, but, you know, clean your place. We'll just leave it at that.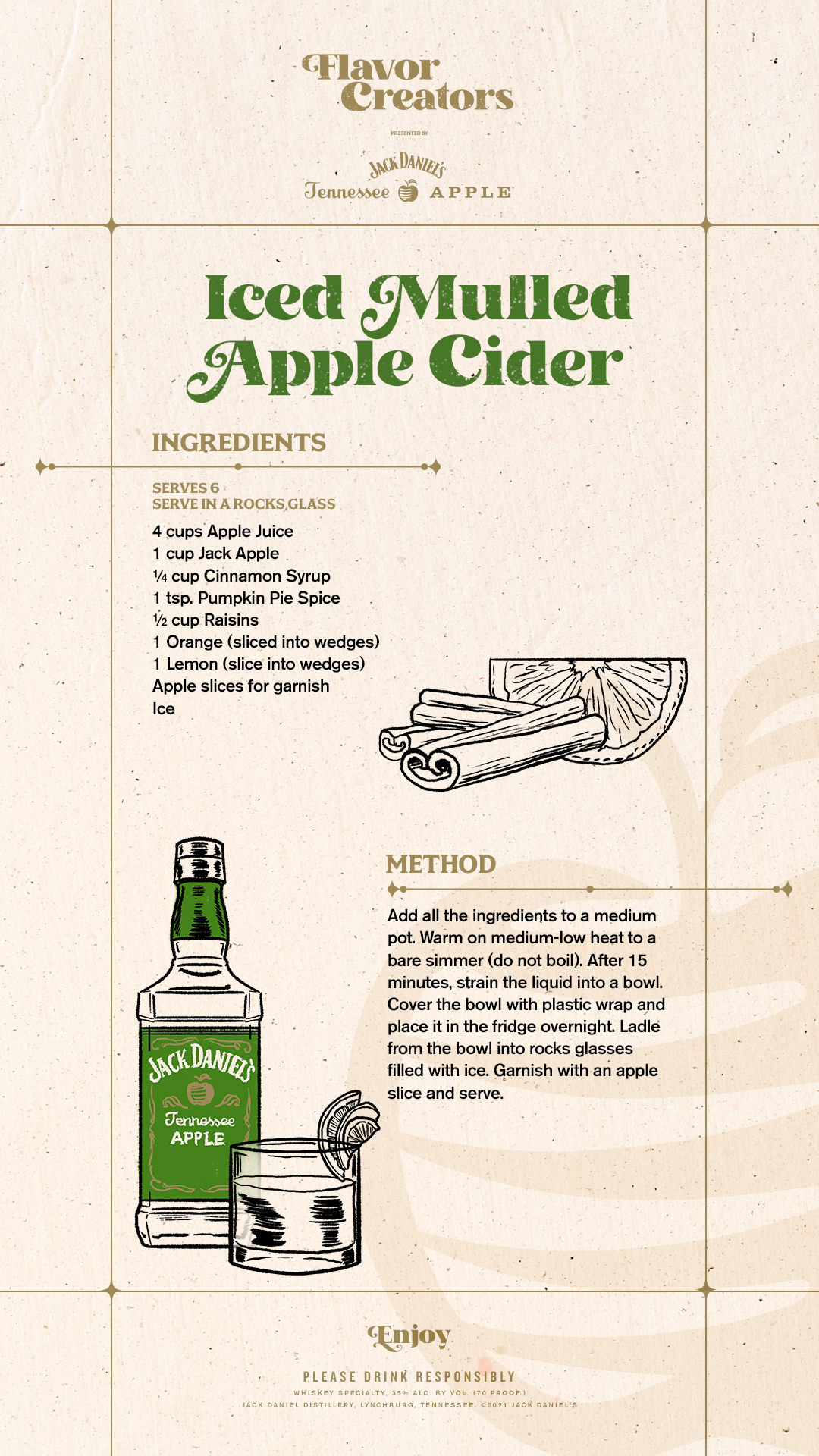 Getting Started
Okay, you've done your prep. Your amuse-bouche is ready. Your batch cocktail is ready. The lights are low. The vinyl is spinning. There's that light trickle of energy in the air as you wait for the door buzzer to ring out.
Whether you're serving a cold or hot welcome drink, serve each guest their own drink as they arrive. No one wants to grab a lukewarm cocktail from a tray on a kitchen counter. It's a nice personal touch to put something like a Jack Apple Spritz made with Jack Apple in someone's hand when you say hello. It gives you that extra second to catch up before the door buzzes again and you greet your next guest. Naturally, you should always have a non-alcoholic option at the ready.
When it comes to those early snacks, keep them in a central location so guests can graze while sipping your welcome drink. As for what to serve, you don't need to reinvent the wheel. Crostini with a little fresh avocado, salt, chili flakes, and olive oil always puts smiles on faces. Cheese puffs warmed in your oven never fail. Keep it small, accessible, and executable in a way that doesn't interfere with the main course.
Dinner
Serve a meal that's braised! You want to cook low and slow during the day that you largely have to just plate up while your guests are in your home. While you can make some easy sides (all prepped ahead of time, of course), you really want to be entertaining and not stuck in the kitchen.
Let's say you made a short rib. If you've done your prep, you should only have to sear and then plate in a serving dish with that rich demi-glace you already made ahead of time. Add a little herb garnish for color contrast and you're good.
One key is to keep all your serving plates warm in the oven so that when you plate up, you have some time to serve the next round of drinks before people dive in. While a buffet service situation might sound the easiest, gathering around a table, family-style, is always the most intimate way to keep the conversation going while people salivate over what you've made.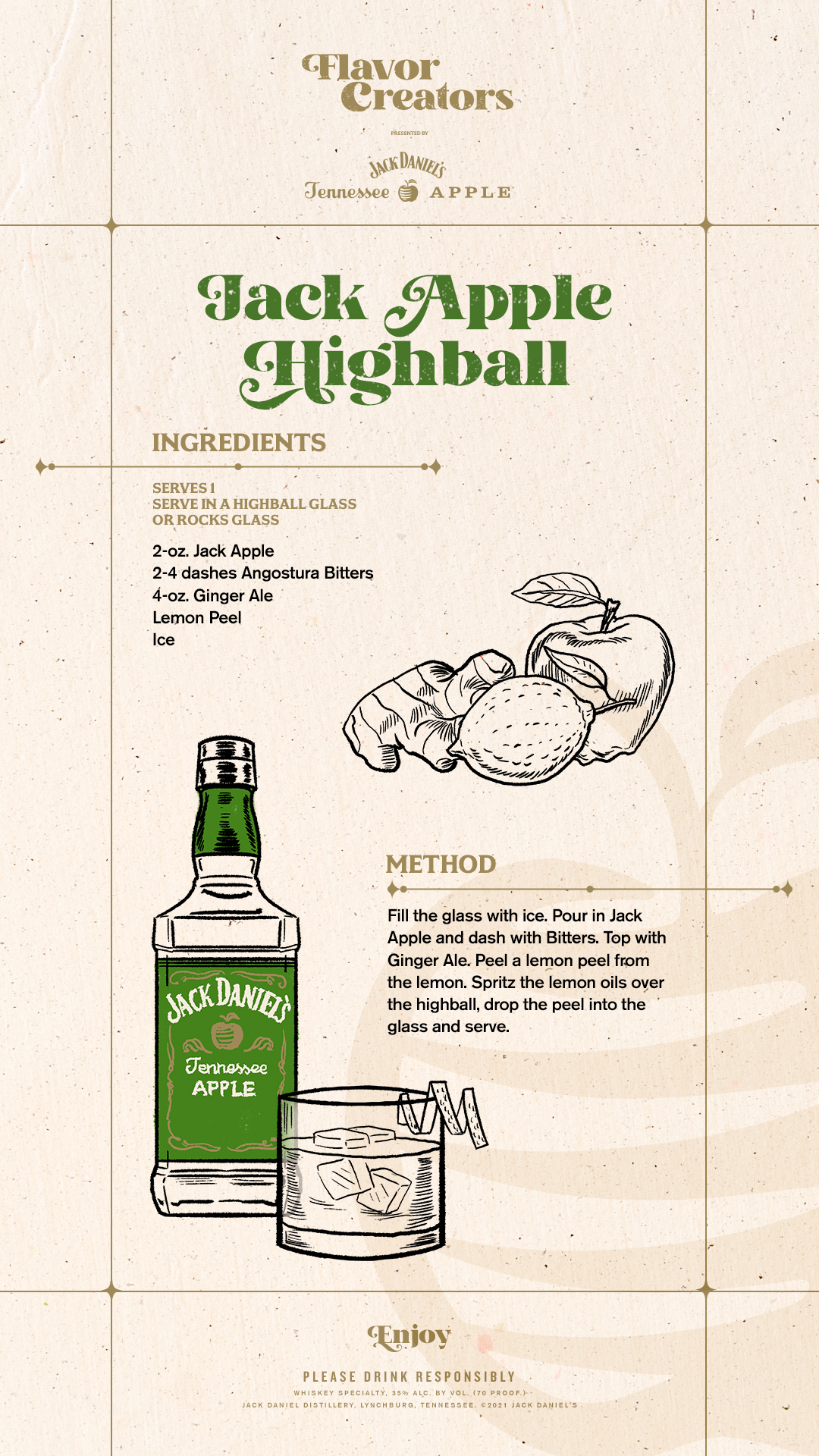 Dessert
This is the big finale. Tie the end-of-meal cocktail to the dessert without overthinking it. Are you serving an apple cobbler? Serve a sparkling apple cider with a Jack Apple base and a dash of bitters. That's something you can build in a pre chilled glass in 20 seconds.
Let everyone serve their own cake or pie, while you make those simple, build-in-the-glass cocktails. We like going the champagne flute route. Fill that flute with a base+sweetener+bitters and then top with something sparkling — it's easy, fast, and is almost impossible to screw up. After everyone is full and about to hit a sugar buzz, it's time to start game night!
Game Night
This is where things can go in a couple of directions. To keep the fun going, it might be a good play to bust out a deck of cards or even your crew's favorite board game. Our advice is to play a game that's both engaging for everyone and has a pretty quick end. A "first-winner takes all" game is ideal, so that other guests don't have to wait around.
Likewise, there are plenty of party games you can play without boards or cards. Sit in a circle (with post-dinner cocktails) and have each person reveal their favorite concert or dream dining destination. It's probably best to stay away from discussions about film and TV to avoid spoilers.
If your guests really have some time to hang, watch a really good bad movie that you can all talk over, joke about, and passively watch if some guests want to just hang out. Sometimes nothing finishes a night stronger than living out the best bad movie ever with your friends.
Good Night
At some point, you're going to have to say "good night" to your guests. It's a feeling that's almost the opposite of that early energy that was buzzing around the room while you were waiting for that doorbell to ring.
While it'd be smart (time-wise) to ask your guests to help you clean up, don't. Even if they offer, do that yourself after everyone's left. After all, if it's just you, then you can do the bulk of the clean-up in the morning after the kind of well-earned sleep that comes from pulling off the perfect party.
PLEASE DRINK RESPONSIBLY.
TERMS OF USE | PRIVACY POLICY | COOKIE POLICY | NUTRITION
Whiskey specialty, 35% alc. By vol. (70 proof.) Jack Daniel Distillery, Lynchburg, Tennessee. Jack Daniel's is a registered trademark. ©2021 Jack Daniel's. All rights reserved. To find out more about responsible consumption, visit responsibility.org. All other trademarks and trade names are properties of their respective owners. Please do not share or forward this content with anyone under the legal drinking age.