Today, the U.S. celebrates National Tequila Day — making this as fine a time as any to learn about the drink and gain an understanding of its different variants.
SOME QUICK FACTS
*With help from The Matador Restaurant & Tequila Bar in Portland, Ore.*
Tequila is region specific. Just like champagne needs to be made in Champagne, France, and Parmesan cheese needs to be made in Parma, Italy, tequila needs to be distilled in or around Tequila, Mexico. Note, it needs to be distilled there — it can be bottled anywhere, and there are other labeling tricks and workarounds that make this whole subject somewhat complicated.
Tequila is made from the piña (inner core or "head") of the agave plant, most typically blue agave. An agave plant takes years to mature and can't be harvested too early — proper fermentation requires the right mix of carbohydrates and sugars.
The fact that tequila is distilled from agave marks it as a mezcal. But not all mezcal is tequila.
Tequila is clear after distillation. If you're drinking tequila that's gold, it means it was either A) artificially colored or B) colored by its time in a barrel.
After getting a little background, The Matador team showed us what to look for in our tequilas. 
Gold Tequilas. In general, avoid this stuff. If the label marks it as 100 percent agave, then you can assume it gets the gold color from being a mixture of blanco, reposado and añejo tequilas. That's great. But if you're seeing super cheap "gold tequila," the hue comes from caramel coloring and sugar. These gold tequilas are made from as little as 51 percent agave.
Blanco, Silver, or Platinum tequilas. This is "pure" in that it's not taking on flavor from the barrel it's aged in. Silver tequilas are common for margaritas because they don't have any of that smoky/woody taste. Still, a silver tequila doesn't have to be harsh. Blue agave is sweet and a good blanco will retain that — often tasting almost vanilla-ish.
Reposado Tequilas. Reposados are rested in barrels somewhere between two months to one year. The barrel aging allows the spirit to smoothen, gives the alcohol that gold color, and adds flavors drawn out of the barrel. Barrels and casks often have a second life — tequila might be stored in a barrel that once held bourbon (actually, this is quite common because of the sweet deal that the Kentucky Cooper's Union has). The flavor of a reposado is balanced between the barrel flavor (which could manifest in a variety of ways) and the agave flavor that is so present in silver tequila.
Añejo Tequilas. There are a few big keys to añejos: 1) They're silky smooth, 2) they take on a lot of nuance from the barrel, and 3) they're aromatic. Aged from one to three years, añejos can seem distinctly smokey or oak-y or caramel like, depending on the barrel they were aged in. The smoothness here is a big draw. It's nice to sip your tequila methodically and not cringe afterwards.
Extra Añejo Tequilas. These are aged at least three years and feature all of the smoothness and barrel-infused taste mentioned above. You'll also find these to be the most expensive — not just because of the aging (although that's part of it), but because distilleries only let their best stuff sit for this long. This is a relatively new designation and has become increasingly popular in the United States, as the average tequila drinker grows more and more savvy.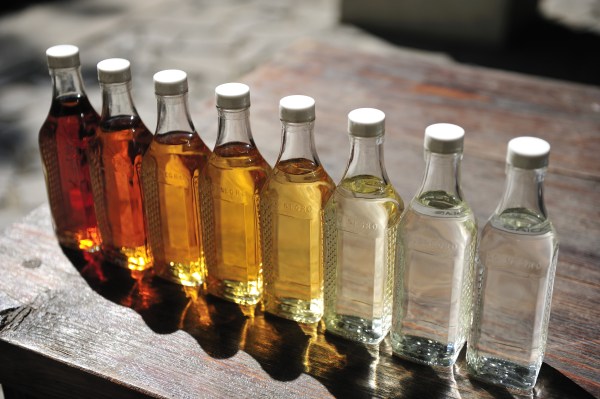 Recipe for the "Armadillo Sour" from ARC in Costa Mesa, Calif.
Ingredients:
1 oz. Blanco tequila
1 oz. Amaretto
1/2 oz. Fresh squeezed lemon juice
1 egg white, whipped
2 dashes Mayan bitters
Garnish with an orange twist and a bar spoon full of creme de cacao.
**CONTINUE DOWN THE PAGE FOR LAST WEEK'S DRINKS**
Friday is here again — which means that as the afternoon winds down, "drinking" will begin its steady march up the ranks on the mental to-do lists of millions of people worldwide.
This weekend's cocktail comes from Andiron Steak & Sea in Las Vegas — where it's served in a fancy copper goblet for two. You can serve yours in separate glasses…unless you have a fishbowl handy.
Pineapple Bump from Andiron (Las Vegas, Nev.)
Ingredients: