Your night doesn't have to be dark and full of terrors anymore. There's a Game Of Thrones Pop Up Bar in Washington, DC where you can while away the hot summer nights with stiff drinks, Iron thrones, dragons, and plenty of poisoning and inscest. (Okay, maybe not the last two.)
To celebrate the new season of Game Of Thrones (finally) arriving this July, the genius behind the Drinks Company — formerly of the Super Mario Bros. and Stranger Things pop up bars — have given us not one, but three massive bars paying loving homage to all things Westeros and Essos. This GIF sums up our feelings on the matter fairly succinctly.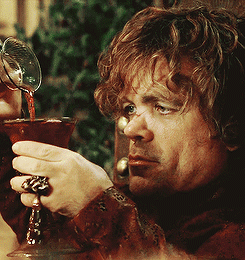 Brace yourself because it gets better. The bar features a deep cocktail list and everything is show-themed. Bar manager Paul Taylor explained, "We began by thinking about what these fictional characters from Game of Thrones would drink, what cocktails would epitomize them and what moments should be represented."
The menu highlights include a simple mix of tequila and grapefruit named Shame, a milk punch variation called Milk Of The Poppy, a Scotch-based delight called The North Remembers, and a daiquiri take named after the Dothraki … The Dothraquiri. The bar serves Ommegang's new Bend The Knee on tap, in case cocktails aren't your thing. There's a small wine list to round out the bar menu with a Pinot Noir, Sauvignon Blanc, Brut Rose, and a Hopvine Cider.

Drinks Company CEO Angie Fetherston knows the deep love the world has for the flagship HBO series and that's a driving force behind their latest choice.
"The three-eyed raven picked us," Fetherston declared on their website. She continues,"This PUB is our love letter to the Seven Kingdoms and we cannot wait to share it with fellow fans." This may be the year to take your summer vacation to Washington, DC.
The bar is situated in a 3,000 square foot space in Northwest DC. It's divided into several areas of the Seven Kingdoms. Specifically the North, the Red Keep, Mereen, the House of Black and White, and the Throne Room where you can don a massive fur jacket and mount the throne to make all your Insta-dreams come true.
Well…getting drunk and taking selfies on the Iron Throne does sound like a good way to spend an evening.
The pop-up will be open until August 27th. You can hit them up daily until late into the night except for Sundays. The bar closes at 7 PM sharp so you can go home and watch the show.
More photos!