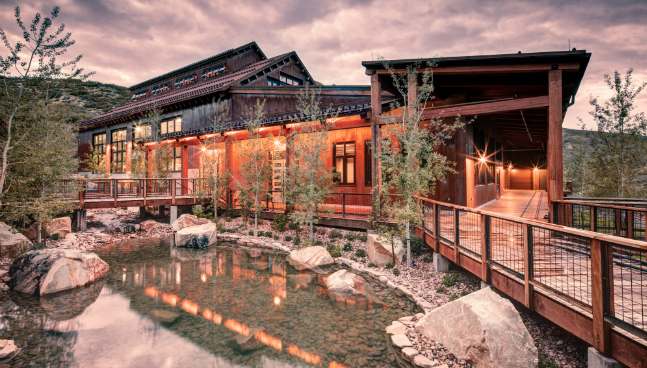 When David Perkins and his wife went to Scotland for the first time, to drink whiskey, they noticed how the region itself felt right and in concert with everything they were tasting. The rugged landscape set the tone for each of the distilleries they visited. The lush greens, rolling hills, and inlets made each sip better, and there was something about ending the night around a fire with a dram that acted as a teleportation device.
Perkins wanted to replicate this feeling in the United States and landed on Utah. It felt like the right fit, despite the fact that there were no legal distilleries in the state at that time.
"Utah really gives it a sense of place," the High West Distillery founder says. "It's beautiful. We just hoped you'd think about the mountains when you're sipping whiskey and maybe it'd whisk you away from the stresses of your day job and help you think about that fun trip you had."
Peering out over the Wasatch-Uinta mountains, it's no wonder why so Perkins fell in love with the state. The whole region feels like it's already been treated with an Instagram filter – the colors are richer, the horizon is stiller, and backdrops could be excused for a movie set. If there was anywhere to break ground and settle, you could do far worse. Of course, Utah has had a tumultuous and varied relationship with alcohol over the years, but it's not quite as teetotaling as people think. In the 1820s, it was home to a whiskey exchange (or rendezvous), and Mormons went so far as to invent their own whiskey called "Valley Tan." Even Brigham Young owned distilleries up through 1870, when the temperance movement started taking shape.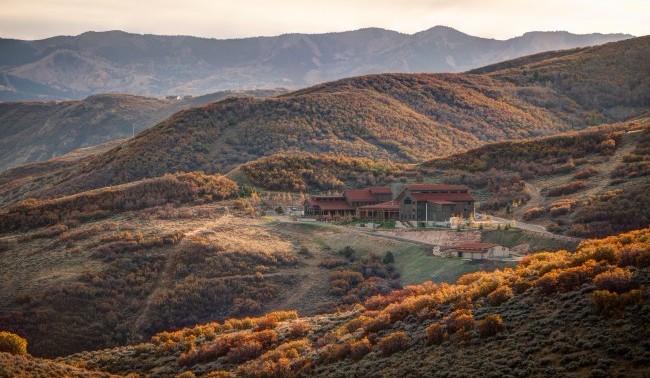 High West opened in 2006, in Park City. Since then Perkins' vision has taken shape. High West has won acclaim from bartenders and whiskey fans alike and continues to push boundaries through unique blends and tastes. But the crown jewel of the company is the major distillery in Wanship, which opened in 2015. With sweeping views, an overwhelming sense of calm, and no shortage of nooks to hole up in, it's the physical manifestation of what Perkins wanted customers to feel when popping the top on a bottle of American Praire or Rendezvous Rye. It's where he wants people to get swept away, and it's well worth a pilgrimage to the industrious beehive state.
We huddled with Perkins after being invited out to see the distillery for ourselves to ask for the origin stories and tasting notes of our five favorite High West offerings.
American Prairie
The company's flagship made from a combination of MGP (the same supplier as Bulleit) two-year, and six-year-old and 13-year-old bourbons from Kentucky.
"It's got these three layers, Perkins tells us. "You get this nice fruity up front layer, then you get a nice sort of a Juicy Fruit flavor. That's one of the component whiskeys. You get this caramelly nougat flavor, and then you get this nice woody finish."
Our verdict: Accessible and versatile, this one goes great in a hot toddy.
Rendezvous Rye
The first release by High West, Rendezvous is a high rye combination of MGP rye and two Barton ryes.
"We want this one to say 'Christmas,' Perkins says. "Mulling spices, really the flavors of the rye have these clove and cinnamon predominant flavors. Who doesn't like mulling spices?"
Our verdict: A terrific flask whiskey, it's a lifesaver in a jacket pocket as a groomsman or in mid-October at a Big Ten tailgate.
Double Rye!
A mix of a two-year MGP rye and a Barton 16-year-old rye.
"This isn't Tabasco spice – it's pepper spice," Perkins told us. "But cinnamon is a big flavor in it, so kind of cinnamon Red Hot spicy. There are other baking spices in it too. You get some menthol, the mintiness in it, but all that for me just says spicy, so I call it the 'World's Spiciest Whiskey.'"
Our verdict: Packs a punch, and makes the best Manhattans out of any of the High West whiskeys we tested.
Midwinter Nights Dram
Rendezvous Rye aged in white American oak barrels and finished in French oak port barrels.
"You take the mulling spices in Rendezvous and marry those with the dry fruit flavors of the port barrel, and you get a Christmas pudding out of it," Perkins tells us. "My daughter was reading A Midsummer Night's Dream for school, and there came the name."
Our verdict: Elegant and layered. Practically begs to be sipped slowly, but it's dangerously smooth.
Campfire
A blend of peated, blended malt scotch, MGP bourbon, and MGP rye, all five-year or older.
"It was a trip to Islay with my wife for our 10th year anniversary," Perkins says. "This was very early on in High West's history, like probably a year after we raised the money and got started. We went to Bruichladdich in Islay and spent the week working there and learning about scotch and stayed in their bed and breakfast.
"One morning, when we woke up, we smelled smoke, the peat smoke in the air. You wouldn't smell that in the morning, but you might smell it at night when they have a campfire, or just a fire in that house. They would burn peat logs at night for nostalgia and having a nice fire, but you could smell it in the morning. You go in the kitchen and they were boiling down a bottle of one of their really peaty whiskeys called 'Octomore'.
"I asked them what it was for. They said, 'come back later tonight for dessert.' They had a made a simple syrup out of that. You boil it down, you put some sugar in and it's a simple syrup, but a smoky simple syrup. They drizzled that on ripe honeydew. It was just a fabulous, wild taste combination I'd never had. Smoke and fruit.
"We had bought some fruity MGP whiskey at the time. It was one of their bourbons was super fruity. I thought, 'If we could marry a smokey scotch with that fruity bourbon, maybe that'd taste good.' I think we came out with Campfire in 2012. My one-word sum up is 'Cozy.' It just makes me feel cozy when I have it. Smoke feels like home. Everybody has a vision of smoke in their head. They know what it tastes like."
Our verdict: Smoke, smoke, smoke, smoke, smoke. Campfire is the right name for this one; it tastes like a mountain house feels.

How to visit: Guests to the Park City area can find pretty much every variation of High West whiskey –- and purchase their own bottles — at the High West Saloon in downtown Park City (seven days a week). They also have great food. Or drive out to Wanship (about 20 miles from downtown Park City), pass the Blue Sky Ranch, and follow the signs to the distillery, which is open Wednesday through Sunday.