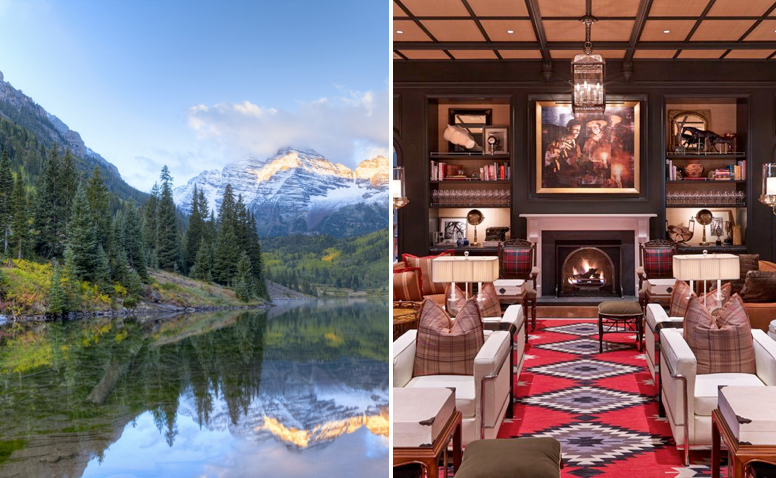 Picture this: You just hiked 30 miles and spent three nights camping in the wilderness. You return to the trailhead and get in your car, tired, dirty and sore. This is a pivotal moment. One in which you're faced with two choices: You could either A) unceremoniously drive home to the same old stresses of everyday life, or B) extend your trip for a day and drive to a swanky hotel to spend the night recovering while being waited on hand and foot.
Basically, the second option (and it's the one we're pushing here, if you couldn't tell) offers you a vacation from your vacation. Because really, there's no better way to toast your time roughing it in the woods (and the fact that you survived) than by rewarding yourself with a big comfortable bed, room service, and if you really want to treat yo' self, a massage.
Sure, a seasoned backpacker may not feel the need to celebrate their completed trek, but if you're new to backpacking, or simply don't get to go as often as you'd like, you might as well live it up when you're done.
First, make sure you have all of the backpacking gear you need to master the "time in the woods part," then consult the list below to find a trail with a nearby luxury hotel for your next adventure. This way, when the daily grind does sink its teeth into you again, at least you'll feel rested.

Maroon Bells-Snowmass Wilderness & Hotel Jerome
Aspen, Colorado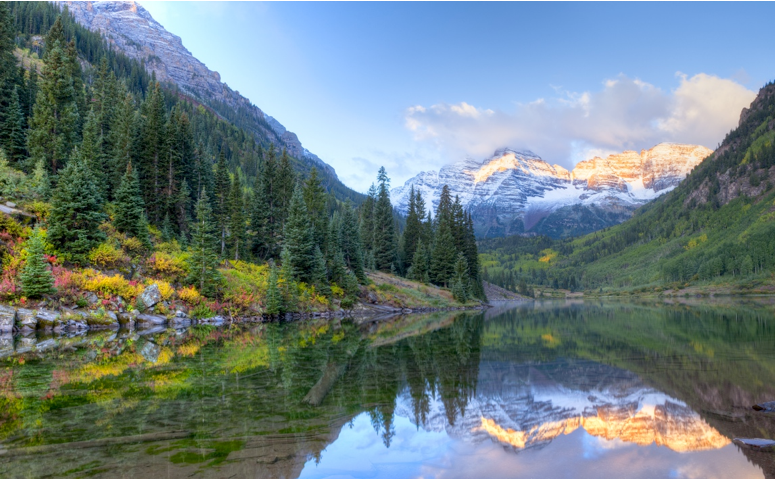 For outdoorsmen and women with a penchant for the finer things in life, Aspen is heaven on Earth. While most people think of Aspen as primarily a winter destination (there are four world-class mountains to choose from within 20 minutes of downtown), it's equally impressive in spring, summer and fall. This time of year is perfect for visiting the Maroon Bells-Snowmass Wilderness, 181,000 acres of pure Rocky Mountain splendor located just 11 miles from the heart of Aspen.
Here, you'll find the Maroon-Snowmass Trailhead, the start and end point for the 26-mile Four Pass Loop (or a shorter out and back hike) which takes most backpackers between three to five days to complete. Throughout that time, you'll climb over four mountain passes, past several alpine lakes, and have access to some of the county's finest secluded campsites (like this one).
Hike complete, drive to downtown Aspen and check-in to Hotel Jerome, a historic hotel with an eye for design. After changing out of your hiking boots, head downstairs to J-Bar for a cheeseburger and an Aspen Curd (also known as Jim Beam milkshake). Then, when it's time to hit the sack, you'll have a stylish room with a king-sized luxurious down bed to retire to.
The Hollyford Track & Matakauri Lodge
Queenstown, New Zealand
For an international backpacking fix, few countries can top the geographic beauty and diversity of New Zealand. Plus, when winter in the northern hemisphere puts a halt on your sleeping outdoors plans, it's summer in the southern hemisphere and the weather is fine.
For a classic New Zealand hike, head for the southern island's Hollyford Track in the majestic Fiordland National Park. At 35 miles long, one way, the Hollyford Track takes hikers from the mountains to the sea via the Hollyford Valley with little elevation change. It can usually be completed in three or four days, with hikers sleeping in rudimentary, small group huts along the way.
At the end of the trek, arrange for transportation to Queenstown and stay a night (or forever) at Matakauri Lodge on the shore of Lake Wakatipu. Get settled into your suite or cottage (each has a private patio and fireplace), then visit the spa for a signature mud treatment or take a dip in the infinity pool. Afterwards, enjoy a bottle of New Zealand wine paired with a gourmet meal made of local ingredients at the lodge's restaurant.

Grand Teton National Park & Hotel Jackson
Jackson, Wyoming
A rugged mountain town with cowboy charm surrounded by some of America's most serious wilderness — that's Jackson Hole and the town of Jackson.
Loved for its steep and deep winter skiing, Jackson is a hardcore skier's paradise. Come summer, however, visitors still flock to Jackson and the surrounding wilderness to visit nearby Yellowstone National Park (one hour away) and Grand Teton National Park (20 minutes away). Grand Teton National Park holds the 40-mile long Teton Range and 200 miles of hiking trails. But backpacking in these parts isn't for the inexperienced — not only can there still be ice and snow at high elevations in the summer, it's also bear country. Bottom line, come prepared.
While there are numerous trails to choose from, the 26-mile Cascade Canyon/Death Canyon via Static Peak Divide trail will provide you with one to two nights in the backcountry and plenty of great scenery.
After you've made it out alive, embrace civilization (and celebrate a bear-free camping trip) with a stay at Hotel Jackson, a new boutique hotel downtown. Marvel at the view of the Teton Range (and reminisce about the fact that you were sleeping somewhere in there the night before), then plop down face-first on your plush, king size bed for a nap.
Rested up, head outside and you'll be just a few steps away from Jackson's best restaurants and bars — including the world famous Million Dollar Cowboy Bar.

Kalalau Trail & The St. Regis Princeville Resort
Kauai, Hawaii
When you think of Hawaii, you might think of relaxing next to a pool with a tiny umbrella-adorned beverage in your hand. But beyond the resorts, Hawaii is home to some truly wild and untouched landscapes.
Case in point, the Nāpali Coast State Wilderness Park on the island of Kauai — home to the 22-mile round trip Kalalau Trail. Set along the dramatic cliffs of the Nāpali Coast, the Kalalau Trail traverses five lush valleys and ends at Kalalau Beach, where, with a permit, hikers can camp for the night. The first two miles of this trail serve as a popular day hike (it's crawling with tourists), but once you make it beyond that point, you should find some tropical peace and quiet.
Back at the trailhead, drive just 12 miles east and indulge in the Hawaii-you-imagine-when-daydreaming-about-Hawaii at the St. Regis Princeville Resort. Drop your camping gear in your ocean view suite and immediately head to the resort's 5,000-square-foot infinity-edge pool (which, from the right angle, appears to merge with the ocean). If you're in need some next-level rest and relaxation, just book a private pool or oceanside cabana, order a bite to eat and a few cocktails, then soothe your aching muscles with an in-cabana massage. Yes, Hawaii is the best.

Gore Lake Trail & The Sebastian – Vail – A Timbers Resort
Vail, Colorado
Colorado makes the list again (because: Rocky Mountains), but this time, for the state's other posh wilderness hangout, Vail.
People rave about the skiing here in the winter, but just like the rest of the region, Vail's nature doesn't disappoint in warm weather months, either. There are plenty of hiking and backpacking trails to choose from, but for a tough one-night-in-the-backcountry trail, there's Gore Lake. At 12.2 miles round trip, this out and back trail might seem like a short journey (6 miles in and 6 miles out). But keep in mind, the trail starts at an almost 9,000-foot elevation, and gains almost 2,700 feet in elevation over 6 miles. Spend the night camping, then on the morning of day two, make the final push. Just don't forget your fishing pole.
Back in Vail, check into your well-appointed and cozy room at The Sebastian – Vail – A Timbers Resort. If you still have the energy, take a stroll around Vail's quaint village (just outside the doors of the hotel), then come back for a massage at the spa. At night, grab a cocktail at Frost, the hotel's bar, then relax a little more with a dip in the heated pool and hot tub.