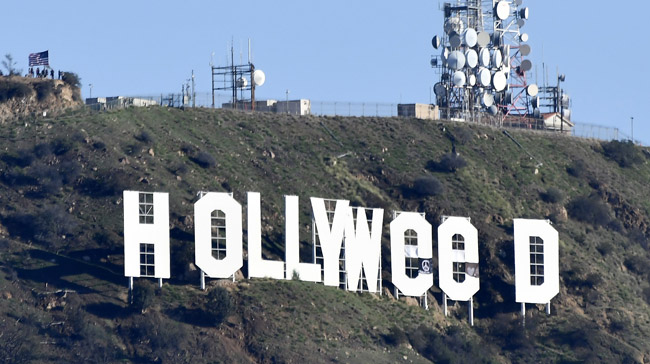 Most of the Los Angeles woke up on New Year's Day likely hungover and surprised to see that the Hollywood sign had changed its look a bit. The reactions to the stunt that changed the sign to read "Hollyweed" were mixed at best, but the alleged artist taking credit for the stunt had one purpose in mind when he did it according to The Hollywood Reporter: peace.
Jesus Hands, aka LA visual artist Zach Fernandez, is taking credit for what the LAPD is treating as an act of vandalism and he spoke to THR about his motives. It would seem that Jesus Hands had the same feeling about 2016 as everybody else:
I did it out of love and a certain peace from within. 2016 was a rough year for a lot of people. You got hurt and then you grew. 2017 is perfect to conger up the growth. It was a very personal thing at first, and it still is. I hold it very personal. It was a personal thing and a tribute to the artist, (who did a similar stunt in 1976) the late Daniel Finegood. I felt his message speak to me and it felt like that message needed to be shared. It was honestly just a work of art, but it becomes so much more because of people's interpretations of it. Pot art. That's what it is.
It would seem that Tommy Chong supports Jesus Hands and the stunt, meeting with the artist ahead of his THR interview and gifting him a pound of Chong's Choice marijuana. That's not full confirmation that Hands is the one behind the sign stunt, but it does help. It also helps that he's not too worried about any legal troubles too, despite the fact that the police are still on the lookout:
Where's it going to go from here? I was just a vehicle used. It's about connecting people. There's a message to be had. The message is peace and love, and look how contagious that is. And when someone looks up there, and I brought a good memory in their heart, that's what makes it — look at it. That's my sign right there.
In a world where a piece of graffiti can sell for millions, this kind of stunt seems harmless. That doesn't mean the police won't try to arrest Hands or whoever did the act, but it's hard to see even the most cynical person caring about what happened. Plus according to the interview, he did some good while he was up there. It's not all bad.
https://www.instagram.com/p/BOu5EXsBCH2/
(Via The Hollywood Reporter)