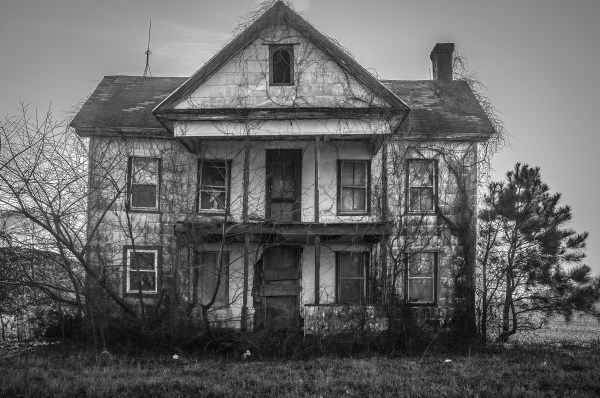 'Tis the season for pumpkin spice, Ugg boots, warm clothes, and hayrides. For some of us, that is. For others, nothing brings October home like cobwebbed, claustrophobic hallways, flickering lights, and the screams of the damned. If you're from that second camp, take a look at these horror movie locations that you can actually visit.
Timberline Lodge on the South Side of Mount Hood, Oregon is the go-to destination for horror film fans. The exterior and establishing shots for Stanley Kubrick's The Shining were shot here, giving Stephen King's readers their first real-life look at The Overlook hotel. Imposing, isolated, and snow-covered, Timberline played its role so well that visitors still request the novel's famous room 237 more than any other, even though a non-existent 237 was used in the film adaptation (Timberline management didn't think they could fill a room that promised a sexy rotting lady in its bathtub).
All creepiness aside, this National Historic Landmark is well worth a visit, boasting year-round skiing, rustic, period furnishings, a 90-foot fireplace, and most recently, dog-friendly accommodations so you can bring the family pet.

The Winchester Mystery House, California
Stephen King loves himself some haunted houses, and he should because he's the literary King of them ("Thanks, folks! Tip your servers!"). Well, when the guy responsible for The Shining admits that he's based original works on a location, you know it's seriously scary. Meet Sarah Winchester's dream (hey… nightmares are dreams, too) house, which was the inspiration for King's 2002 miniseries, Rose Red.
As the heir to the Winchester rifle fortune, and touched by personal tragedy, Sarah had her reasons for believing she was haunted, and she also had the means to do something about it. Featuring 160 rooms, pointless staircases, secret passageways, meandering corridors, and doors that open onto nothing but walls, this gothic Victorian maze was Sarah's attempt to confuse and lose the evil spirits tormenting her. During a fateful encounter with a medium (spiritualism was big in the mid-1800s), Sarah learned that the key to surviving her family's curse was to begin construction of an incredible house for the restless victims of the famous rifle. Once she got going, she never really stopped. For 38 years, the spirit house continued to grow and change, ceaselessly feeding on Sarah's fears and her endless wealth — until the property became as close to a living, breathing thing, as perhaps a house will ever be. Sarah revised her plans on the daily, consulted the spirits in the heart of the house (dubbed the "blue room"), and is rumored to have changed bedrooms every evening so that vengeful ghosts wouldn't catch her at rest. Only upon her death did construction of the house stop.
If the story sounds cinematic, well, King thought so, too; it's nearly identical to the backstory for Rose Red's Ellen Rimbauer. King toured the house in hopes of using it to shoot, but, unfortunately, Sarah's oft-held seances never suggested she make the rooms big enough for cameras and a film crew. The good news is that you can still tour the mansion, which is said to be actually haunted, and offers flashlight tours this month, for those of us with incredible sphincter control.
Still interested in Rose Red? Thornewood Castle in Lakewood, Washington is where King ended up filming when the Winchester Mystery House didn't work out. It's easy to see why Thornewood made for such a successful understudy. More than 100 years old, Thornewood is an authentic Tudor castle, built from a disassembled 400-year-old English castle; a loving husband's tribute to his new bride. Red Welsh brick, dark old oak, medieval stained glass, and hidden sunken gardens create an atmosphere close with the mystery and romance of the traditional gothic novel.
Thornewood — which is also said to be haunted (obvs) — reprised her role in 2003's Rose Red prologue, The Diary of Ellen Rimbauer.
Seneca Creek State Park, Maryland
Seneca Creek State Park in Burkittsville, Maryland, deserves as much much of the credit (or blame?) for today's plethora of found-footage, shaky-cam, motion-sickness inducing horror films as the actors themselves. The park played a starring role in 1999's The Blair Witch Project. The leads spent eight days camping in Seneca Creek and having the crap scared out of them by the directors, who shook their tents in the middle of the night, and left disturbing gifts at their campsites, like wooden icons and rock piles to wake up to in the morning. All in all, this method approach, combined with 6,300 acres of lonely, Potomac-bordering forest, makes for an effective and strangely claustrophobic movie. It could also make for an excellent vacation destination, assuming you don't die.
The Ropes Mansion, Massachusetts
The most horrifying thing about our final film entry is that it hasn't been optioned for a sequel yet, despite all three of the leads saying they'd be down. Perhaps we ought to form a calming circle anyway, because it turns out you can get a Hocus Pocus fix by visiting The Ropes Mansion in Salem, Massachusetts, also known as Allison's house.
Yes, that Allison. The one with the yabbos.
It turns out, this Georgian Colonial is open to the public, thanks to the good people of the Peabody Essex Museum, so you're more than welcome to take a tour. No word on whether or not they'll make you do rich people stuff, like drink cider and bob for apples.
KNOW MORE HORROR MOVIE SETS THAT ARE OPEN FOR VISITORS? ADD THEM TO THE COMMENTS!