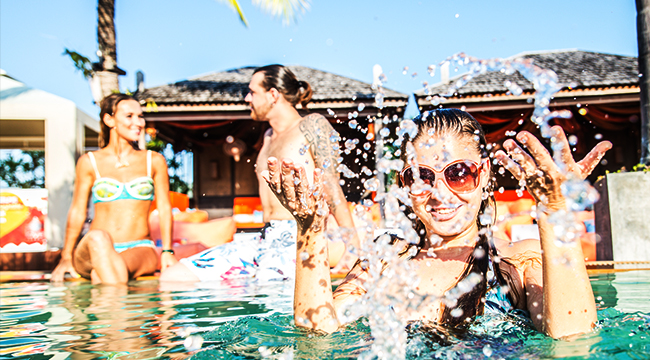 Ah, the American vacation. That rare beast. That glimmering oasis. That ray of hope in the storm of late-stage capitalism. Believe it or not, Americans are taking more vacation time than ever. Employees who receive paid time off from work are clocking in at an average of 17.2 vacation days per year, according to Project Time Off. But we're still trailing much of the developed world. Moreoever, the U.S. is among a small group of countries that doesn't legally guarantee any vacation time at all. Last year, as many as one in four Americans didn't get a single paid day off.
Which is why it's understandable that so many Americans, when they do take time to themselves, turn to all-inclusive resorts. After all, why waste time trip-planning when there are companies out there ready to do it all for you? No need to worry about lodging, transportation, food, activities. Pay one fee and you're set. Then it's all tank tops and flip flops — relaxation plain and simple.
Sounds kinda nice, right? But travel writers, long-term adventurers, and Instagram idols are all famous for hating all-inclusives. Like, they loathe them. Considering the history of travelers sitting around hostels, judging one another's "authenticity," it would be easy to chalk this up to travel snobbishness, but it turns out there's more to it than that.
What's the deal with all-inclusives? Why don't people like them?
Ethical travel experts have long considered all-inclusives problematic, and, at times, a downright blight.
Jonathan Tourtellot, the CEO of the Destination Stewardship Center, a nonprofit which aims to promote ethical tourism, explains why: "There are, of course, basic environmental issues. All-inclusives use a lot of energy, generate a lot of trash."
Further, he says, all-inclusives use more than their fair share of local resources, like food, water, and electricity. Tourtellot's observations are borne out by myriad studies which show that tourists use "more fresh water and energy than local people" in popular all-inclusive locations like the Caribbean. But it's not just a matter of environmental impact: all-inclusives have historically had a negative social and economic impact on the local economy.
"Are the people working there local?" Tourtellot asks. "Is the resort helping the local economy by buying locally-sourced food and goods? Who provides the entertainment? What do wages look like?" Again, historically, all-inclusives have paid exploitatively low wages, and most of the money earned by the resort goes into the pockets of the (typically foreign) owners.
Furthermore, all-inclusives tend to privatize beautiful beaches, making much of the treasured land off-limits to those who actually live there.

But what if I, like, want to go to an all-inclusive? Is there such a thing as a "good" all-inclusive?
Good news for those who aren't big on trip planning. You can have it all…inclusive. (Sorry.)
"There are ways all-inclusives can be done well if they are actually integrating the community in a meaningful way into tours, food and beverage, employment, etc.," Samatha Bray, Managing Director for the Center for Responsible Travel, says.
Bray emphasizes that spending money in the local economy and finding companies that highlight their "environmental stewardship" is key to making sure your tourism benefits the locals in the places you're visiting. Luckily, according to Tourtellot, it's pretty easy to figure out how to do that.
"The resorts who do this tend to make a point of it," he says. "Most of them don't do that, so they make no mention."
In other words: you'll know it when you see it. A company that does things the right way will highlight that on their website. Look for a mission statement or a page about the company's values when you're doing your research. Some resorts even start nonprofits in order to funnel money and resources back into the local economy.
What does an ethical all-inclusive resort look like?
While it's all well and good to talk about ethical travel, what does that actually look like in this instance? One example of an all-inclusive resort company that clearly wants to do things right (while making money, obviously, so… grain of salt, etc.) is Sandals, which excels when it comes to job creation, fair wages, and environmental initiatives.
Sandals not only creates "1.5 to 2 direct jobs per room" in addition to 2 to 4 indirect jobs per room (compared to normal 5-star hotels, which create one job per room), they're known for being the standard bearer for fair wages, with their minimum wage more than double that of direct competitors. Further, the company started a comprehensive educational program, Sandals Corporate University, which provides continuing education and training and has, thus far, provided $770,000 in scholarships to employees.
According to Devyn Barker, a spokesperson for Sandals Resorts, the company not only sources locally, it also encourages its guests to leave the confines of the resort grounds (a rarity in the all-inclusive model). In fact, "60% of all Sandals Resorts and Beaches Resorts guests do experience the islands beyond the resorts and the hotels also make a point of welcoming local vendors and musicians on property."
The company also minimizes its environmental impact through conservation programs that reduce water usage, recycle solid goods, minimize food waste, and emphasize the use of eco-friendly and local products.
But if you're not into the adults-only Sandals or their family-friendly brand, Beaches, never fear. They're not the only player in the ecological/socially responsible all-inclusive game. One trick to finding a decent resort? According to Bray, "Remote lodges are often, by default, all-inclusive due to lack of proximity to other places. So while they are not necessarily all-inclusive in the traditional sense, they still fall into that category. Just a few examples include hotels such as Turneffe Flats in Belize, Golden Door in California, Rios Tropicales in Costa Rica, Playa Viva in Mexico, Basecamp Explorer Kenya, Soneva in Thailand and the Maldives."
The point here is that you don't have to be an expert to travel well. And it's perfectly fine if you want to sit on the sand with mai tais all day, you can still do it responsibly. You may have to do a little research before booking, but an extra 10 or 15 minutes on Google could mean the difference between giving your money to a company that exploits its workers, the lands and the economy in which it's operating—and having an ethical (but still hassle-free) vacation.