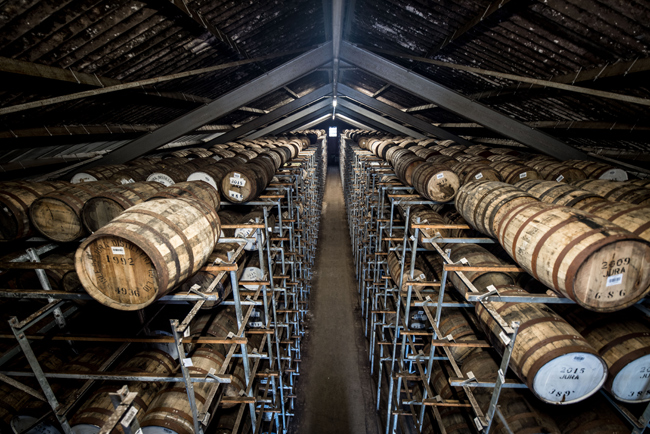 Part of the beauty of scotch, other than that it tastes great and makes you much more confident in your opinions, is that it comes with a free lesson on the people and place that produce it. This aspect of the beverage isn't necessarily limited to scotch, of course. Learning about any spirit is inevitably a crash course in a few other departments — history, geography, culture, some cursory science, maybe even language (see: rum vs. rhum; whiskey vs. whisky). That's part of the fun. But while American whiskey certainly has a few regional variations, with Scotch, it goes deeper than that. Flavor is tied to region more closely than with just about any other drink but wine.
So it is that if you've read the labels of single malt behind the bar you'll already be familiar with half the names on a map of Scotland. Ardbeg, Lagavulin, Bowmore, Bruichladdich, Bunnahabhain, Oban. The brands and their origin are often synonymous.
I got the chance to go behind the label recently on the Isle of Jura, and for all I saw and learned and drank, perhaps the most telling moment came when I tried to leave.
Jura sits in Scotland's Inner Hebrides, an island shaped like two teardrops stacked vertically, about 142 square miles, dominated by three conical quartzite mountains (still glazed with snow when I saw them) called "The Paps," yet another example of the ever-popular "mountains named after breasts" phenomenon.
Aside from being famous as the place where George Orwell wrote 1984 — that a guy with tuberculosis chose such a permanently damp and chilly isle as the site of his health retreat seems insane, but I also don't have pre-clean air act London to compare it to — Jura is the birthplace and current home, naturally enough, of Jura Whisky (no 'E', that's how the Scots spell it. Canadians too. One easy mnemonic I've heard is that countries without 'E' in the name spell whisky without it).
Anyway, about my departure: I was in a car with Jura's communication manager and two Scottish photographers, all of us invited to cover a Jura (the scotch) "relaunch," of sorts, including a takeover of Jura's (the island) tiny (but charming) pub by a few New York mixologists the night before. Jura had a total of 196 residents as of the last census, and getting there from California took one trans-Atlantic flight to London, an intra-UK connection to Glasgow, a puddle jumper from Glasgow to Islay, and a rustic ferry from Islay to Jura. On the day's third flight I learned from pre-flight announcement that I'd been saying "Islay" wrong my entire life, and that it's actually pronounced "EYE-luh."