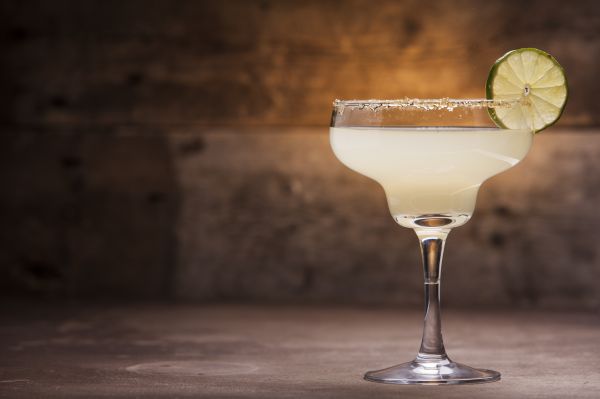 Today is National Margarita Day, a holiday on par with Christmas and Fourth of July; just one rung below Thanksgiving. It's a day when millions of people — longing for the warm embrace of spring — let tequila, triple sec, and lime transport them to the sunny climes of Margaritaville.
There's good reason why this drink remains the most popular tequila-based cocktail in the United States: it's simple, balanced, and, so long as you are using fresh, good quality ingredients, it's pretty hard to mess up. But the margarita is also a cocktail that's ripe for experimentation — serve it blended or on the rocks, add blueberry, strawberry, or mango, combine with jalapeño or cucumber, salt the rim or don't.
Check out the following riffs on the classic margarita to see just how versatile this cocktail can be:
Frozen Avocado Margarita — JW Marriott Desert Springs, Palm Desert, CA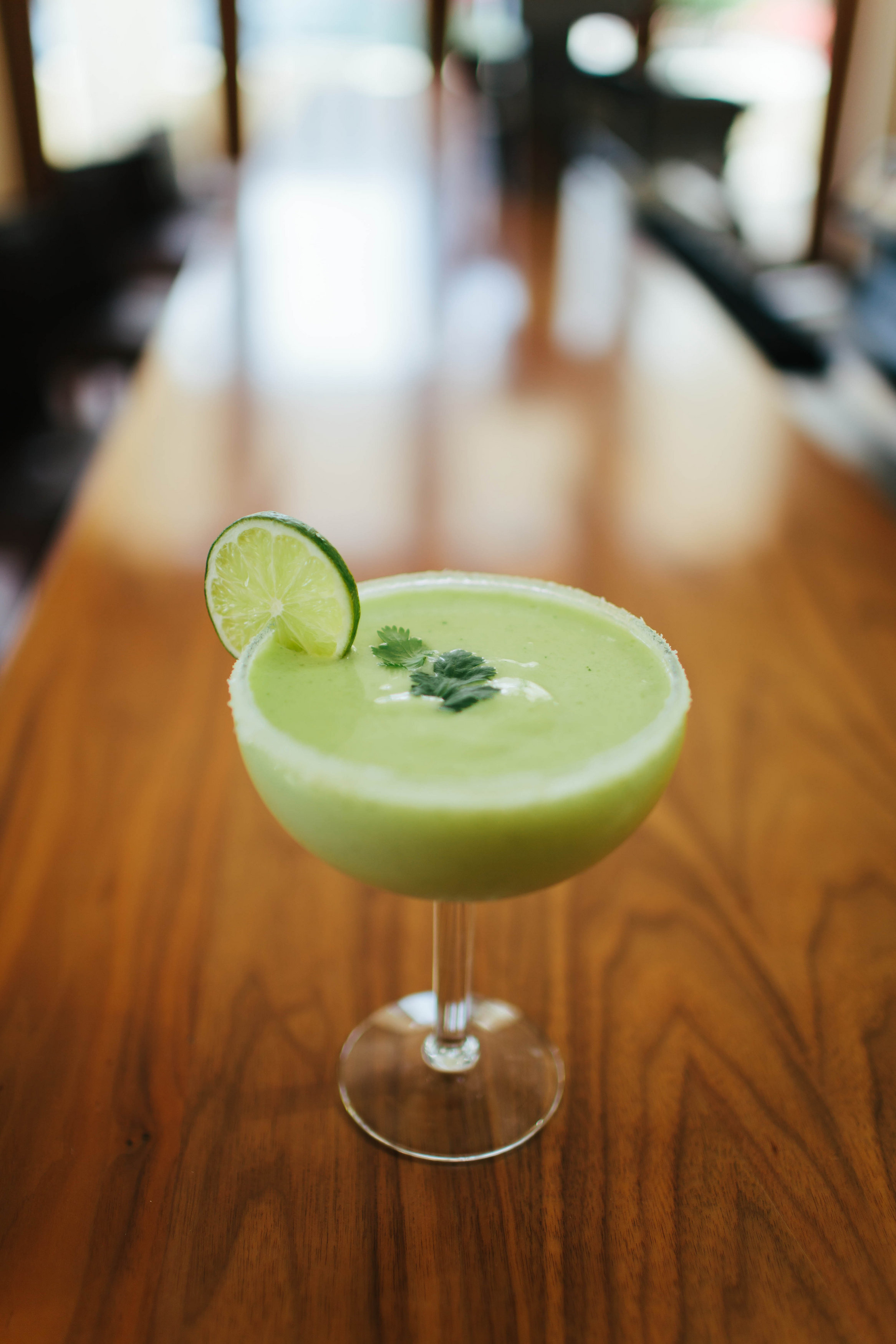 Super Bowl Sunday saw the avocado drafted by Mexico — this margarita makes it clear why the fruit was a first-draft pick. Bonus? It's lower on sugar than your typical margarita…so yeah, it's basically a health food.
Ingredients:
1 1/2 oz Cuervo Gold Tequila
1 oz Triple Sec
1/8 of a fresh avocado
Pinch of fresh cilantro
Pinch of salt
1/2 oz agave nectar
1 3/4 oz fresh squeezed lime juice
Directions:
Build all ingredients in a blender cup, add ice, and blend.
Pour into margarita glass and garnish with a lime wheel.
Blood Orange Margarita — Casa Vega, Los Angeles, CA

Christy Vega, of the 60-year-old Los Angeles institution Casa Vega, brings us a seasonal margarita that's sure to chase away any last vestiges of winter. There's nothing that says "sunnier days ahead" like the bright bite of blood orange and tequila.
Ingredients:
1 1/4 oz Patron Silver Tequila
1/2 oz blood orange mix
1/2 oz organic agave nectar
1/2 oz fresh squeezed lime juice
Wedge of blood orange for garnish
Soda water
Directions:
Mix together the tequila, blood orange mix, agave nectar, and lime juice in a tall glass.
Add ice.
Rim the glass with the blood orange wedge, and squeeze into the drink.
Top with soda water, serve, and enjoy!
Spiced Apple Margarita — Embers Ski Lodge, Nashville, Tennessee
Embers serves up an unusual and creative riff on the classic cocktail. It's a summer drink that still feels like it has some late fall influence — sure to make you look like a genius behind the bar.
Ingredients:
1 1/2 oz Blanco Tequila
3/4 oz Fresh lemon Juice
1/4 oz St. Elizabeth All Spice Dram
1/2 oz Cider syrup
Directions:
Shake and serve up or on the rocks with a dehydrated apple slice.
Garnish with cinnamon/salt/sugar.
Spice up your night with a Hill Country Habanero margarita; a cheeky riff that would complement a night of Mexican food, friends, and an irreverent game (Never Have I Ever, anyone)?
Ingredients:
1 1/2 oz Republic Tequila
1/2 oz Cointreau
2 oz Margarita mix
2 Habanero strips
1 oz Sprite
1 pinch freshly grated ginger
Directions:
Shake up all the ingredients with ice, strain into a margarita glass, and serve.
Chavito 2 — By Jeremy Allen for MiniBar, Hollywood, CA.
Rife with citrus and cinnamon, this margarita is the ultimate mid-winter pick-me-up.
Ingredients:
2 oz Reposado Tequila
.5 oz Fresh lemon
.5 Fresh lime
.25 oz Fresh orange juice
.7 oz Simple syrup
Directions:
Shake and then strain into rocks glass over fresh ice, with a cinnamon-sugar rim.
Prickly Pear Margarita — by Edgar and Joselino Solis for Matador SF, San Francisco

Matador, a modern taco bar and tequileria, offers a stunning take on the classic. Bright colors and bold flavor make for an unforgettable cocktail.
Ingredients:
2 oz Chinaco Tequila Blanco
1 oz lime juice
.5 oz prickly pear puree
.5 oz agave
Mint salt for rim
Directions:
Shake ingredients together with ice, and serve on the rocks.
Garnish with mint sprig.
Sorrel Margarita — Le Soleil d'Or, Cayman Brac, Cayman Islands


The sorrel margarita is made with sorrel and limes grown right on site, on a 20-acre organic farm. But if you can't make it to the Caymans' one and only farm-to-table resort, let the Caymans bring you a little something of their own in the recipe below.
Ingredients:
1 1/2 oz Sorrel-infused tequila
1/2 oz Triple Sec
1 oz Fresh lime
1/4 oz Agave Syrup
Garnish: Salt dry sorrel rim, one sorrel
Directions for Infusing Tequila:
In a canning jar, put the fresh or dry sorrel, then add tequila blanco over the sorrel and seal the jar.
Set the jar out of direct sunlight. Check it every day and give a gentle shake. Leave it for 3 to 5 days.
Strain with cheesecloth and into a measuring cup.
Strain the tequila again with fresh cheesecloth to remove any fruit fibers that made it through the first time.
Pour into a sterilized bottle.
Directions for cocktail:
Combine ingredients and shake with ice.
Serve on the rocks in margarita glass.
Cleanse-A-Rita — by Trisha Antonsen for Drizly
At only 120 calories, this cocktail might be the solution if you'd like to indulge but you're still feeling guilty about the holiday season's eggnog and gingerbread binging. Says Antonsen of this margarita, "The spicy cayenne and tart lemon complement the bite in tequila for a balanced beverage you can enjoy almost guilt-free."
Ingredients:
1/2 oz Tequila
2 oz lemon juice
1 oz water
1 tsp Agave syrup
Cayenne pepper
Salt
Lemon
Directions:
In a cocktail shaker, combine tequila, lemon, water, agave syrup, and small pinch of cayenne pepper with ice.
Shake vigorously until cold.
Pour into rocks glass, and garnish with lemon wedge dusted with salt and cayenne pepper.
Pearl Rose Margarita — Andiron Steak & Sea, Las Vegas
Combining the bite of tequila with the floral notes of rose, vanilla, and violet makes for one intoxicating cocktail (literally and metaphorically).
Ingredients:
2 oz Casamigos Blanco
.5 ox Creme Yvette
1 oz Vanilla simple syrup
1 oz Fresh lime juice
1 Dash Hibiscus/rose bitters
Strawberry salt rim
Directions:
Rim the glass with the strawberry salt, using the vanilla simple syrup.
Add all the ingredients into a shaker tin with ice and shake.
Strain over fresh ice into rimmed glass.
Margarita de Marengo — Cafe Adelaide & the Swizzle Stick Bar, New Orleans
Sweet heat is the name of the game in this New Orleanian play on the classic cocktail.
Ingredients:
1.5 oz Del Maguey Vida Mezcal
.5 oz Solerno blood orange liqueur
1 oz Fresh Pineapple juice
.75 oz Fresh lime juice
5 Drops jalapeño-lime tincture
Pinch of kosher salt
Directions:
Add all the ingredients to an iced cocktail shaker, shake vigorously for 15 seconds, and strain into an iced Collins or double rocks glass.
Garnish with a lime wheel and a wedge of fresh pineapple.
Tincture Directions:
Add 4 jalapeños (split and stems removed) and the zest of 4 limes to a mason jar and add 1.5 cups of 151-proof rum.
Seal and store in a dark place for 4-5 days, shaking once a day.
Strain and bottle when the heat is to your liking — it will be hot!