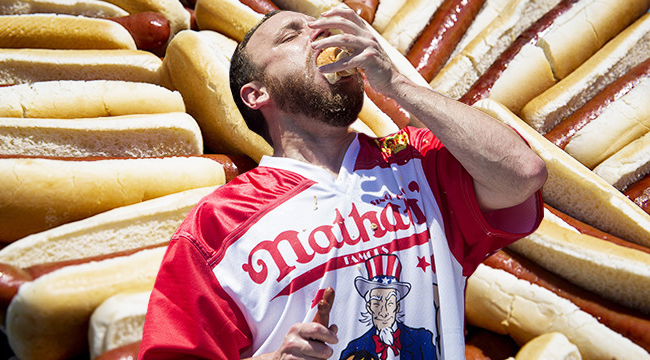 The mustard yellow belt is back in Joey Chestnut's hands. The eight-time Nathan's hot dog eating champion who was dethroned last year in a shocking upset came back this year with gusto. He walked on stage at the 100th Nathan's Hot Dog Eating Contest, and smashed his own world record for the event, eating an astounding 70 hot dogs in 10 minutes.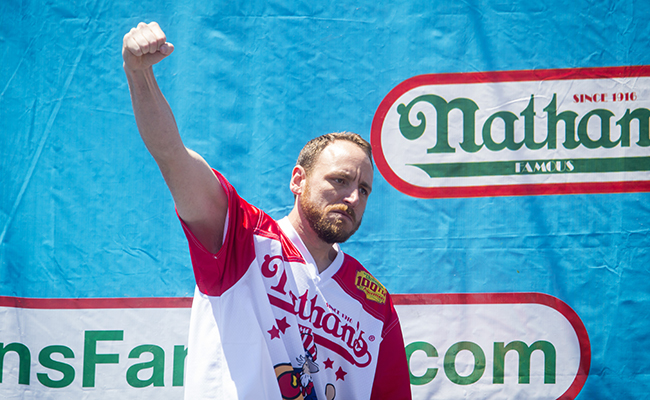 The hot dog eating contest, which many of us started paying attention to in the days of Takeru Kobayashi, has become a staple of Independence Day tradition, much like hot dogs themselves. The drama and sportsmanship burned brightly in a place where you'd only expect gluttony and shame.
After Chestnut ended the dominance of Kobayashi back in 2007 he continued to walk away with the title eight straight years in a row. That is before Matt Stonie put a quick end to that, eating 62 hot dogs in 10 minutes. This year, however, it was a clean battle with a clear cut winner. Last year's champ slipped up and only managed to get down 53 dogs and fell into second place.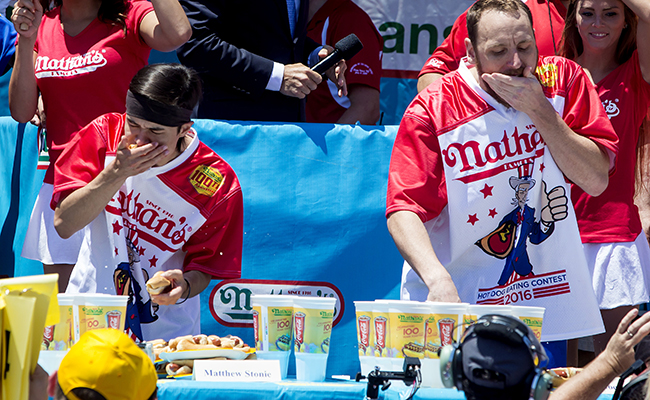 "No excuses," Stonie said. "Joey came out and brought his A-game, so I can't take that away from him."
Chestnut gave his competitor the credit for this year's win. "It's his fault," he said. "He beat me last year and awoke the sleeping giant. He made me go back to the drawing board and relearn my body. And I did it, and I'm happy."
And if you want to know what pure dedication looks like, look no further:
Chestnut has already promised to be at the competition next year, and why wouldn't he? The world record's limit clearly has not been found. After eating 70 hot dogs this year, Chestnut walked away with $10,000 while Stonie and his 53 hot dogs received an admirable $5,000. Carmen Cincotti, who ate 41, and Gideon Oji, who stuffed down 38, both received $2,500 and $1,500, respectively.
Meanwhile, in the women's corner Sonya Thomas and Miki Sudo got into the dogs as well, the latter came out on top eating 38 dogs to Thomas' 34. That earned a victorious Sudo the $10,000 top prize, while Thomas walked away with $5,000 for finishing in second.
(Via Bleacherreport)