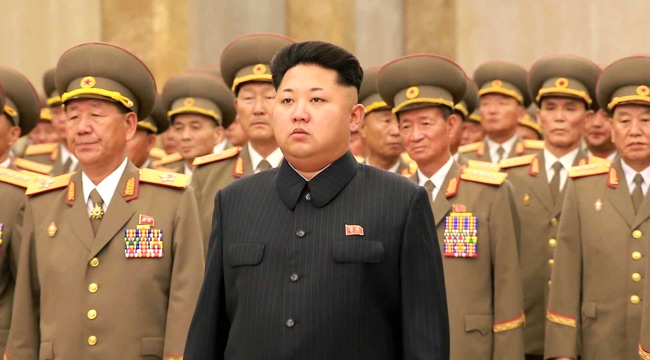 North Korea is known as "The Hermit Kingdom" for a reason. It's a country that exists in isolation from Western culture and society. This includes TV, movies, social media and food. In state propaganda, North Korea is seen as a joy-filled land of smiling faces. In reality, there are reports of widespread state control, rolling-blackouts, and countless starving citizens.
When people manage to escape the regime, they are often thrust into a world that feels completely new. A world of unlimited possibilities (and newfound difficulties). For them, these possibilities now include foreign food.
The creators of this video wanted to give the participants a little taste of our most celebrated food culture: barbecue. They brought in a wide range of classics — pulled pork, brisket, ribs and all the sides. They also pulled sauces and dishes from the famous barbecue regions, including: Kansas City, Texas, Alabama and North Carolina (sadly, Memphis wasn't available).

Once the experiment started, they didn't hold back on the 'Que. The first platter was pulled pork, brisket and burnt ends. The first taster, a women named Rachel — who escaped North Korea when she was 12 — explained the spread as something she'd only seen in movies.
It's interesting to see that, as is common in Asian cultures, the defectors are used to using chopsticks. A North Korean woman named Sun-Sil explains how propaganda made using our most common western utensils seem crude. She talks about forks almost like things of legend, explaining that she was taught about this utensil that "American Bastards" use to shovel food into their faces.
"So this was basically a derogatory term then?" the host asks.
"It was meant to be insulting," Sun-Sil says.
The best part of this video is seeing the excitement some of the participants have when they try the various sauces and food items for the first time. Can you think back to the first time you tried macaroni and cheese? Pizza? Tacos? Sushi? Kimchi? Many of us take for granted the wide range of foods we get to enjoy on a daily basis. We're just used to always having them around.
Ultimately, the video becomes a testament to the power of new food experiences and an ode to personal freedom.