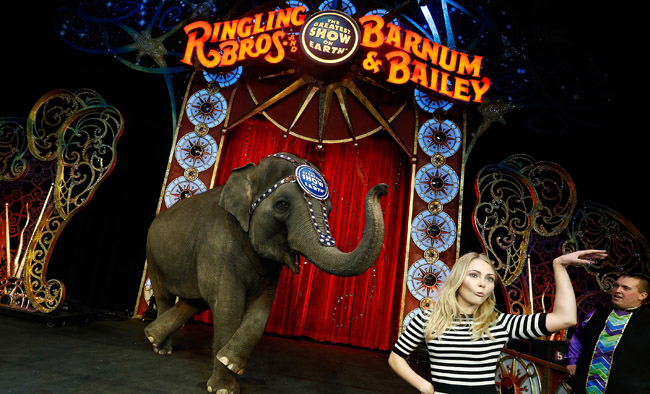 A year after Ringling Bros. And Barnum & Bailey Circus retired their elephant show, the legendary circus will now close their entire operation citing declining ticket sales and high operating costs. The long-running circus will host their final performance in May according to an official statement on the circus' website:
After much evaluation and deliberation, my family and I have made the difficult business decision that Ringling Bros. and Barnum & Bailey® will hold its final performances in May of this year. Ringling Bros. ticket sales have been declining, but following the transition of the elephants off the road, we saw an even more dramatic drop. This, coupled with high operating costs, made the circus an unsustainable business for the company.

Nearly 50 years ago, my father founded our company with the acquisition of Ringling Bros. The circus and its people have continually been a source of inspiration and joy to my family and me, which is why this was such a tough business decision to make. The decision was even more difficult because of the amazing fans that have become part of our extended circus family over the years, and we are extremely grateful to the millions of families who have made Ringling Bros. part of their lives for generations. We know Ringling Bros. isn't only our family business, but also your family tradition.
The circus had faced criticism for its treatment of animals over the years, leading to their decision to retire their elephant show in January 2016. Their elephants were featured one last time in May of last year before heading off to retire at a 200-acre preserve called the Center For Elephant Conservation. According to the New York Times, the company informed employees of their decision on Saturday night, with Feld Entertainment chief executive Kenneth Feld giving a short reason following the announcement:
"There isn't any one thing," Mr. Feld told The Associated Press. "This has been a very difficult decision for me and for the entire family."
PETA took to Twitter after the announcement went public, celebrating the closure of the "saddest show on Earth." The circus saw close to 10 million visitors per year according to the Times, but 2017 will mark the final show for the circus.
(Via New York Times / Ringling Bros.)