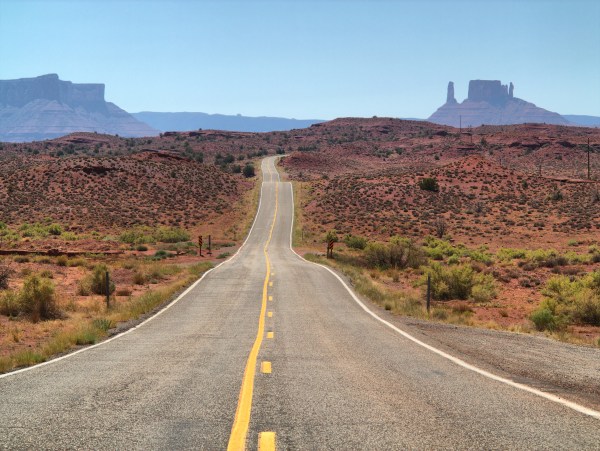 There are certain songs that will forever be associated with significant events in our lives. Everyone has a list of tunes in their head that immediately snap them back to high-school or college. Maybe "Tubthumping" by Chumbawamba was on when you kissed that girl you were "dating" in seventh grade for the first time, and now every time she updates her Facebook page, "I get knocked down" gets stuck in your head.
You get the point — music takes us back, it helps us relive moments we hold dear.
Sometimes the song itself has absolutely nothing to do with the events in your mind, but the two are forever married in your memory. Every time I cross a border, be it county, state, or country, I have to play "Rocket Man" by Elton John. It was playing once while our van crossed over from Idaho to Oregon and one passing comment led to a lifelong tradition. Once a border-crossing song, always a border-crossing song.
Accompanying our piece on road tripping, we thought it would be fitting to get you in the mood for travel — musically speaking. We're revisiting famous road trip scenes and the songs that accompanied them while suggesting some other tunes not (yet) used cinematically. Whether you're sitting in the car for six hours or 16, you'll need something to push you along. So, shift into gear, roll out of the driveway, flip on our playlist, and cruise. It's nothing but the open road from here on out, and hopefully these songs will forever remind you of the time you rolled off to search for adventure.
Father John Misty — "The Night Josh Tillman Came to Our Apartment"
The tone of a road trip is often set by the music. The conversations you have, the mood in the car, the secrets you divulge — music has an interplay with all of these elements. This, and both of Father John Misty's albums for that matter, set a pretty amazing tone. Not a bad place to start.
Elton John — "Tiny Dancer"
Sometimes you just want to gaze out the window, pick up a pad and paper, and write "sanctimonious stories about the genius of rock stars" or jot down some thoughts about "the many faces of Coltrane." Other times, you just want to sing a tune at the top of your lungs with the people who make you feel at home.
Elliott Smith — "Miss Misery"
Elliott Smith's music is melancholy, touched off by moments of beauty. He may send you down a dark road, but one of the best parts of a road trip is looking inside yourself for long stretches at a time.
Shakey Graves — "Dearly Departed"
At a recent show in Bozeman (Mont.), while telling a story about his own vagabonding adventures, Shakey Graves encouraged the crowd to hit the road. "Travel," he urged his fans. "Roam around and leave bits of yourself all over. Go and see what's out there. Just be sure to come back one day and sweeten the pot for the rest of us."
The Donnas — "Take It Off"
This one is for when you finally break out of that urban traffic slog and get to feel the wind in your hair.
The Band — "The Weight"
As we mentioned, every road trip needs a classic or two — songs everyone knows the words to and shamelessly sings along with. If that Elton jam wasn't your thing, this should do the trick. The second you hear that line, "I pulled into Nazareth, was feeling 'bout half past dead," the road will suddenly feel like the only place you're supposed to be.
Mac DeMarco — "The Way You'd Love Her"
Mac puts out tune after tune of toe-tapping fun to cruise along to. Both of his albums are pure road tripping gold.
Felt — "Sunlight Bathed the Golden Glow"
A fun Cure-esque ditty to keep you chugging along. Also featured in the recent release End of the Tour. If it's good enough for a movie about David Foster Wallace on a road trip, you might enjoy it, too.
The Melodic — "On My Way"
Fairly often during a road trip, there are points in which conversation ebbs away in favor of silent reflection. The hum of the road and soft music on the stereo are the only sounds. For those times, there are songs like this.
Poison Idea — "Just to Get Away"
This cut is for the times you want to fly down the on-ramp and floor it. Maybe your copilot is asleep and you need to gun it across two states by daybreak. When you need to put in the midnight miles, a song like this is vital. It may seem like an outlier, but it's crucial.
Ben Howard — "Old Pine"
If this song doesn't make you want to go out and camp and drink whisky with your favorite people, maybe this whole road trip thing isn't for you.
Sufjan Stevens — "Chicago"
This is for those awesome sunny days when you're in that yellow VW bus being driven by Greg Kinnear with Toni Collette riding shotgun. You're cruising along the highway, and Klitz from The Girl Next Door is sitting behind you, and an adorable little kid is riding next to you, excitedly awaiting her chance at the beauty pageant — I guess that makes you Steve Carell in this case. Which is also awesome. For those times, there's Sufjan.
Odessa — "Hummed Low"
There's something intoxicating about Odessa's sultry chant, "run baby, run baby, run baby, run." This is a classic to play on your way out of town. Run baby. Keep going. Go ahead, try it. Run baby. It's at the end of the list for that very reason.
If all else fails and none of these tunes click you your musical palate. Tommy Boy was packed with amazing road trip songs.
*HAVE SOME ROAD TRIP FAVORITES WE MISSED? SHARE THEM IN THE COMMENTS!*