If you're an Americans traveling abroad, you've likely been accused more than once of hailing from a country lacking culture. This tired trope has been in the quick draw holster of nearly every pretentious would-be café philosopher I've run across tooling around Western Europe. At times, said accuser has made the concession (after a lengthy debate) that what culture we do have was adopted (or stolen) from someplace else. But this short-sighted archetype has obviously never been to the Mississippi Delta, let alone Clarksdale, Mississippi.
At the intersection of North State and DeSoto in Clarksdale sits an otherwise unremarkable pole rocking three enormous, blue guitars. In this spot, at the convergence of highways 61 and 49, it is said that Delta Blues legend Robert Johnson met the Devil. In the legendary Faustian exchange, the devil — going by the name Old Scratch — gave Robert Johnson his Blues sound in return for a claim on his soul. Though the deal likely happened in Rosedale, if you believe in such spiritual shenanigans, the Clarksdale monument has become an intriguing side trip to those on the Mississippi Blues Trail.
When I drive to Nashville or St. Louis from my home in New Orleans, I usually stop for a night or two in the Delta, the alluvial floodplain of the rivers Mississippi and Yazoo. A quote by my writing mentor, Mississippi author Martha Foose, who keeps a home in Pluto and Greenwood, sums up the region's distinctiveness: "There's Mississippi, and then there's the Delta." And when I stop, it's always in Clarksdale.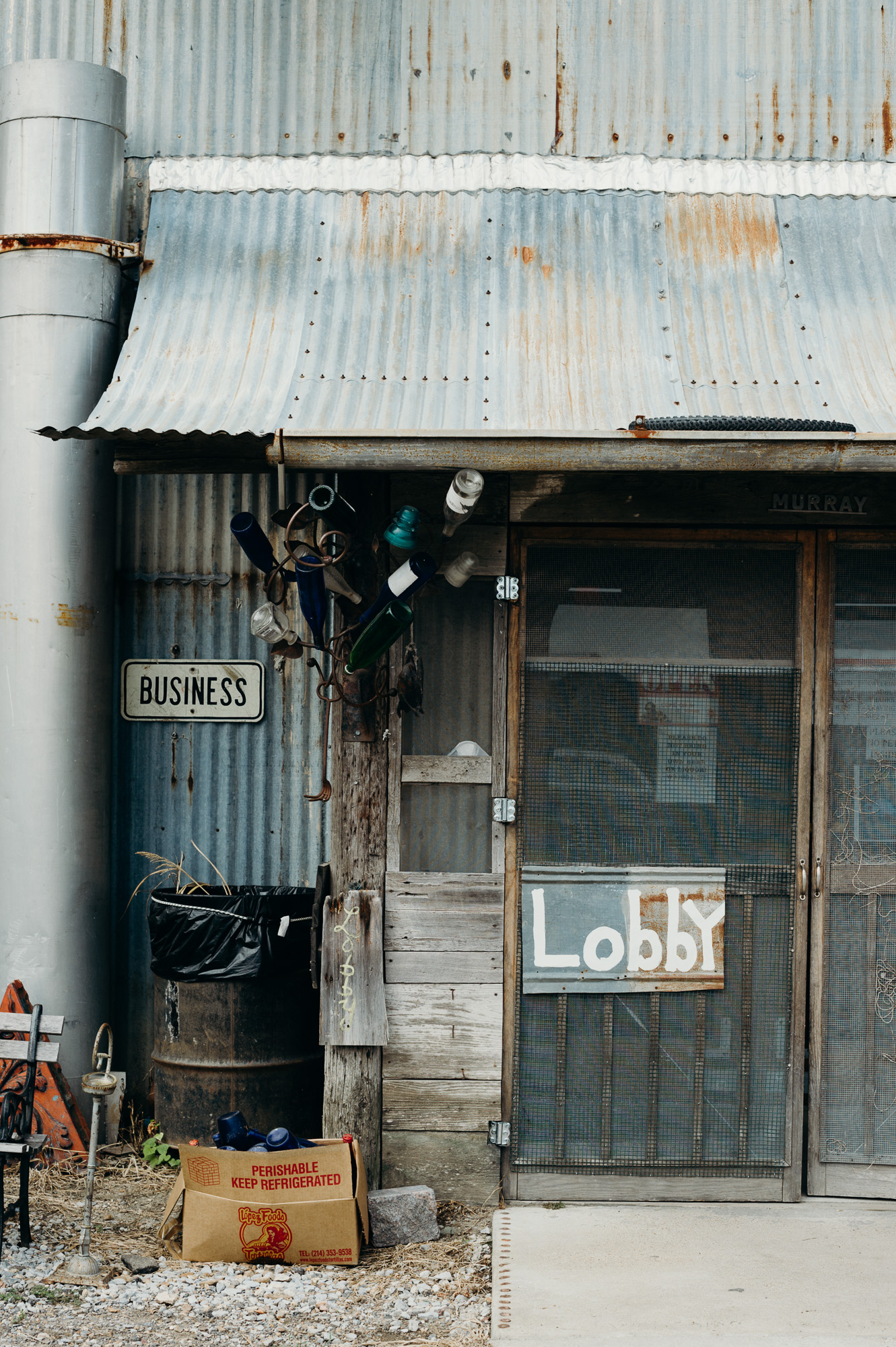 Five minutes from the Robert Johnson monument resides The Shack Up Inn, America's most iconic of accommodations. The motto of the Shack up says it all: "The ritz we ain't." Built around an old cotton gin, the Inn offers barely remodeled sharecropper and shotgun shacks or "bins in the gin" (converted rooms) for weary travelers. It is a sight. Though each shack or bin room has more modern amenities like climate control, full bathrooms, and kitchenettes, that is where the similarities to a typical roadside motel end. The owners have kept the spirit of each shack intact, naming them with historical references. The Fullilove Shack is named after the family that used to live there. The Robert Clay Shack, my favorite, is named after a moonshiner who raised seven boys in it. Their pot still remains in the bathroom above the shower. The "O" Shack, where my girlfriend Jess and I stayed on our most recent trip, is so named because it used to be an office for a farm. They had to change the name from the Office Shack because patrons would show up looking to check-in. Of course, there is also a Crossroads Shack named for Johnson's fateful meeting.
You can feel the American history (which obviously collides with the eras of slavery and Jim Crow in the American south) oozing out of this place, especially during a good Delta thunderstorm. Each room comes with your choice of acoustic guitar, which are displayed at the desk. Attached to the main building and check-in is the Juke Joint Chapel Bar. You can grab a beer or catch a show if the night is right. If you can steal a stool to watch locals and passers-by like Watermelon Slim or Deak Harp, you'll be in for a harmonica-laden night of North Mississippi sound. To satisfy that particular audio sense further, however, you'll need to venture out.
If you're looking for music, any guidebook will tell you to go to Ground Zero — a former warehouse turned Juke Joint by Bill Luckett and Morgan Freeman (yes, that one). I usually stop there for food and music before heading to Red's Juke Joint. Red's is decidedly less of a tourist trap and the musicians gigging there are guaranteed to turn your ears into magical sensors open to all forms of bluesy love, hate, lust, and longing. Delta Blues, one of America's definitive cultural distinctions, was born several stones throws from the door and Red's is among the last bona fide juke joints preserving its traditions. The building appears as if it could collapse at any minute but the lively shows are worth the risk. If you're lucky, Big A and the Allstars will be in the house. If not, ask someone where they're playing that night, push your other plans, and do whatever it takes to get track them down. Hopefully, the stars will align and you'll stay put to enjoy one of the best live performances in the entire region.
There are just two things to remember at Red's: 1. It is what it is; and 2. No video (phones included).
Though often misrepresented as the land of processed foods and borrowed food trends, this country does indeed have culinary traditions that are uniquely American (a word which in this case means "full of influences and forged through a (sometimes tragic) history"), and two of those are represented well in the Delta. If you have time, Big Daddy's Soul Food in Tchula is the idyllic meat-plus-three BBQ hole-in-the-wall in the Delta. But right there at the Crossroads, Abe's BBQ will do your flesh craving incisors just fine. Perhaps it's typical of the name Crossroads, but the road you drive in on will dictate your best barbecue or soul food option. If you find yourself in Clarksdale on a Sunday night, your best bet will be to sneak into Grandma's House of Pancakes through the sidewall of Grandma's Bar, nestled on an empty downtown street, for a suspicious but delicious cheeseburger and fries.
Yes, you read that right — a dive bar-slash-pancake house-that-serves-burgers is a thing in Clarksdale. A marvelous thing.
If you're the type looking for hands-on experience, you'll want to visit Deak's Saxophones and Blues Emporium. Remember the aforementioned local, Deak Harp, I recommended seeing at the Church Bar at the Shack Up or Ground Zero? He makes and sells his own harmonicas, which you can find here. If business is slow or you purchase an instrument, you may get treated to a show. Either way, Deak is a local character worth chatting up and buying a record from.
***
Robert Johnson didn't sell his soul for his blues licks. He didn't have to. He was from the Delta, a place that engages all five senses and expresses America's painful, hopeful, bloody, creative, mixed-up history in a way that few places can match. Lured by exoticism, we often look beyond our borders for our next adventure. However, few lodgings stimulate the imagination like the Shack Up. Rarely does a music space contain the sound explosions that Red's Juke Joint does on a nightly basis. And I've had few meals that are so intertwined with a place that they actually taste like the town itself as I've had with Southern BBQ.
The best part? It's here, in your proverbial backyard. So you won't have to sell your soul to visit.