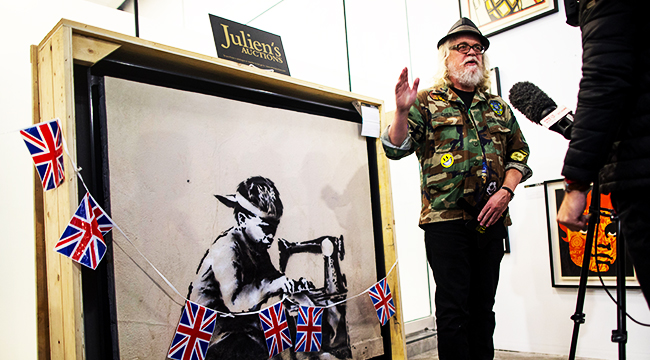 Another Banksy piece was sold at auction this week, and the details of the sale have caused an uproar. American artist Ron English purchased "Slave Labour," a mural that was initially placed on the wall of a North London Poundland (the English version of a dollar store) for $730,000. Then he immediately announced his plans to destroy the piece of art.
According to Sky News, English's decision is a protest of the sale of street art, which should by nature be public and free for all to view. In his opinion, street art "shouldn't be bought and sold."
The mural depicts a young boy sewing Union Jack flags, and it appeared just before the 2012 London Olympics, ostensibly in protest of the slave labor that allows people in the western world to buy cheap goods—including flags and other symbols of national pride.
English told Sky, "My idea for this painting is to whitewash it for my good pal Banksy, I only wish I could've spent more money for it. I'm going to paint over it and just include it in one of the walls in my house. We're tired of people stealing our stuff off the streets and re-selling it, so I'm just going to buy everything I can get my hands on and whitewash it."
The mural initially went missing in 2013 and reappeared on a US auction site with a guide price of $400,000-500,000, infuriating locals, and raising questions about street art and ownership.
English's announcement comes only a few weeks after Banksy's "Girl With Balloon" was sold at auction for $1.4 million and subsequently self-destructed. Despite the anti-capitalist protest-cum-prank, the act likely made the painting worth even more. We'll see what happens with English's whitewashed mural. But you have to credit him (and Banksy, who might have footed the bill to get the painting back), it's pretty punk rock.