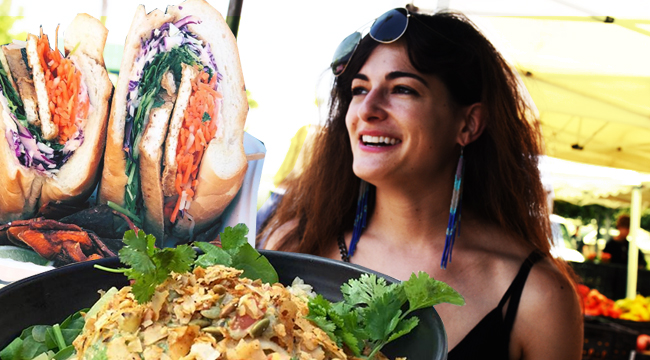 It's 7pm on a Monday night and Sami Udell is prepping a five-course dinner for her brother's wedding party. Wearing her signature "Eat Good Food" t-shirt and apron, she chops fresh sweet potatoes while reading off a handwritten menu taped to her cabinet. As usual, the dinner will be centered on fresh fruits and vegetables, paired with a lot of heart. The potatoes will ultimately accompany the main course of crispy vegetables, halibut with cashew cream sauce, and a smokey, olive and herb relish. Though Udell has just returned from San Francisco, where she was invited to cook for NBA superstar Kevin Durant, she accommodates a last minute request to add four more people to the dinner party. These are the sorts of spur of the moment pivots she's grown accustomed to as a personal chef.
At just 27 years old, with no formal training or accolades, Udell is a full-time personal chef for some of the world's biggest athletes and musicians. She began teaching herself how to cook in college as a means to be healthier. When she moved to Los Angeles, she spent most of her time cooking for her friends, gardening, and learning everything she could about food to hone her craft. In a serendipitous moment of preparation colliding with an extraordinary opportunity, Sami's hearty but healthy fare caught the attention of the personal assistant to Ludacris, after she catered a party he was at. After months of persistent follow-up, Sami received a call from Ludacris himself inviting her to cook for him. Her warm, disarming demeanor and infectious curiosity for nature and food have parlayed that into a star-studded list of clientele — including NBA star DeMarcus Cousins and rap icon 2Chainz.
I recently sat down with Sami in her makeshift commercial kitchen to discuss the highs and lows of working in such a physically demanding yet rewarding profession. She was incredibly candid about the difficult moments, the breadth of personalities, and the day to day joys and struggles behind all the glamour.

So, I know your story, but can you contextualize how you started cooking and how you first become a personal chef?
I started cooking just because I thought it was fun. I cooked for one of my brother's networking parties, where I was lucky to meet Ludacris's personal assistant. He actually delivered and ended up connecting me to Ludacris, so I started cooking for him when he was here in LA. I was really faking it honestly — pretending I knew how to cook while literally Googling "how to cook." But the thrill of learning to cook was so fun that I was hooked. I ended up getting a job at a restaurant to enhance my skills. It's such a brutal industry and I didn't feel like I fit in. I didn't go to culinary school but here I was cooking for a very famous celebrity. People were naturally judging me a little more than the other cooks because they didn't understand how I had that job since my skills didn't really align.
After being in that kitchen, as a 24-year-old, I didn't have a lot of inhibition, and I wasn't really scared to take risks, so I didn't know what I was getting into when I decided to start a food truck. I figured I could run a restaurant, or a food truck on my own, and I did run the truck for two years, which was so fun, and I did love it. But what I realized through the truck was that, for now, I love cooking for fewer people and keeping the quality at its highest. Meanwhile, as the truck was running, my clientele grew and I started getting a lot of calls from NBA players. It started with DeMarcus Cousins, and I cooked for DeMarcus at his home for breakfast, lunch, and dinner for three months straight with no days off — for him and six other guys that were all well past six feet all. As much work as it was, I loved that personal connection, being in his house, listening to him talk about, say, ramen noodles. You know silly, normal things that he talks about. Seeing someone that people put on such a pedestal versus me being their chef is almost humorous. I get to know them in such a personal way and I love building that relationship, knowing who they are and understanding their food preferences. From there it just kept growing. I started working for NBA players and then 2Chainz and the family that owns Medmen, the cannabis company.
As long as I feel like I respect the person in some way, I'm happy. There does have to be a connection we build that makes me want to cook for them, because I devote every waking hour to cooking for them.
I know from personal experience that there's something really special about your food, but what do you think it is that Ludacris, and ultimately all of your clients, love about you as a chef?