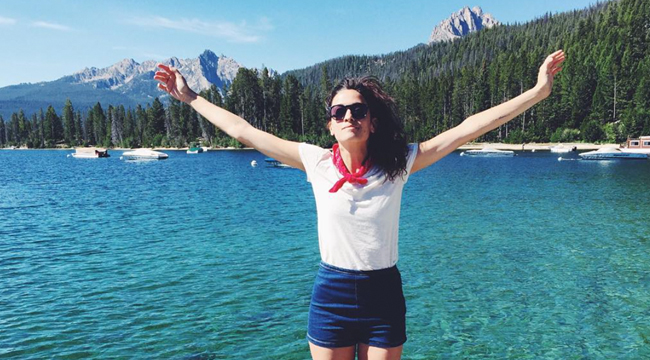 When I think "summer," I think of open road, car camping, swimming on a whim, cold ice tea, and days so long that they seem to stretch out to the horizon. And as I search for these touchstones, few places can hold a candle to the magical lands of… Idaho. I know it's unexpected, but hear me out: Idaho's wild spaces, particularly those found in the Sawtooth mountain range provide the kind of summer adventure you could spend a lifetime searching for — huckleberry ice cream, hot springs, and ribbons of stars streaking the night sky.
If you need an escape from Boise, the Sawtooth Wilderness — with a focus on Red Fish Lake and the nearby town of Stanley — is summer distilled. Located just three hours north of the city, it'll give you everything you want in an adventure destination and a whole lot of what you need. Here's how to get there, what to see, and where to eat for an idyllic getaway.
Getting There:
To access the Sawtooths from Boise, drive to Stanley, Idaho. There are two routes out of the city: west and east. The eastern route is a little longer but will take you through Idaho City. A quick stop to soak in a nearby hot springs makes the extra time in the car worth it. The two routes link up eventually anyway, arriving at the same place.
Plan to take your time — initiating yourself into a slower way of life.
Hot tip: About an hour before you reach Stanley (if you're coming in on the 21) Kirkham Hot Springs is right along the side of the river — you'll see it from the highway. This is a must stop destination.
What to bring:
A swimsuit, a few sweatshirts for evenings, and warm clothes for nighttime. Plus all your camping gear and a cooler if you want to camp. (Camping is going to save you a bunch of money, and is, in my opinion, the whole point of going to the Sawtooths.)
Where to Stay:
Camping is my preferred way to experience the Sawtooths. Sometimes that means car camping, but ideally, I like to hike in and tent camp far away from the rest of the real world, preferably near an alpine lake. There are scores of campsites in the area, but book ahead of time as they tend to fill up (especially on the weekends).
A personal favorite of mine is the Red Fish Lake Inlet. You have to hire a boat to motor you across the lake, but it's so worth it. Once you're there, does the rest of the world even exist?
If you're looking for a cabin stay, then Red Fish Lodge is always fun but my destination of choice is undoubtedly the Rocky Mountain Ranch — a 900-acre ranch dating back to the 1920s. With its unparalleled views, primo food, epic mountain biking, and hot spring access, I'd live here if they'd let me.
What to Do:
Everything. Just to give you some perspective, this area has over 700 miles of trails, 40 peaks over 10,000 feet, and over 300 alpine lakes. Swoon.
Red Fish Lake is the base for any trip to the Sawtooth Wilderness. Here you can hang at the beach, listen to live music, rent a kayak, and generally just kick back. It's an easy way to spend a day and always a good time. The view from the lodge literally took my breath away when I first arrived.
If you're a climber, this area is home to some of the most epic assents that Idaho has to offer — from Elephants Perch to Mount Heyburn. Bring your gear and be ready, as this region isn't for the faint of heart.
Soak in hot springs. Sunbeam and Cove hot springs are both natural springs nearby Red Fish Lake, on the river's edge. Remember, these places only stay wild (and free) when we take care of them. Pack in and pack out every single thing you take with you.
Camp and check out for a while. This is my favorite activity in the Sawtooths. Turn off your phone, play cards, go swimming, take a hike, and just camp the way we used to when we were kids. Slow down and savor the experience.

Where to Eat: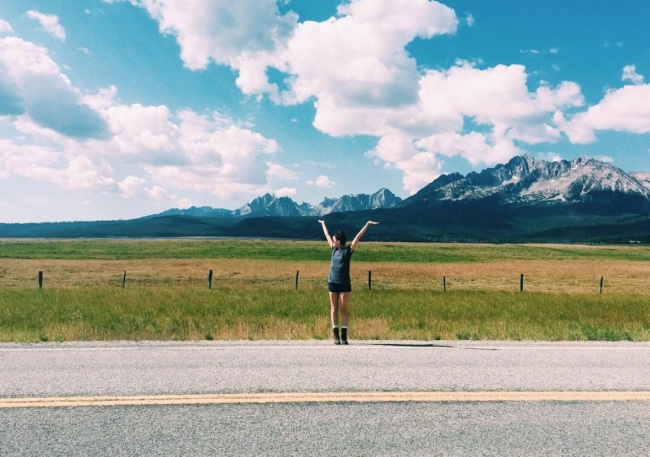 I love to buy food, kick up a campfire (in a designated fire pit), and grill something. That's the best summer cooking, if you ask me. However, if you're feeling tired or want to treat yourself — these are my favorite locations in Stanley.
Stanley Baking Co. This place is a local institution and no trip to the area is complete without eating breakfast there.
Idaho Rocky Mountain Ranch is a great dinner spot, even if you aren't staying there. If you are staying, all your meals are included in your room fare.
Sun Beam Café is an ideal way to spend lunch and an afternoon. They're only open in the summers, late June through August, Thursdays through Sunday. It feels more like coming home for lunch than a restaurant.
Papa Bruneee's Pizza is really damn good pizza and there is never a time when pizza is not a good idea. This will not disappoint.
Ice Cream at Stanley Scoops is a summer treat. The last time I was there they had seasonal huckleberry ice cream and that alone is worth a visit to Idaho.
***
The Sawtooths in general and Red Fish Lake in specific are ideal for relaxation and adventure. You can spend one day scaling a mountain and the next one soaking in hot springs. You can go rustic and save some bucks or hit a resort and live like ranching royalty. Ride horses, hike, nap in the sun, it's pure summer — from huckleberry ice cream to lonely hot springs to heavenly hikes.
The perfect summer escape awaits. It's waiting for you in the wilds of Idaho.