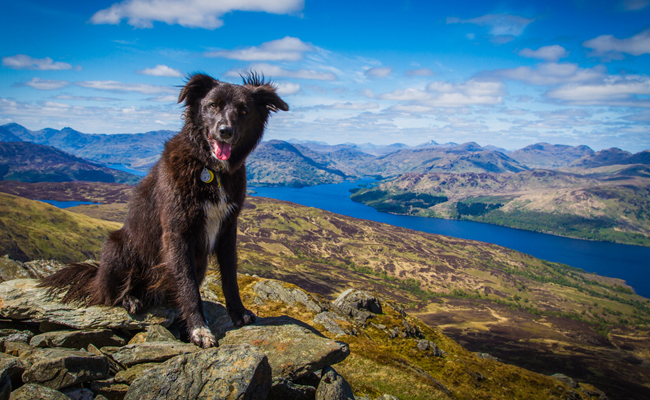 Dog owners love their pets unconditionally, and will likely do anything for their furry family. They'll buy the best grain-free food, serve them filtered water and exercise them often. Dog owners will forego nights out with peers, because they know their friend at home deserves a night they can go "out" whenever they want. Money is no object when it comes to dogs, either — but that doesn't mean it wouldn't be nice for them to get a friggin' job every once in a while.
Yeah, we get it, pooch — You're doing your "job" by barking at the neighbor kid dribbling the basketball across the street. You're reallllllly protecting us, buddy. But you know what? Taking your owner's side of the bed and herding the kids into the kitchen whenever your instincts get the better of you doesn't pay the bills.
Thankfully, Scotland is giving every freeloading dog out there a shot at stardom (and financial independence). If your dog is cool enough, it can apply for the position of "Ambassadog of Scotland" and finally earn some of that kibble in the form of a vacation and title.


The application is rigorous for an animal that lacks opposable thumbs and a weak understanding of .pdf docs:
Candidates should encourage their owners to provide a Word/pdf document that includes no more than 500 words on why they would be the ultimate Ambassadog for Scotland. This document should also include a photograph of the candidate with their owner, shown enjoying a holiday in Scotland or a link to a video. Other things to reference include:

Favourite places for walks in Scotland
Knowledge of the 'smells' and 'sights' around the country
How well the candidate behaves around big groups of people and other animals
Previous appearances on social media in pictures or posts about adventures around Scotland
Any other special traits/tricks the dog has to make them stand out from the crowd!
Ultimately VisitScotland is looking for an Ambassadog (and their owner/best friend) who can be the 'faces' of the national tourism organization and can put their 'paw of approval' on what makes Scotland the 'must visit' destination for people from all over the world.
Hopefully Scotland is trailblazing towards a world with more Ambassadogs. Maybe some of those dogs will eventually segue into politics. We already have the memes ready.