It is no secret that travel is good for you. There aren't even any rules about what kind of adventuring you have to do in order to reap the benefits. If you wanna join a prepackaged tour, cool. If you wanna tape pages of Lonely Planet to a wall and throw a dart, that works too. But, when it comes to tapping your wanderlust there is something deeply satisfying about going full Rick Steves and seeing how the locals live.
According to a recent study by Chase and Marriott, only 54 percent of Americans want to experience a new culture when they take a trip based on their personal passions. That number seems much lower than it ought to be. We get it, finding hidden gems and walking in the footsteps of longtime residents may not be a primary drive for everyone, but for those intrepid folks who do dare to "go local," the payoff is huge.
We reached out to Alivia Latimer, a photographer and creative based in Portland, OR, to share insight from some of her favorite travel destinations. Latimer was psyched to shout out her favorite local lifestyle experiences, because her global explorations center on spontaneity and authenticity.
"I love wandering the streets," she explains. "Exploring with no destination or end place in mind. Just seeing what I uncover."
In speaking with us, she hit on multiple continents and provided a nice spectrum — ranging from bougie avocado toast in Europe to street markets in Africa. Try reading her descriptions without wanting to experience a new culture, local-style.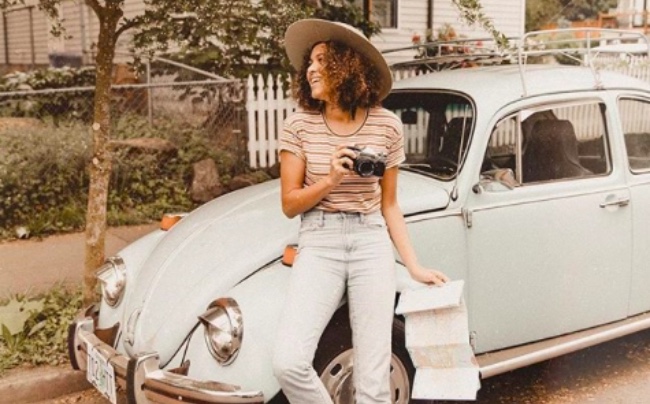 Reykjavik, Iceland
One place that I've been to on multiple occasions is Iceland. I/m a super big fan of Iceland as a country — it's incredibly rural. There's so much nature and so much free space to explore, and I definitely plan on visiting every year for the rest of my life. In the past, what I've done in Iceland is hop off the plane, rent a car, and just start driving; Iceland only has one main road; it's called Ring Road. You can literally just drive five minutes and you'll already want to stop and get out and go explore somewhere, take a picture of something. I think, in Iceland, it's wholly acceptable to look up the named attractions and forest locations, but I've had the most fun there just getting in the car and driving with no destination and seeing what I find; it's such a cool experience.
Iceland's food scene is very minimal, but one of my last days there, I was roaming around the city in Reykjavik — which is very small for a big city — and I came across this coffee shop called Reykjavik Roasters. It was so cool 'cause I had no idea that Iceland has a coffee shop scene, and I wish I had known that on past trips 'cause it was such a cool environment to work in and grab a coffee. I definitely would recommend that to people when they're wanting to get good coffee in Iceland, and this place is so hip.
Lisbon, Portugal
I got back from Lisbon, Portugal a couple of weeks ago, and that was by far one of my favorite countries I have ever been to. I one hundred percent plan on going back. Portugal, and Lisbon specifically, has such an interesting character to it because it has a lot of European architecture, obviously, it's in Europe, but it also has an incredibly old charm to it that some of Europe doesn't have. In other countries in Europe, it's obviously old architecture, but it's a bit modernized and so it feels empty. Portugal was super real; it seemed like I stepped back in time into an old fairytale book. It was just such a cool experience wandering the streets, and all the locals live right in the city, so there isn't downtown or office buildings. It's all just people's houses and little restaurants and cafes.
On my day off, I was like "I'm just going to step outside the hotel and start walking and see what I find." One of the first places I found was a coffee shop in a little alleyway; it was called Copenhagen Coffee Lab. Which I know is quite contradictory because it's in Lisbon and not Copenhagen, but they had incredible avocado toast there. I didn't even know that was a thing in Portugal. I feel like in America when you have avocado toast, they take the thinnest sliver of avocado and just put it across the bread, but here, they piled so much crushed avocado on top of the bread, and it had this wonderful lemony zest to it and a bunch of garnishes on top. It was truly exceptional. They blew it out of the park with amazing avocados and coffee, and it was such a cool environment. I grabbed avocado toast and continued wandering the streets.
https://www.instagram.com/p/BfijmCihjQ2/?hl=en&taken-by=kopenhagencoffee
https://www.instagram.com/p/BjKMv9IgEqt/?hl=en&taken-at=11100843

Chiang Mai, Thailand
https://www.instagram.com/p/BjKPS29hUuc/?hl=en&tagged=chiangmai
Chiang Mai is not quites as touristy as other parts of Thailand, like Bangkok or some of the islands. In fact, I didn't see a ton of tourists when I was there at all. It's such a cool, local experience staying in an Airbnb that was literally mixed in with the local houses, meeting the people who lived in that neighborhood and just wandering the streets. I loved not being a tourist; it was really cool, and it made me feel like, "My passion is discovering hidden gems that other people don't know about!" I had never really heard about Chiang Mai until a couple of months before I went there. There is so much character, and there is so much culture there. And of course, the Thai food is amazing. I
The great thing about Chan Mai's food is that excellence is easy to find. You just walk into any random little local place, and they're so friendly. One place, my friend and I went to three days in a row when we were there because we decided it was just so good we could not go anywhere else. It was this restaurant that was down a neighborhood street. You would never guess there'd be a restaurant there — it was like someone's house that they had converted into a restaurant. Right across from it sat someone else's house, with a front porch and their little motorbike outside. So it was like you're sitting on someone's front porch. Their food was so good. They had the best vegetable spring rolls that I have ever eaten in my entire life.
Sierra Leone, Africa
Sierra Leone is incredibly different than anywhere else we've ever been. I honestly didn't know much about it until maybe like six months before I went. I was like "All right, I'm just going to go over to Sierra Leone. I've never been to Africa, I've never experienced this part of the world, so this'll be a new experience and I'm all about just trying new things and not repeating the same things over and over." I partnered with a school there and a non-profit that works there and went over to document the work they were doing.
There's not a super glamorous place to see and not overly touristy at all. It's super real and raw and local. We walked up and down the markets on the street and buy from local vendors. I think that's so, so cool, and it's just such a different experience than the typical destination. I can spend hours walking through little markets like this. When you get thirsty, find guys pulling a bunch of coconuts on a wagon. They'll just slice it right there, put a straw in it, and you can drink the coconut water straight from the coconut.
Whitsunday Islands, Australia
The Whitsunday Islands are the little cluster of islands that are located near the Great Barrier Reef. I spent four or five days there, and it was so different from the rest of Australia. Melbourne and Sydney are really big cities, but in the Whitsundays I found a super laid back tropical life.
One of my favorite travel experiences was meeting a local in Arlie Beach who owns this really old 1965 Mustang convertible. He will pick you up and drive you all around the coastline and show you random spots that you would not know of unless a local was showing you. It was so, so cool to be riding in an old convertible in Australia. I think that every single town, city or destination should have a local grandpa who has a cool car that just drives people around.