People often think the most beautiful places in the world are somewhere far away. Exotic locales teeming with venomous beasts. It's not always so. In reality, some of the coolest places you'll ever find are the hidden gems in your backyard. It's a point which the National Park Foundation hopes to highlight with their #FindYourPark initiative, and they're doing it in the absolute coolest way.
With the help of celebrity ambassadors, the foundation is hitting the nation's lesser known parks. Everyone knows Yosemite and the Grand Canyon, but what about the 415 other parks and monuments? When do they get love?
If you think that number sounds a little high, I'm right there with you. I had no idea there were so many national parks — but the idea excited me. So when the opportunity was presented to go on an adventure with Derek Hough, of Dancing with the Stars fame, I said "yes." Actually my exact words were "Hell yes."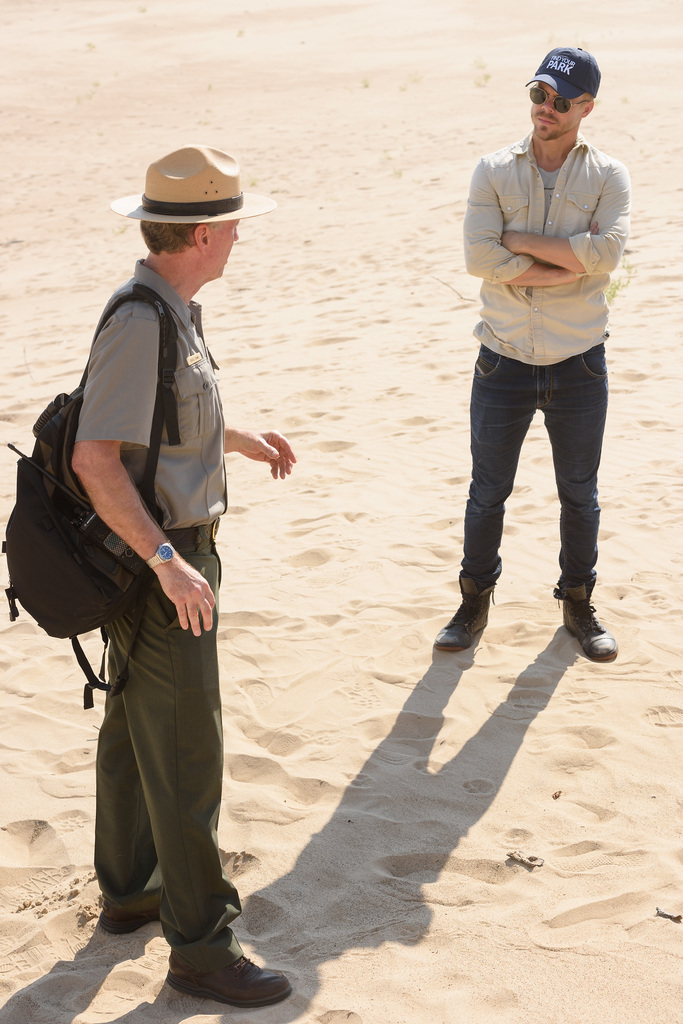 Check out the sand above? Idyllic, right? Throughout our day together, Derek posted pictures on his Instagram story and people asked him "Where are you? Bahamas? Cancun?" Those seem like fair guesses. In pictures, it sure looks like we're on some majestic island in a foreign country. Nope. In reality we're just 47 miles outside of Chicago, in Porter, Indiana. The spot is Indiana's best kept secret — The Indiana Dunes National Lakeshore, which really shouldn't be anyone's "best kept a secret" anymore, because it's absolutely stunning.
Before our adventure began, Derek and I met with park rangers and he expressed his love for National Parks and the outdoors. Growing up in boy scouts and exploring Utah with his dad, it was only right that he found a way to be a part of the #FindYourPark movement.
"Being in the entertainment industry, being on stage and touring, you're very much in a dressing room or a tour bus and it feels sorta enclosed," he said. "So for me, the outdoors is exactly what I need to get grounded, to put things in perspective. It humbles me. I just love nature so much."
His words encapsulated how I felt too. How I think many of us feel. But we forget it. It's so easy to slide into living a life indoors, in front of screens.

Our adventure began at the staggering 126 ft. sand dune, Mt. Baldy. Steep, narrow, and practically spilling over into the parking lot. Mt. Baldy has moved so much that the Parks Department is enclosing it with a fence to prevent it from moving even more. It's the biggest moving sand dune at the park — they don't call it the "living dune" for nothing.
Since it was so steep from where we first saw it, the park ranger led our group around to the back end of the dune. That way, we were able to ease ourselves in. We started out on a flat, lush trail that was easy and enjoyable to walk. There was enough room to walk side-by-side, share conversation, enjoy the greenery and not be out of breath. But that didn't last long.
Soon, we reached the hilly, more sandy part of the dune. Looking ahead, I could see the trail turn narrow and steep. From walking side-by-side to single file, the little sand and leaves beneath my feet turned to mounds of sand sloshing in and out of my sneakers.
The ranger told us the trick to making it up the dune was to put your feet in the footprints of the person in front of you. "Right foot there, left foot there," I repeatedly said to myself. Thanks to that trick, I made it to the top of the dune only slightly out of breath. Well, maybe slightly more than slightly, but I made it. That's all that mattered.
What I'm saying is: The struggle in the sand was real… but well worth it, because the view was absolutely breathtaking. I couldn't get over it. Neither could Derek.
"It's amazing how you feel like you're next to an ocean with the sand, with the greenery," he said. "Obviously it's not an ocean, but it's extraordinary."
We didn't have to leave the country to see deep blue waters meet with a pale blue sky — it was right there, in Indiana.
"I love that the lesser known parks are accessible and close," Hough said. "Bigger known parks you gotta plan, but these you can just hop in your car and do a half day trip."

The adventure wasn't even close to being over. As I climbed back into the bus, I pulled out a protein bar and wolfed it down on the way to our next activity. We arrived at Little Calumet River after a 20 minute bus ride. It was time to kayak. After getting into our life vests, the park ranger gave a brief overview and we learned that we were the first people to kayak on the river in over 35 years.
Derek didn't hesitate at all and was the first one on the water. It was clear that he'd been kayaking before, paddling like a pro. The water was calm, shallow (about 3 ft.) and the perfect temperature for sticking my hand in when I got tired of paddling (which I did often, get off my back, I'd already taken a big hike!). It was a tough river to navigate — sharp turn after sharp turn, repeatedly getting stuck in the mud, and not making it over rotting tree branches seemed to dominate my efforts.
"Paddle more on the left side," I told myself. "No! To the right! Crap another tree!" It was fun. But also full throttle.
As we made our way downstream, I found myself going steady in the not-so-narrow areas and really enjoyed just floating on the water. Once again I was reminded of how nice it is to be outside and how easy it is to find places to do exactly that. When we made it closer to the end, Derek caught up to me and we paddled next to each other. I managed to run into his kayak and he jokingly rocked mine. You don't have to be Bear Grylls to have fun outside.
The perfectionist in me got frustrated at times when I was paddling, but then I just started to laugh at myself and enjoy the experience. When my arms got tired or it seemed like I'd never stop bouncing off trees, I'd lean my head back, close my eyes and just take in the moment. I was on a cool ass river, on a beautiful day and experiencing one of the hidden treasures right in Chicago's backyard. It was an adventure that didn't take a jetsetter's budget, and at the end of the day, that's what #FindYourPark is all about.