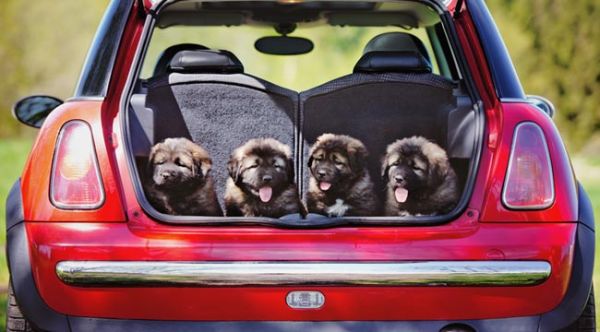 Please be aware that Denver, Washington, D.C., Chicago, LA, New York, Phoenix and San Francisco are the luckiest cities in the world tomorrow. And if you live in those cities, you're one of the luckiest people in the world. Not just because you're living in centers of society, not just because you're able to access any number of first-world amenities, but because you'll be able to pull up your Uber app and have puppies delivered to you within minutes. We did it. We finally did it; humanity has jumped the shark.
In celebration of the Puppy Bowl, as well as various city-specific charities such as the Anti-Cruelty Society, #UberPuppyBowl is not only smart marketing in the face of surge price backlashes, but it's putting puppies that are up for adoption in homes with people who want to snuggle with them. That's the way it should be. Mostly for the puppies.
The Uber Puppy Bowl was able to put 70 puppies in their fur-ever homes (had to make that pun) last year, and while the puppy handlers rightfully expect high demand, they hope every single available pup gets a home in 2016. Let's all try to make this happen.
Here's how you have puppies delivered to wherever you are with the aid of a cute puppy map, according to Uber's site:
HOW IT WORKS:

Open your Uber app between 11am and 2pm. (In NYC or DC? Enter PUPPYNYC or PUPPIESDC to unlock the special PUPPIES option!)
Request the "PUPPIES" option in your app.
Once the puppy squad and their coaches arrive, you and your friends will enjoy a 15 minute cuddle huddle. PRO TIP: Make sure to have an enclosed space ready for Team Ruff and Team Fluff gametime!*
Found your Most Valuable Pup? In most cities, puppies are eligible for adoption.
And if you can't adopt a loving, wonderful dog, you can always support our four-legged friends with a donation here.
(Via ChicagoInno)